International flower delivery
With over 30,000 florists in 140 countries we can help you show your love – wherever that special someone might be.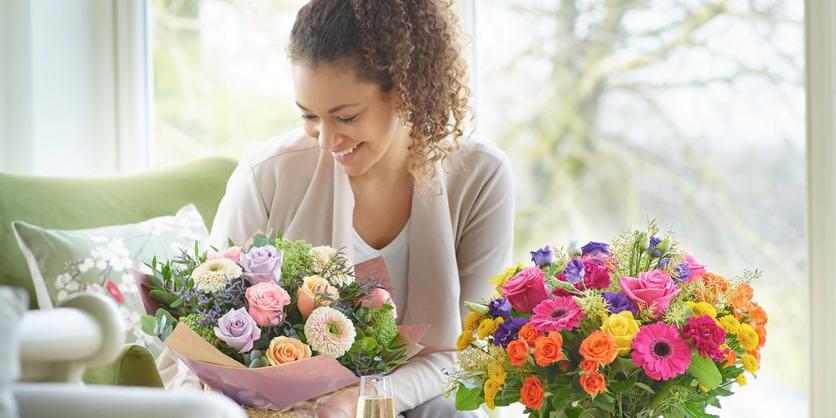 Send flowers today
No matter where in the world they are, let them know you're thinking of them with one of our show-stopping bouquets, you can even get your flowers delivered the same day you place your order!
International delivery FAQs
Why choose Interflora for international flower delivery?
With expert florists in over 140 countries, we are confident that we offer the best international flower delivery service. We work closely with local florists in each country to ensure we deliver the same care, attention and exceptional quality no matter where they are in the world. Our flower bouquets are hand-crafted on the day by an artisan local florist in your chosen country, meaning they get the freshest flowers without the extra air miles.
How does Interflora international delivery work?
Sending flowers with Interflora has never been easier:
Simply select the country you want to send your flowers to from the list below
Choose your favourite flower bouquet
Enter the receipient's details and delivery address to complete your order
Once we receive your order, a local florist within that country will hand-craft your bouquet and delivery directly to their door.
In many countries, it is customary for the florist to contact the recipient prior to making the delivery. Therefore, we will ask for the recipient's telephone number during the order process.
Please note: The delivery day of your chosen item is of course dependent on where in the world you are sending it, for example you can get same day delivery in Argentina if you order by 3pm Mondays to Saturdays, but in Japan the time difference means you must order at least two days before.
Can I use my Interflora Delivery Pass for international delivery?
Can you deliver to a hotel abroad?
We'll happily accept orders requiring delivery to a hotel abroad. Simply go to our International delivery section, select the correct country and view all the products available for delivery.
When placing your order please ensure you have included the full address of the hotel, telephone number, recipient's room number (if known) and name of your recipient. If it is for a honeymoon then please ensure you know what surname your recipient(s) will be checking in with to avoid any confusion.
Please note that orders will be delivered to the hotel reception, the signature of the person receiving the order will be accepted as proof of delivery.