How to Decorate a Christmas Tree
3rd December, 2021
It's chilly out, the Christmas tunes are playing, and decorations have been dug out of the loft…it's finally time: we're tackling the tree. Whether it's an eight-foot pine monster or a cute little companion unboxed year after year, standing in front of blank branches can be a little daunting: where do you even start? Well, don't worry, we're here to help. Our all-you-need-to-know guide to decorating a Christmas tree covers the lot: lights, baubles, tinsel, how to make your Christmas tree look full, how to put lights on it – we've got you covered. So roll up your sleeves, take a sip of your mulled beverage and let's deck the halls.
Oh and don't forget if you'd like a little professional help, our community of expert florists can craft a wondrous winter wreaths and flowers. And we can even deliver fabulous festive plants.
What you need to decorate a Christmas tree
• A tree!
Little, large, real, fake – the choice is yours. If you do opt for a real one, buy one that's locally grown and dispose of it responsibly, so it doesn't harm the planet.
• Fairy lights
If they're mains powered make sure you pop your tree near to a socket – you don't want to decorate it only to have to move it afterwards, baubles will fall off.
• Decorations
The more the merrier in our book. Gather up baubles, tinsel, and homemade bits and pieces.
• Tree topper
It's traditional to have something special perched atop your tree, classics include an angel or a star, but get creative – it's about what's special to you.
• Base trim / cover / skirt (optional)
If you're not keen on seeing the pot, stand or feet of your tree you'll need something to cover them. Look for festive fabric or hessian for a natural look. Remember you don't want anything too busy as your tree will be busy enough!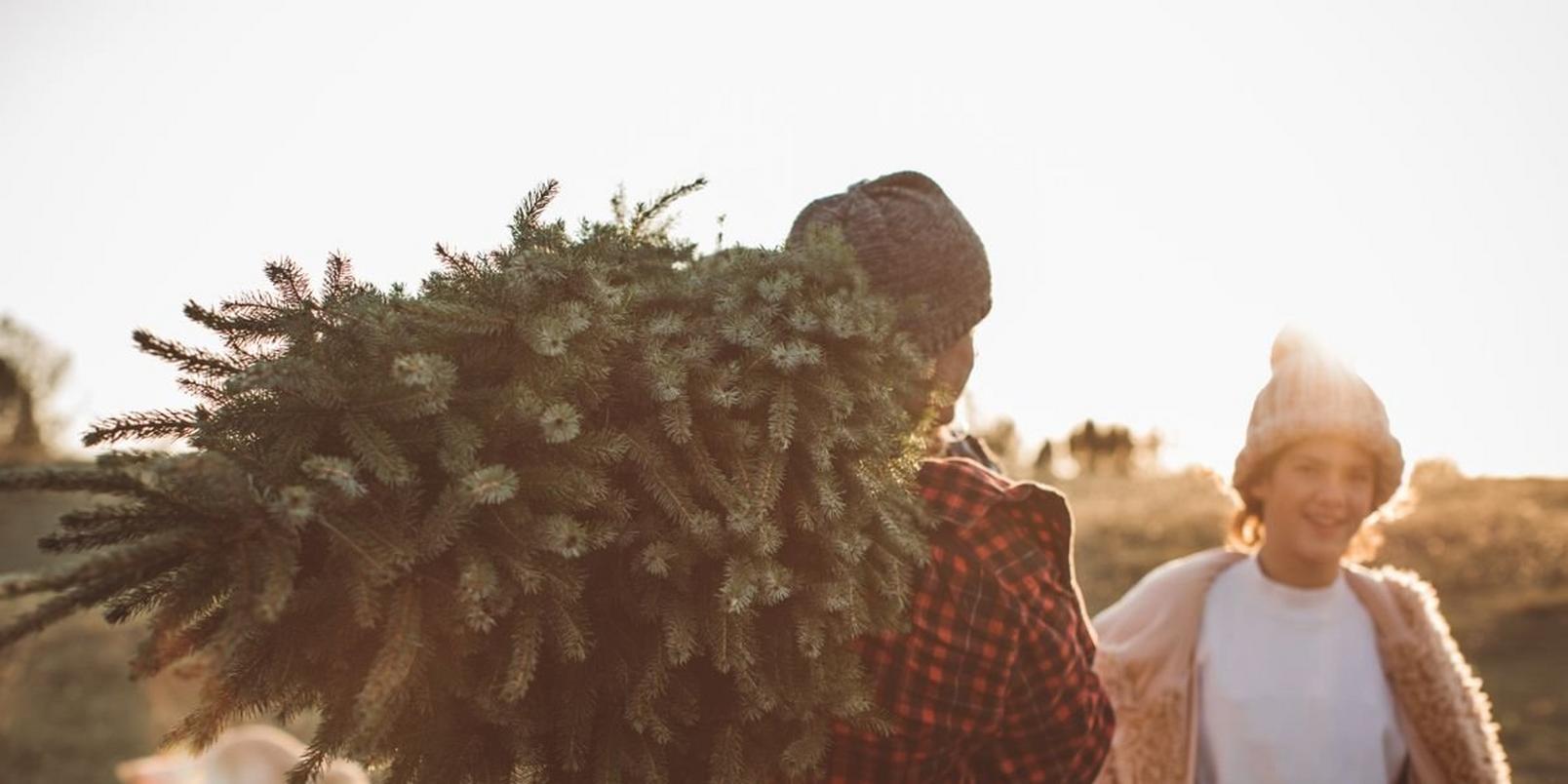 Decorating a Christmas tree: step by step
1. Place your tree
As we mentioned already, where you put your tree is important. Make sure there's plenty of room around it and it's near a power source (remember it needs to be accessible, you don't want have to be a yogi to bend to turn off the lights each night). If you've got a real tree make sure it's secure in its pot and stand, we don't want any toppling trees.
2. Assemble your decorations
Now's a good time to gather all the bits you'd like on the tree and choose if you're going for a colour scheme or freestyled with every ornament going. You might want to sort your decorations into piles according to colour or shape to make them easier to find and hang.
3. Fluff the branches
Yup you read that correctly! Your artificial tree might need a little TLC if it's been in a box in the basement all year. Unfold each brand and give it a little rub with your hands so the fake needles aren't all lying flat, this will help your tree look much fuller. You can do this with a real tree do but be very gentle, you don't want to lose any needles.
4. Let there be light!
The first of your decorations to go should be the long draping ones, like lights – else they'll get really tangled. But how do you put lights on a Christmas tree exactly? You have two choices. You can either wind them all the way around starting from the bottom (be sure to hide any wires at the back, we like using lights with green wire, it makes it much harder to spot), or you can drape them back and forth along the front. It all depends where you tree is: if you can see it from all angles you need to go all the way around with your lights and your decorating, if it's against a wall or in a corner you'll only need to decorate the branches that you can see.
Pro-tip: leave your lights on when you put them on the tree, it'll help you see if they're positioned where you want them.
5. Add tinsel or beads if you use them
Follow the same process as the lights, drape any long decorations around or back and forth on your tree. Aim to get them to hang in gentle loops between branches and be nicely spaced as you wind them round or across.
6. Add your baubles
Start with your biggest baubles, ideally the plainer ones, and space them out evenly across your tree, with more at the bottom. Then you'll layer up the medium and smaller baubles, and the more decorative ones – aim for nice even spacing, rather than clumps of decorations. Take a break to walk around and look at your tree from different angles – it can really help get the spacing right. Or if you're feeling brave ask a family member for their opinion!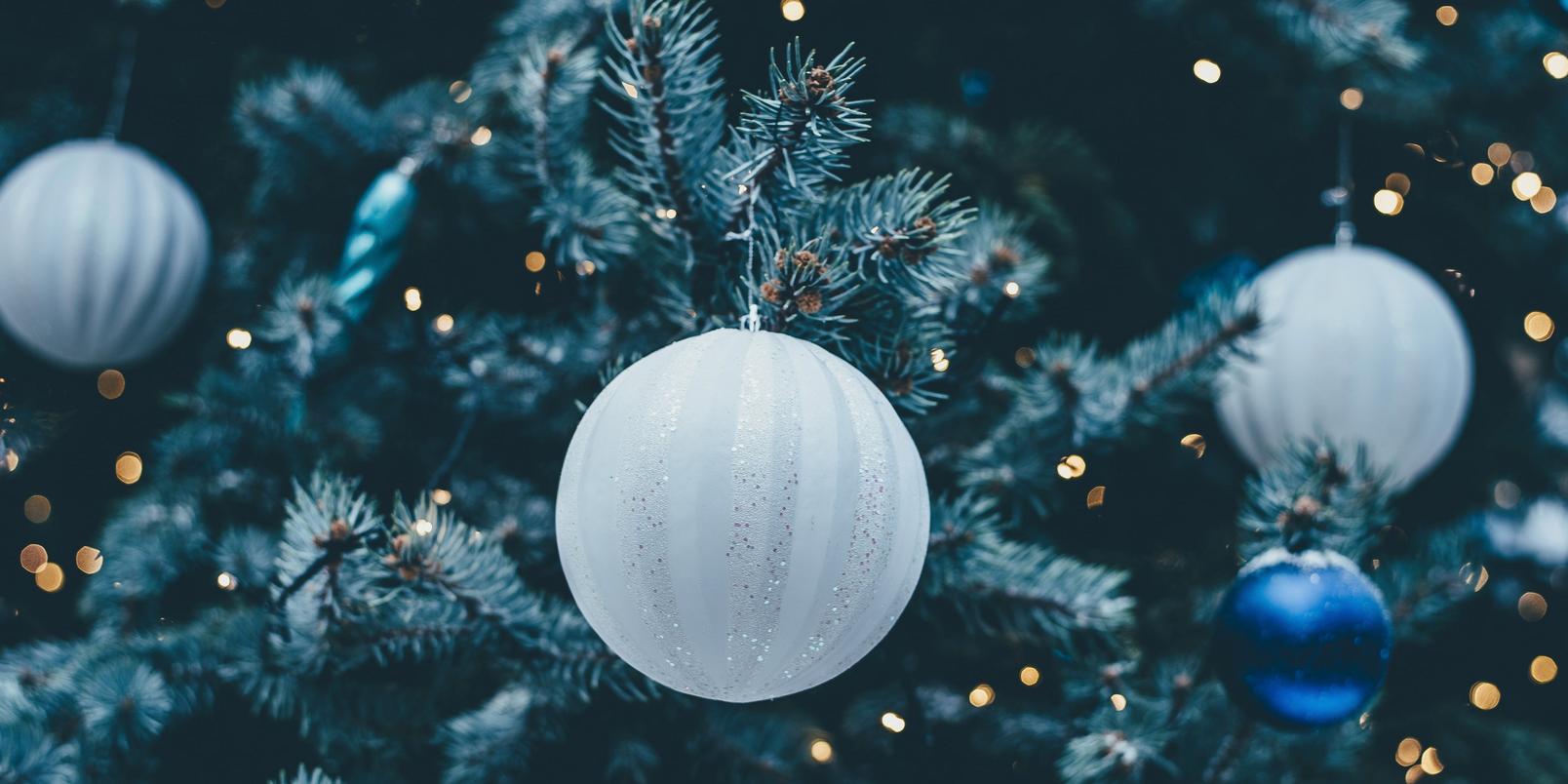 7. Add those extra special decs
Statement baubles, or special ones from childhood – these are the ones you want to save 'til now so they get pride of place. Again, space them out around the tree so each branch or area gets a touch of something special.
Want to make a few extra special DIY decs this year but not feeling inspired? Check out our guide to DIY Christmas tree decorations.
8. Fill in any gaps
Don't panic if you take a step back and realise you missed a spot, you can use smaller baubles to fill any sparse looking branches at the end. And remember, seeing a bit of green isn't a bad thing – sometimes less is more!
9. Top the tree
It's time to crown your masterpiece! Pick your star, angel, or whoever you've chosen to top the tree and carefully put them in place.
10. Add a skirt (or lots of pressies!)
If the underneath of your tree is spoiling the magic a little then you can drape a tree skirt around the pot or feet of the tree. Pick a coloured fabric that goes with your decorations or for a more natural look use hessian (a sack-like material). Or alternatively, stack up all the Christmas pressies and no one will be able to see a thing!
Voila! Your magnificent tree is done! Now where's that turkey…