Birthday Flowers
It's their birthday so it's time to spoil them rotten! Celebrate in style with a beautiful bouquet of birthday flowers hand-crafted by a local florist and delivered right to their door.
Birthday Related Links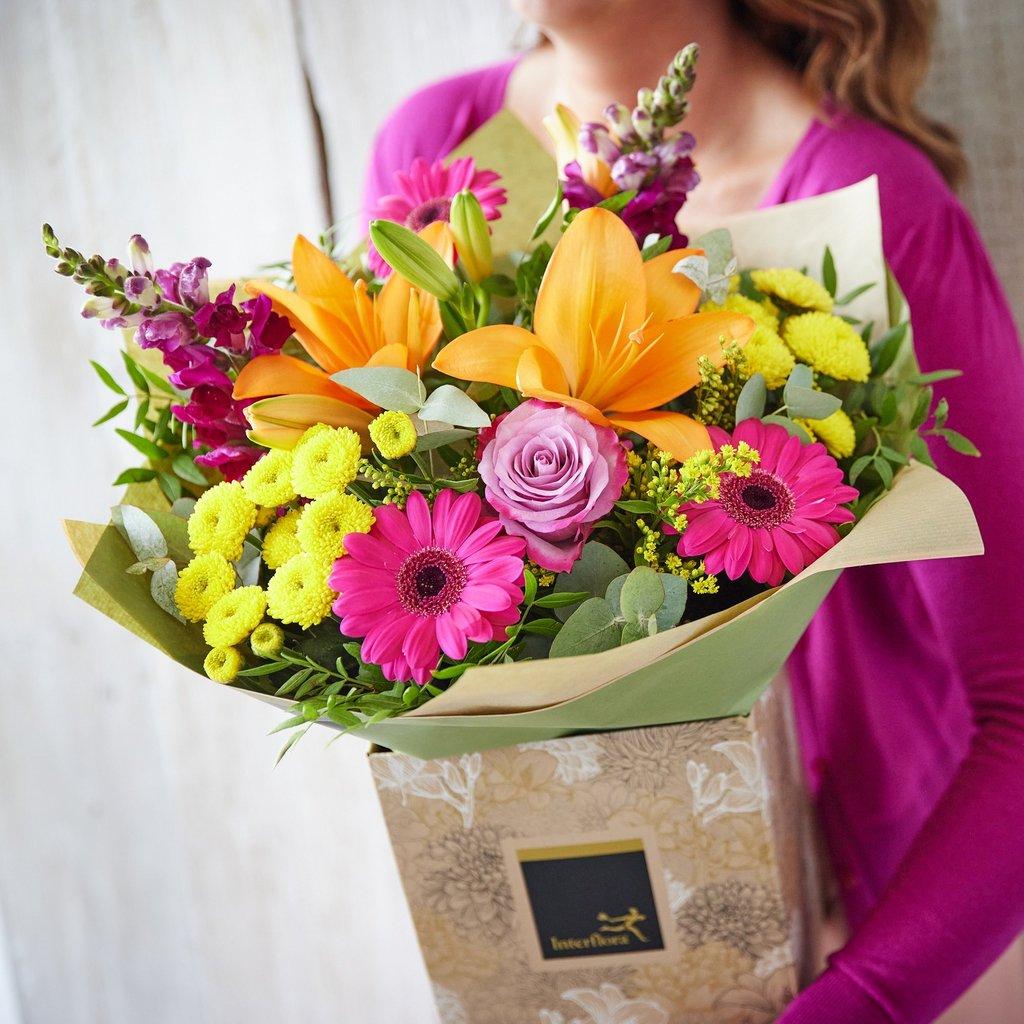 One-of-a-kind bouquets are the perfect way to remember that special day.
Designed and created exclusively for you by our local artisan florists
Delivered by hand
Send birthday flowers to your loved one and trust our florists to make it even more special
HAPPY BIRTHDAY FLOWERS FOR SOMEONE SPECIAL
Hand-tied by a local florist, our birthday flowers add a splash of colour to their special day – think vibrant pinks, eye-catching oranges and dreamy pastels! They are hand-delivered too to create that all important doorstep WOW.
And let's be honest, who doesn't want to open the door to some gorgeous blooms on their birthday?
Picture-perfect lilies and roses take centre stage in our birthday bouquets, but keep an eye out for on-trend orchids and seasonal flowers too. Fancy pushing the boat out? Explore our finishing touches collection, and treat them to a bottle of bubbly or box of heavenly chocolates to go with those gorgeous blooms.
BIRTH FLOWERS BY MONTH
To make their birthday bouquet a truly thoughtful gift, choose flowers related to the month they were born:
January birthday - Carnations
February – Violet
March – Daffodils
April – Daisy
May – Lily
June – Rose
July – Delphinium
August – Gladioli
September – Aster
October – Marigold
November – Chrysanthemum
December – Holly
Related articles
FAQs
Can I personalise my flowers?
All of our flowers are hand-tied by a local florist from the freshest flowers available, meaning no bouquet will be the same. We are all about delivering those special moments, so if they have a favourite colour or flower, leave us a note when making your purchase and we will do our best to arrange this. Sentiment is the key to any great gift giving, and so we can also pass on a personal birthday message on your behalf. Stuck for what to say? No problem! Check out our inspirational birthday messages and quotes.
Which flowers are best for a birthday?
The best flowers for a birthday are those that inspire happiness and celebration, so vibrant warm colours such as orange and yellow flowers are the perfect choice for birthdays with lilies and roses being among the most popular. Colour aside, flowers often take on additional meanings that can help carry the right sentiment, and choosing birth flowers by month is a great way to show your appreciation and make your bouquet extra special.
Can I send birthday flowers internationally?
Yes, same and next day international delivery of our bouquets is available to selected countries. The delivery options will vary depending on the country you want to send your flowers to, for example, we can't send same day flowers to Australia due to time differences, however same day delivery is available when sending flowers to other countries such as Spain, France, Germany and the USA to name a few.
To find out about international delivery to your country of choice, simply visit our international flower delivery section and choose the country.
Are flowers a good birthday gift for men?
Absolutely! Flowers are all about showing you care and can be enjoyed and appreciated by all. The best birthday flowers for men are those that speak to them personally, so think about favourite colours, aroma, and flowers that are packed full of personality. Choosing flowers for him can be difficult, so if you are still unsure why not pick their birth flower? Like birthstones, each month of the year is associated with a flower and is a great touch to any birthday bouquet.