Winter Flowers
Winter days may be cold and dark, but that doesn't mean you can't celebrate the season - after all, sending them a stunning bouquet of fresh winter flowers is a sure fire way to brighten up their day!
Winter Flowers Related Links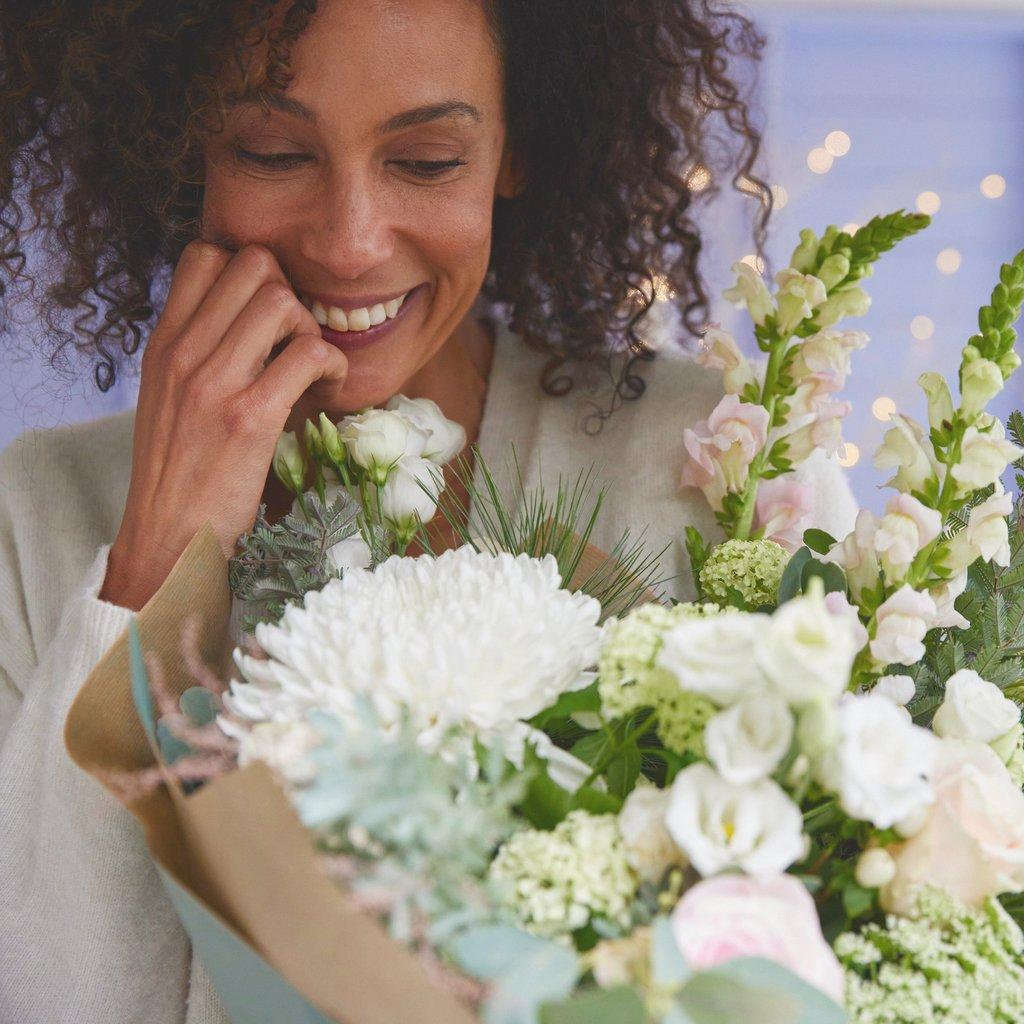 One-of-a-kind bouquets are the perfect way to remember that special day.
Our Christmas wreaths are available from 27th November, flowers from 4th December.
Designed and created exclusively for you by our local artisan florists
Delivered by hand
Send personalised flowers to your loved one and trust our florists to make it even more special
A WINTER BOUQUET TO WARM THEIR HEART
Our collection of winter blooms features seriously special seasonal stems and gorgeous hues of pink and purple mixed with snow white. So, grab your warm woolly hats and get ready for a blooming beautiful winter.
Crisp white lilies, pastel roses, fresh pine cones, exotic orchids and golden fern - there is something for everyone in this year's collection. Plus, all our winter flowers are beautifully hand-crafted by a local artisan florist and delivered straight to their door. How's that for a wonderfully wintery surprise?
Don't worry, if you need flowers quickly we have delivery options to fit around your schedule - choose from same day, next day and even click and collect.
CELEBRATE OVER WINTER WITH FLOWERS
There are so many special occasions to celebrate in winter. From Christmas to the Chinese New Year, you won't be short of reasons to send flowers!
If they love to celebrate Hanukkah, the Festival of Light, why not send them a colourful bunch so they can do it in style? We've got some lovely bouquets to fill their life (and home) with colour this season.
Also don't forget about the New Year! Why not celebrate with a bottle of champagne and some gorgeous New Year flowers whilst you sing Auld Lang Syne at the top of your voice? Flowers make the perfect gift for your New Year host to let them know just how much you appreciate their hospitality.
Or for something a bit different, send some flowers for Chinese New Year to welcome in the Year of the Rat - Gong hei fat choy!
Related Articles
Winter Flowers FAQs
Winter flowers are the blossoms that thrive and bloom during the colder months of the year, typically from December to February. These flowers bring a touch of beauty and color to the winter season with their cool, crisp hues and unique textures.
Can I send winter flowers as a gift?
Certainly! Sending winter flowers as a gift is a wonderful way to brighten someone's day and add warmth to the season. Whether it's a holiday gift, a birthday surprise, or a gesture of appreciation, winter flowers create a cozy and festive atmosphere.
Can I send my winter flowers internationally?
Yes, we offer international delivery options for our winter flower bouquets, including same and next day delivery to select countries. The availability of delivery options may vary depending on the destination country. For instance, same-day flower delivery may not be possible for countries with significant time zone differences. However, for destinations like Spain, France, Germany, the USA, and more, you can take advantage of same-day delivery. To get more information about international flower delivery to your chosen destination, simply visit our international flower delivery section and select the country.
Can I include a personalised message with my winter flower gift?
Absolutely! Including a heartfelt message with your winter flower bouquet is a thoughtful way to convey your warm wishes and add a personal touch to your gift. Craft a custom message to make the gift even more special and meaningful during the winter season.