New Baby Flowers
Say congrats on a new arrival with a beautiful bouquet of fresh blooms hand-crafted and delivered by local artisan florists. A thoughtful gift for busy new mums and dads, our new baby flowers are a gorgeous way to welcome a little bundle of joy into the world!
New Baby Related links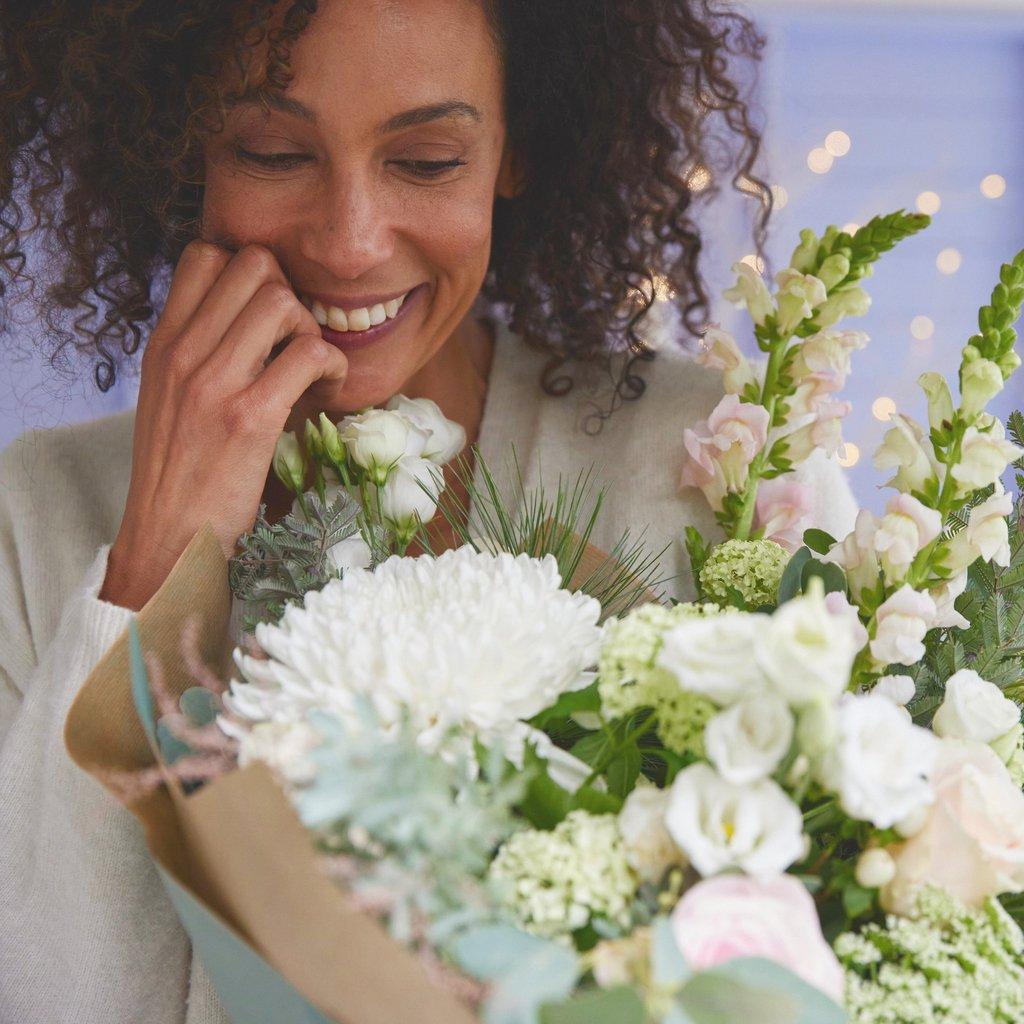 One-of-a-kind bouquets are the perfect way to remember that special day.
Designed and created exclusively for you by our local artisan florists
Delivered by hand
Send personalised flowers to your loved one and trust our florists to make it even more special
CELEBRATE A NEW BUNDLE OF JOY WITH A BEAUTIFUL BOUQUET
Send your congratulations on a new baby with a one-of-a-kind bouquet, hand-crafted by a local florist.
Which flowers are good for a new baby?
Blooms in calming pastel tones (think classic roses, mixed with scented hyacinths and luscious foliage) look lovely in almost any home or nursery. Seasonal flowers are just the thing, they capture the season the new little person has arrived in with a range of gorgeous colours to say 'let's celebrate!'.
Or if you want to send flowers with extra meaning, why not opt for their birth flower? Every month has one with it's own special meaning making them a really thoughtful gift.
We recommend avoiding lilies, their scent can be over-powering for a newborn. That's why we have plenty of lily free bouquets.
If you want to make your bouquet extra special, our florists can also pop in a cute, eco-friendly cuddly toy or a box of yummy chocolates – new parents might need a sugar boost!
Flowers for a baby boy
We definitely don't think you need to stick to the old 'blue for a boy' stereotype, but if you've got your heart set on blue, try delicate spring anemones or striking large-headed hydrangeas. Or if you're after winter blooms, eryngium thistles add lots of lovely texture to a bouquet. Blue flowers tend to signify calm and serenity – ideal for sleep-deprived parents!
Flowers for a baby girl
Likewise, you don't need to think pink for a baby girl but if it's pink you're after then you're spoilt for choice. Roses, dahlias and carnations all come in beautiful blush shades. Pink flowers usually symbolise joy and innocence, just the thing for a new arrival. Need a little more help? Check out our guide to the best flowers for new babies over on the blog.
How are new baby flowers delivered?
Whether you had a surprise 4am phone call, or delivery is scheduled precisely, we can help. Our florists do same day and next day deliveries.
One thing to watch out for – some hospitals don't accept flowers so it's best to have them delivered to the new parents' home address. It also means one less thing for them to bring back, after all they'll have their hands full.
Related articles