For same day delivery order before 3pm.
Shop Now.
Kind-to-the-planet. Beautifully presented in eco-friendly gift wrap.
Eco-friendly
Occasions

Funeral & Sympathy

Flowers

Plants & Gifts

International

Same Day

How to Make a Fresh and Vibrant Christmas Garland
25th November, 2018
If you simply cannot face unpacking those same old gold, red and green Christmas decorations again this year, why not plan a departure from the traditional and lift your mood with a bold and beautiful colour scheme instead? Vibrant, fun and fabulously festive, a jewel-coloured scheme will take you from Christmas into the New Year party season.
And what better way to get the look than with a dazzling and fresh Christmas garland? Whether positioned pride of place on your mantelpiece or used to decorate a bannister, it's sure to be a cheery sight all throughout the Christmas period. Would rather leave it to the experts? Take a look at our collection of Christmas flowers and Christmas wreaths.
Ingredients to make a real garland:
Foam garland
A selection of Christmas foliage including spruce and holly
Red cordyline
Green hypericum berries
Cerise mini gerberas
Orange carnations
Green pine cone picks
A selection of mini baubles
Dried oranges
Florist's wire, scissors, skewer and stapler
Step 1
Before you begin measure the space you would like to display the finished design and cut the foam garland to size.
Step 2
Immerse the foam garland in water until completely soaked, then place on a protected work surface, ready to get started.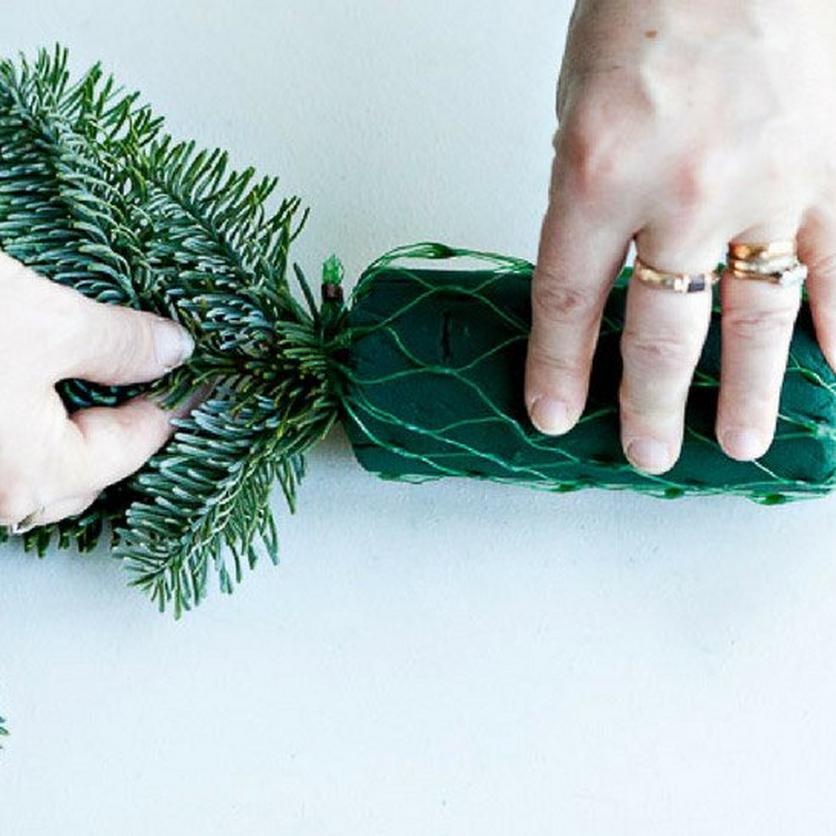 Step 3
Using a pair of sharp scissors cut off sprigs of spruce approximately 5 inches in length and insert into the foam at a slight angle. We recommend removing at least an inch of pine needles at the stem so that you can push the spruce easily into the foam.
EXPERT TIP: To reduce the cost of making your own Christmas decorations, why not use seasonal foliage from your own garden?
Step 4
Repeat with the holly until the surface of the garland is well covered and there are no gaps where the foam is visible.
Step 5
Next, carefully move the garland to the place where you want to display it. It will be much easier to complete the design from here.
EXPERT TIP: If your real Christmas garland is going to sit on a mantelpiece, it's best to put down a layer of clear cellophane to protect the surface from any water spillages.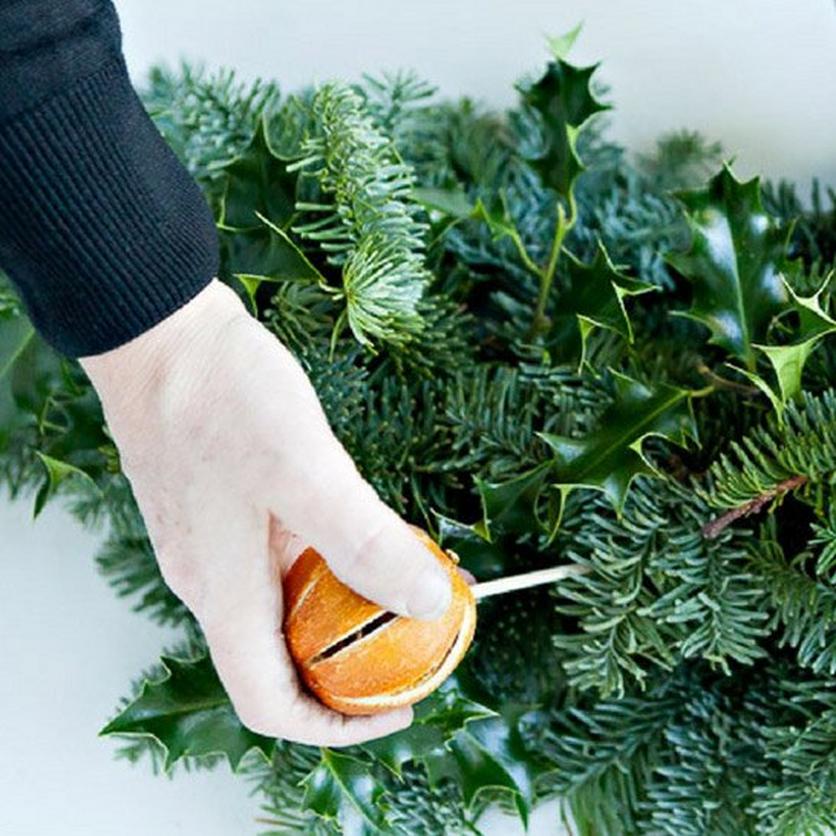 Step 6
With the garland in situ, use skewers to insert the whole dried oranges into place.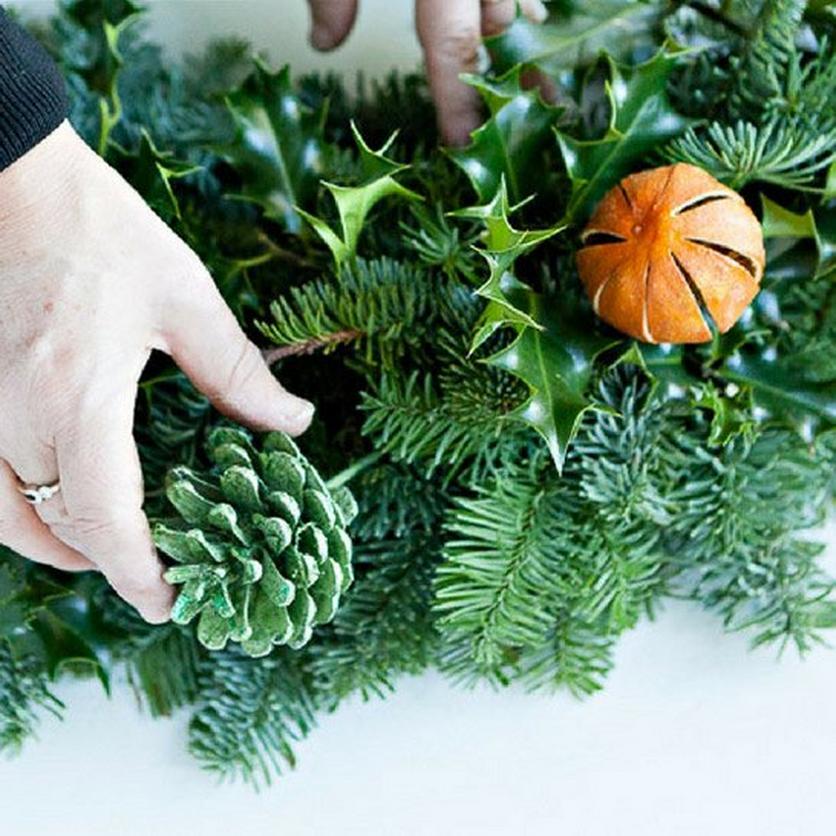 Step 7
Next, cut the pine cone picks short and insert them into the garland.
EXPERT TIP: Pine cone picks are readily available at most Interflora florists shops at this time of year however if you want to make your own, why not gather fallen cones from the garden, spray paint them your favourite colour and secure them into place using florists wire?
Step 8
To add the Christmas decorations, thread miniature baubles on to strong wire and twist to group them together, then insert into the garland.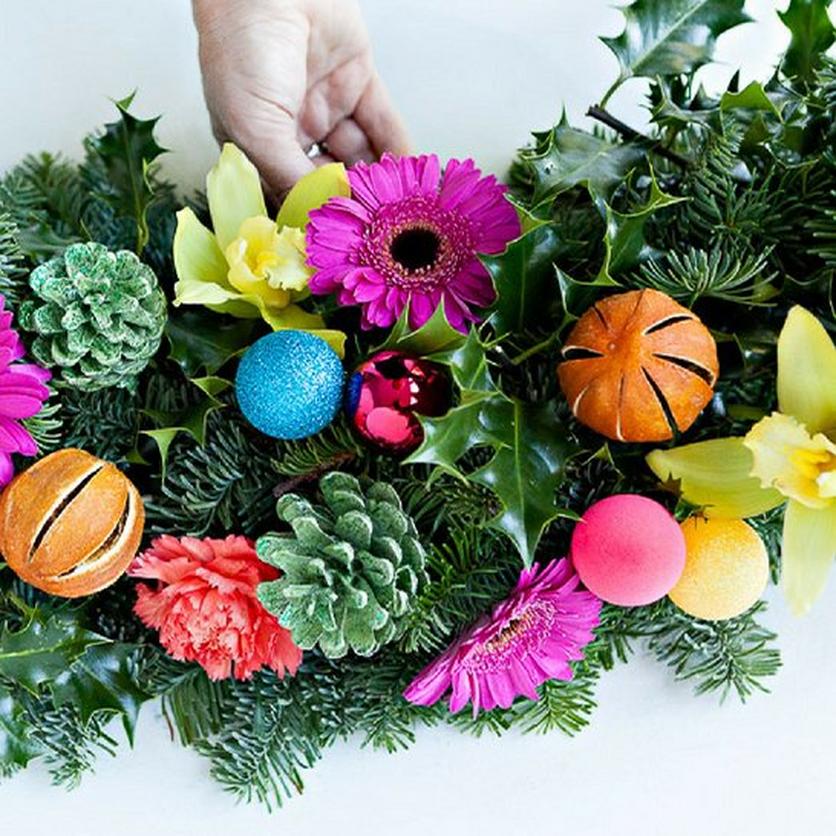 Step 9
Next cut the gerbera, carnations and orchids at an angle and insert into the foam evenly along the design. Try grouping clusters of two or three flowers together for visual impact and use the hypericum berries to plug any gaps.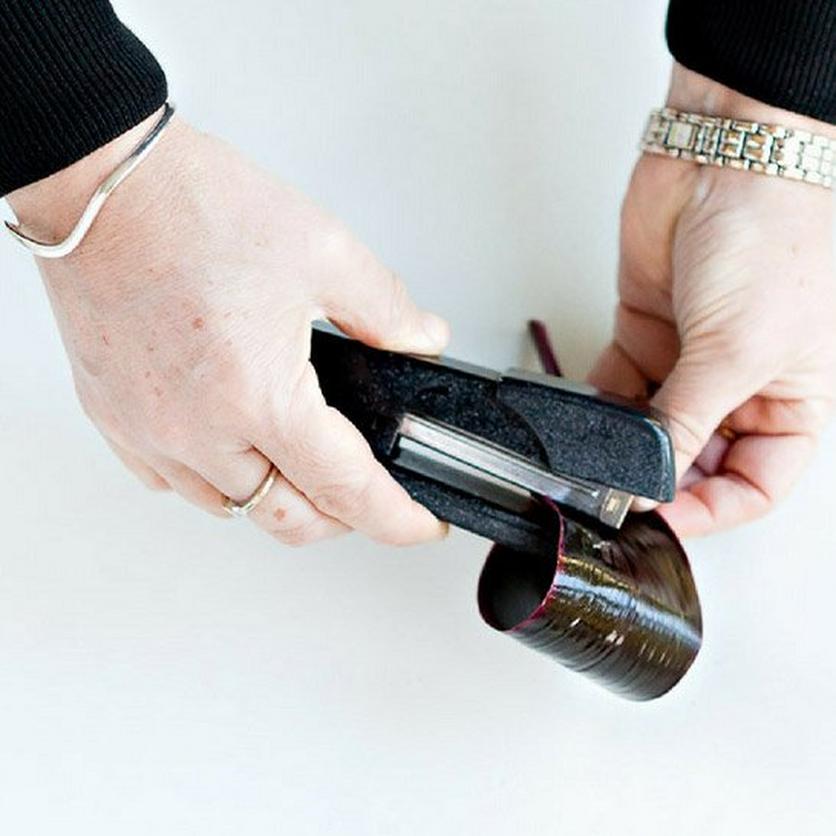 Step 10
To finish the design loop the cordyline leaves in your hands, secure with a staple and push into the foam.
Now your garland is ready to display!
EXPERT TIP: Keep your garland looking fresh by regularly misting it with water. If kept in the right conditions the flowers and foliage should be long lasting, however you can always replace any as they get past their best.