5 beautiful Christmas table decorating ideas
18th September, 2023
Every wonderful festive feast deserves a proper table setting – think coordinating tableware, a little soft candlelight, and of course fresh Christmas flowers. It makes the food taste even better! So, if you're in need of festive inspiration here are five stunning settings you can try.
Scandi Chic
A contemporary twist on the classic Christmas colour palette, this Scandi-inspired look combines rich reds and crisp whites with natural elements like pinecones and spruce. Every detail is considered, down to the ruby glassware. Floral table runners draw the eye down the length of the table and the arrangement of flowers in colour blocks make the setting feel fresh and modern. And if that wasn't enough, on each plate are bundles of hand-tied cinnamon sticks and a large red rose – a beautiful little treat for guests to take home.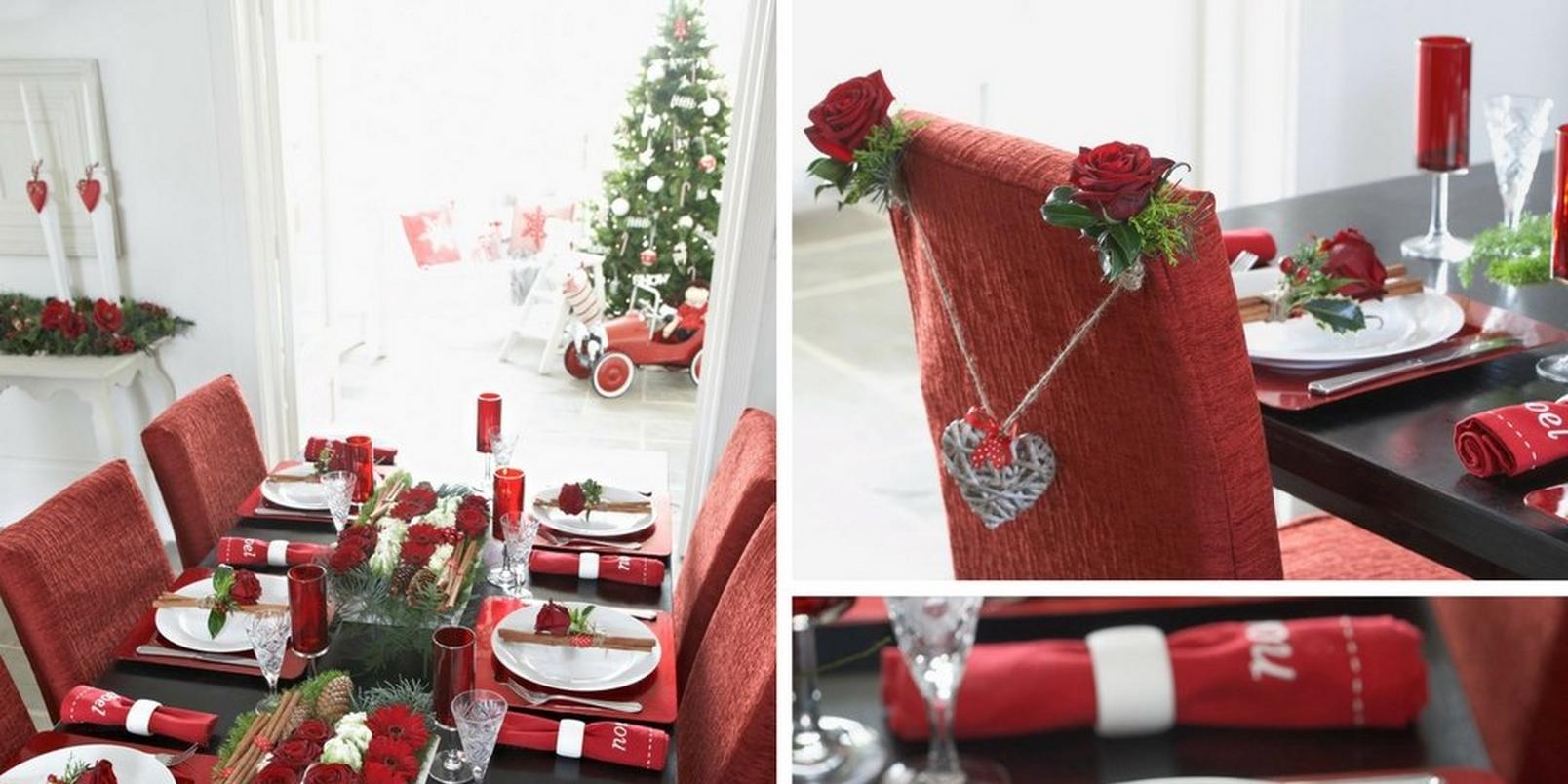 Rustic Elegance
Bring the wonder of winter indoors, with a Christmas table inspired by natural beauty. This centrepiece in soft, muted colours proves that Christmas decorations don't have to be traditional to make an impact. Gentle pinks and greens are contrasted with natural logs to create rustic charm that wouldn't look out of place in a rural cottage. And, if you do want to add a little theatre, a few indoor sparklers are sure to dazzle.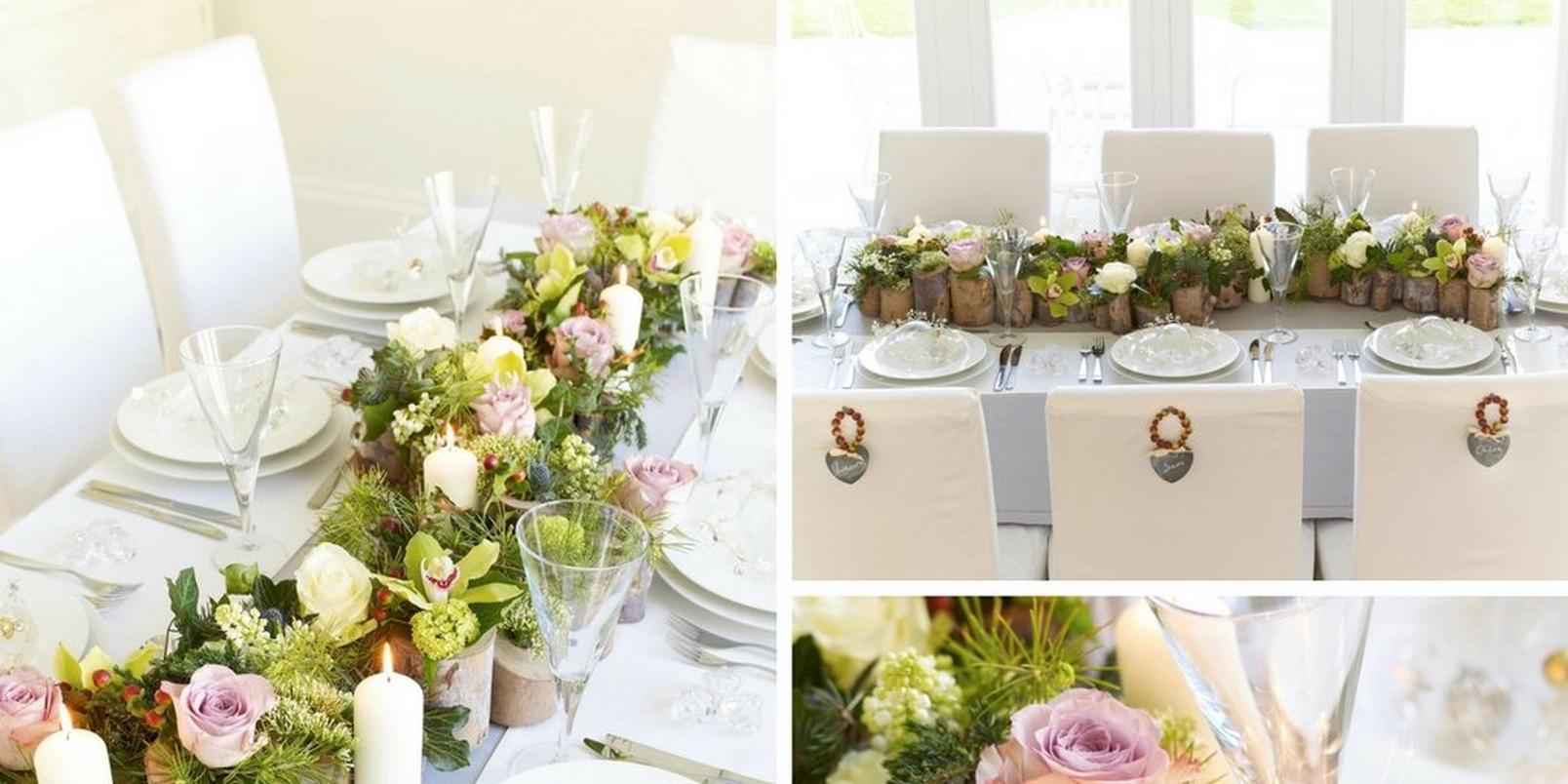 Bright and beautiful
Christmas is a time to push the boat out, so why not opt for bold, vibrant colours that say we're ready to celebrate? With its rich, jewel-like colours this table is as attention-grabbing as a Christmas cracker. We also love the little finishing touches, like the personalised floral place settings that coordinate with the chair backs.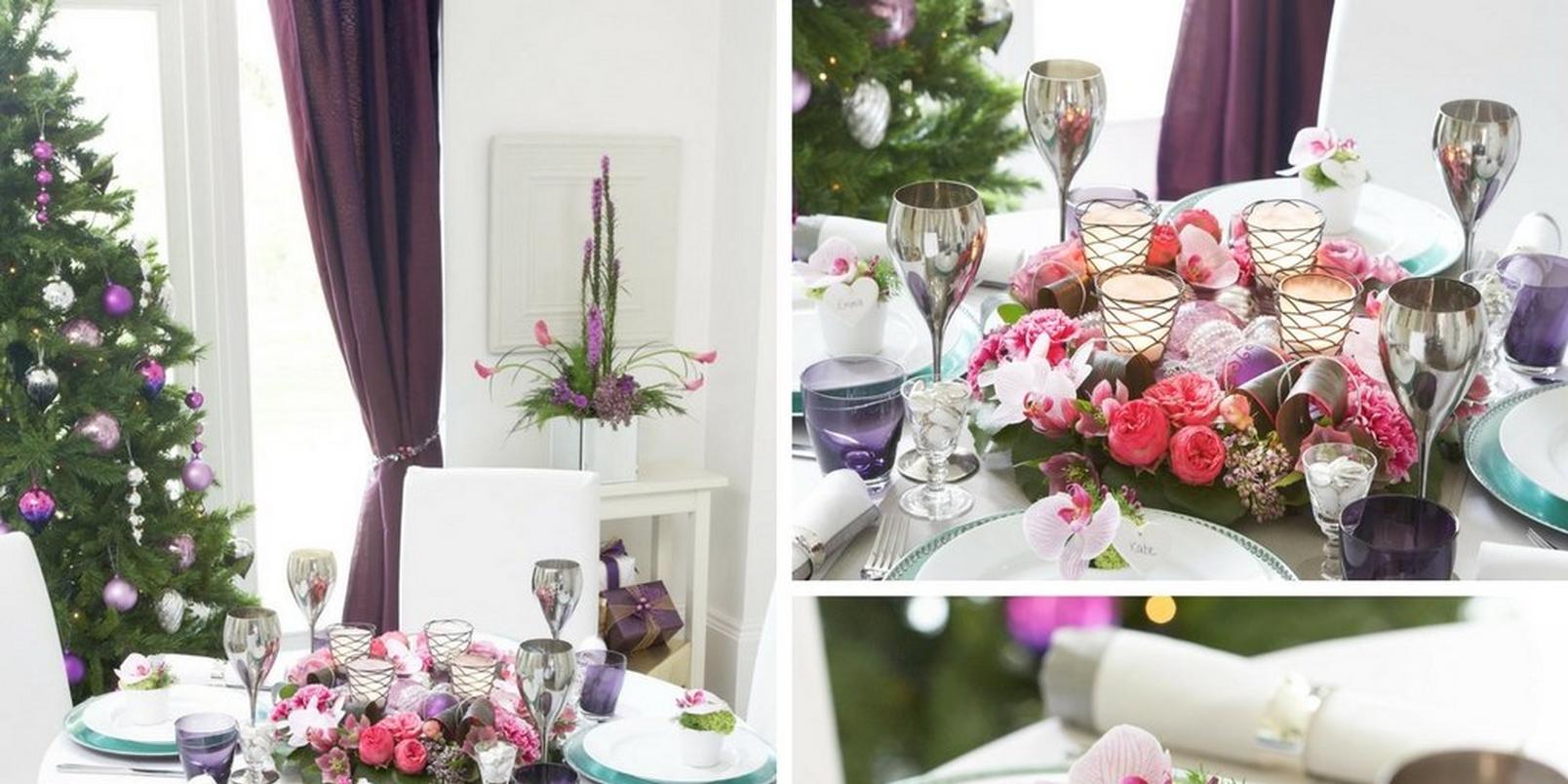 Festive luxe
If you're after a contemporary setting that still makes a statement, this is the way to do it. Branches of larch and orchids run down the centre of the table, while architectural Calla lilies tower above, lit by carefully placed candles. Ice white, lime and purple don't sound like they should work, and yet they do! Plus, who could resist those adorable purple pine cones?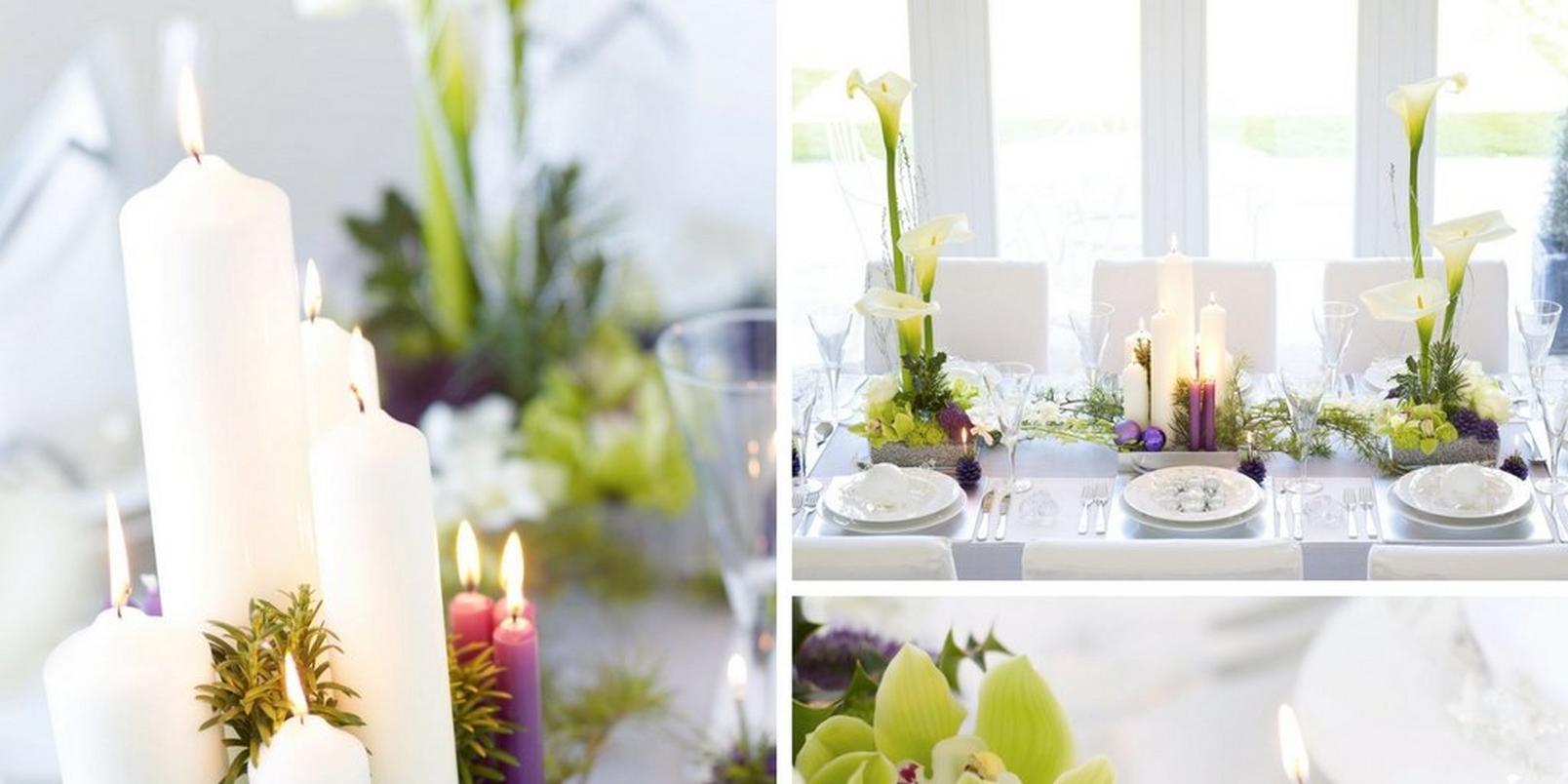 Tumbling glamour
Create some high drama on your table this year by adding just that: height! These towering candelabras are dressed with amaryllis (a classic Christmas bloom), exotic orchids and trailing foliage in a showstopping combination. Red and pinks make an unexpected but elegant colour pairing and delicate glassware adds a touch of vintage glamour.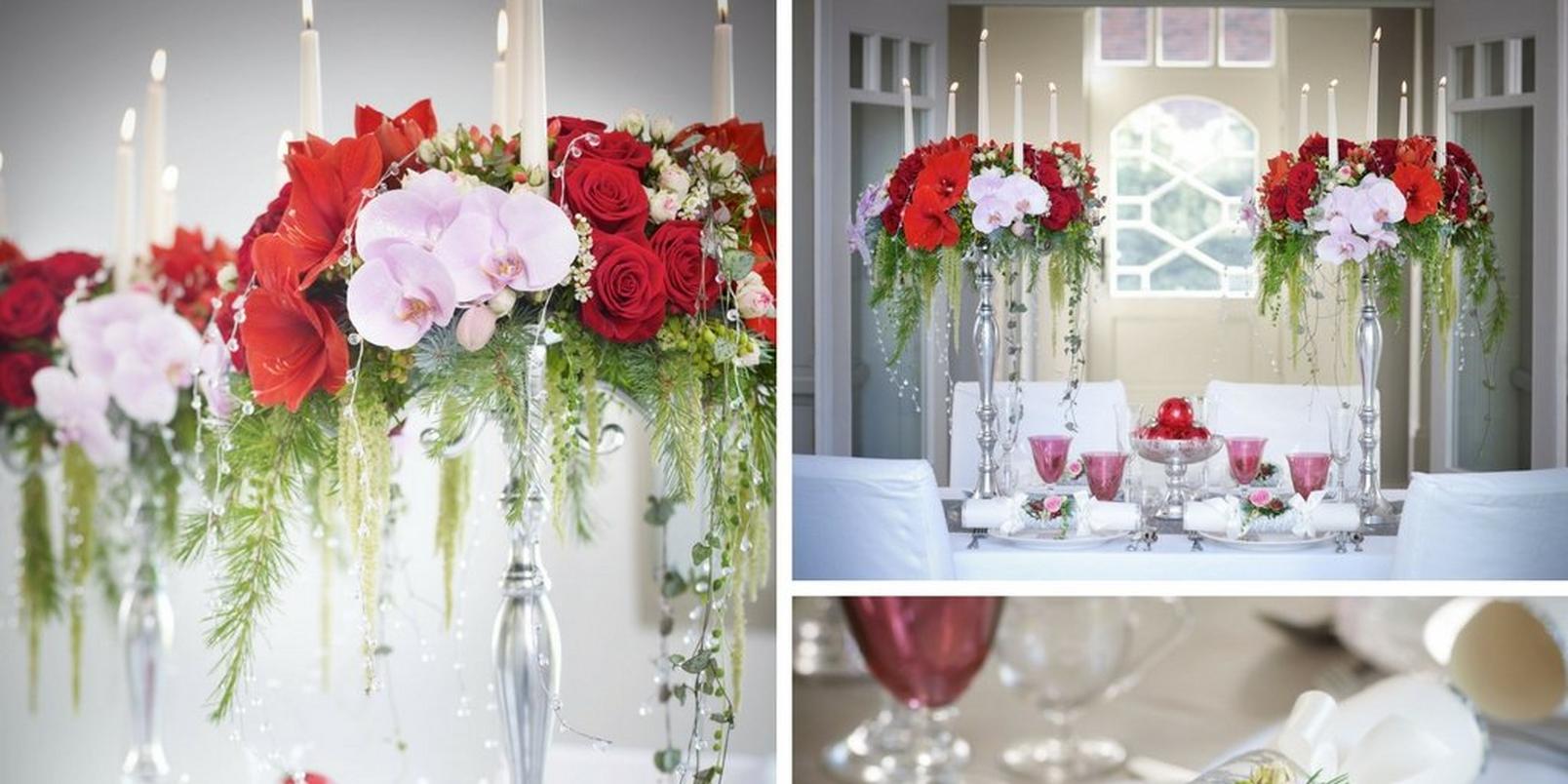 Top tips for dressing your Christmas table:
Use a centrepiece such as a flower or candle arrangement to create a focal point
Add candles to conjure that essential seasonal glow
Create a cohesive look by choosing textiles, crockery and glassware in complementary colours
Don't forget elbow room! You and your guests will need room to tuck in, so make sure there's plenty of space, it helps to also keep the table clear of any cracker debris or empty plates
Add place settings or festive favours for an extra little personal touch (plus place settings help avoid any awkward 'where should I sit' moments)
Create theatre with table sparklers and Christmas crackers
For more festive inspiration browse our Christmas flowers or find a local florist who can help bring your own bespoke Christmas creation to life.