How to have a stress free Christmas by The Joyful Coach
6th December, 2023
Christmas - it's the most wonderful time of the year, isn't it? At least, it starts out that way, until the festive merriment catches up with you and you end up with a stinking cold, a less than healthy bank balance, and stress levels that are off the charts. And that's before you add in any family drama, challenging work deadlines and a whole load of pressure to feel cheerful regardless of what you've got going on in your life. Hands up if you usually make it to the big day feeling run down, burnt out, and well, a little bit over Christmas before it's already begun? If you've got both hands in the air, I promise you that you're not the only one. It's all too easy to get caught up in the excitement of the season and peak too soon, or on the other end of the spectrum, miss out on all of the fun because you're feeling overwhelmed and exhausted. But with a couple of conscious changes and mindset shifts, it's possible to squeeze plenty of joy out of the festive period, and today, I wanted to share some tips to help you do just that…
1) Set an intention for the season ahead
When it comes to preparing for a joyful festive period, an important place to start is by setting an intention for the season. Few of us take the time to consider how we want this time of year to look and feel, but taking a few minutes to do just that can help us to prioritise the things most important to us and feel happier and more content. Start by visualising what a truly joyful festive period would look like to you. How would you love to feel? What would you love to create time and energy for? Then write a short sentence or mantra that can be a guiding intention for you in the coming weeks - for example, "this year, I want to embrace the magic of Christmas", or "I want the festive period to feel calm and relaxing". A great bonus of setting an intention is that it can also help to relieve some of the comparison that can creep in at this time of year - if you're clear and certain on what you want from the festive period, you'll be less likely to compare yourself to others who might be approaching it differently.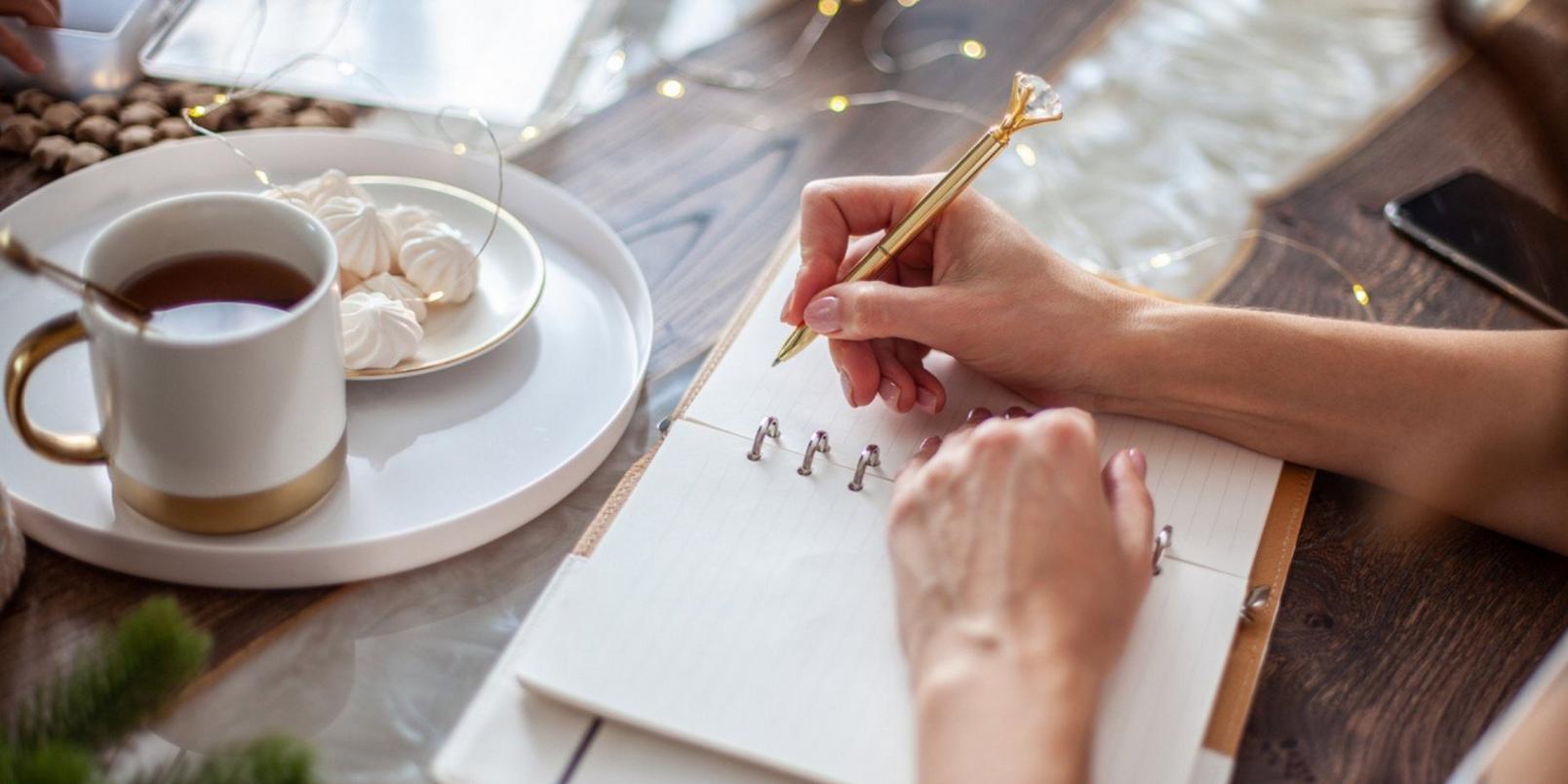 2) Take control of your diary
Once you've set your intention for the season ahead, it's time to take control of your diary so that you can make sure you've got enough time and space to honour that intention. Social commitments come thick and fast at this time of year, and if you're not careful, you can end up with something in the diary every single day. Spend some time reviewing your plans for the weeks ahead, and make sure you have some activities or plans in the diary that align with your intention. That might mean booking tickets to the events you don't want to miss, or alternatively, carving out some evenings and weekends just for you. It's so tempting to say yes to everything during the festive period, but if you don't take control of your diary, the coming weeks will feel more like an endurance test than a time of celebration. And if you're a little nervous about turning down plans or setting boundaries with friends and family, remember this: by taking care of yourself, you're giving your loved ones permission and inspiration to do the very same thing.
3) Prioritise healthy habits
If we're not mindful, the Christmas period can wreak havoc with our diets, sleeping patterns and exercise plans, which can leave us feeling tired, sluggish and a little run down. Tucking into some yummy food or staying up late celebrating with friends and family is all part of the festive fun, but continuing to prioritise your healthy habits will work wonders for your mood and mental health during the busy season. Before life gets super hectic, spend some time thinking about what you need to feel your best physically and mentally, and put a plan in place to prioritise those things. It might be as simple as batch cooking some nutritious meals for your freezer, stocking up on some vitamins or simply committing to getting an early night a couple of times a week. A little bit of focus goes a long way and will mean you make it to Christmas day feeling energised and ready to celebrate!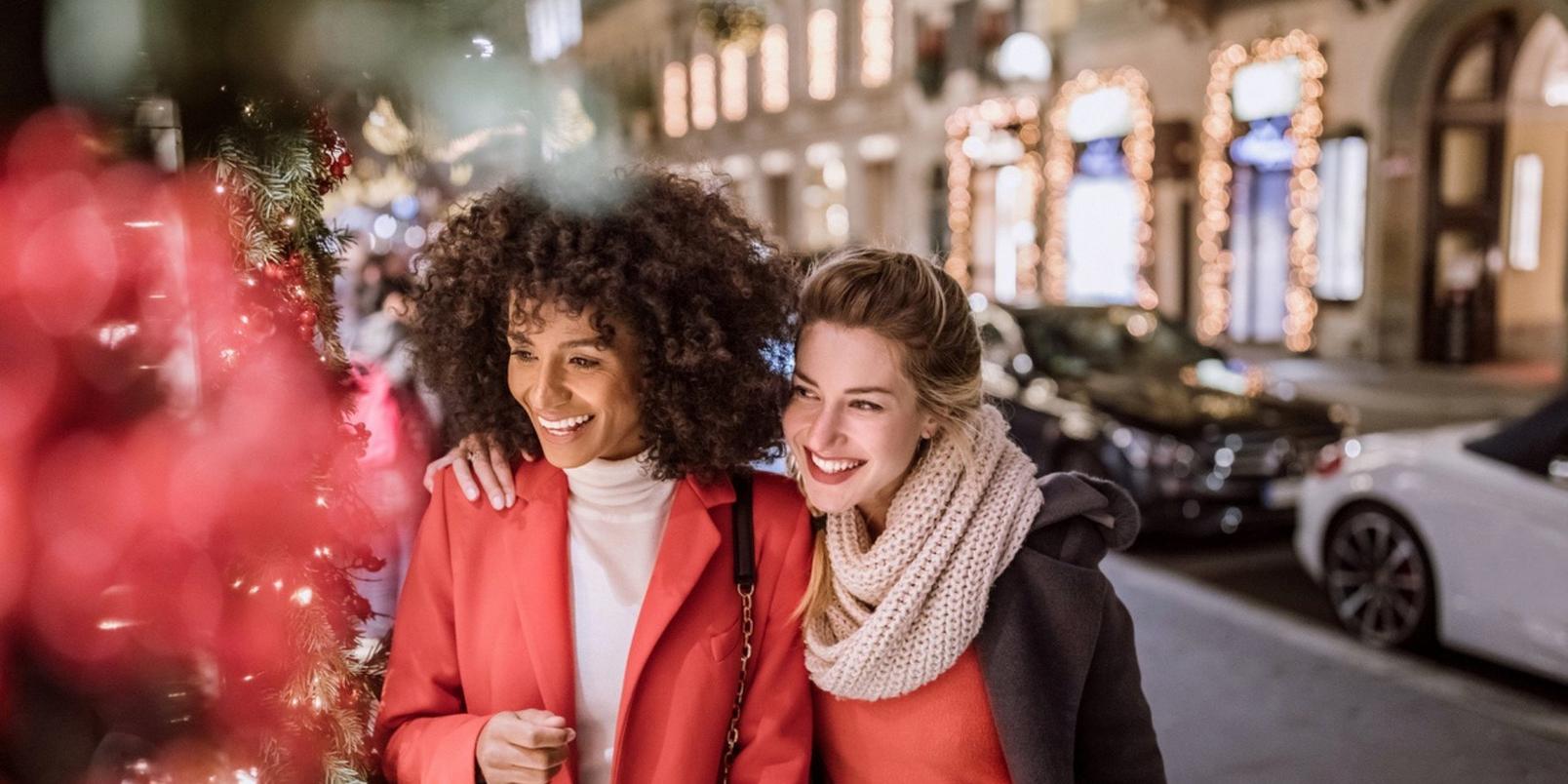 4) Plan ahead and prepare
With so many commitments and plans filling our diaries, Christmas can switch from joyful to overwhelming pretty quickly, but with some planning and preparation, it's possible to stay calm and find joy amongst the chaos. The key here is to get ahead - make lists of the gifts you need to buy, mark any key dates or plans on your calendar so you don't forget anything, and share the load with your family or friends where you can. And try to remember, what makes the festive period so special is the people we spend it with and the memories you make together. Don't burn yourself out trying to keep up with others or make everything appear perfect - there's no such thing!
5) Limit the screen time
We could probably all benefit from spending less time on our phones, but Christmas is a really great time to commit to limiting the screen time. With less time spent scrolling Instagram, you'll be more present for your loved ones, less likely to fall into the nasty comparison trap, and you'll probably find that you have more of that precious time we're all craving more of during this busy season. Consider setting a limit for how much time you can spend on your most addictive apps, or simply leave your phone in your bag whenever you're hanging out with friends or doing something fun - you'll be amazed at how much more present you'll feel.
6) Enjoy the moment
Finally - Christmas comes but once a year, so take some time to slow down and truly enjoy the moment. Soak up the opportunity to hang out with the people you love, marvel at the twinkly lights that make those dark winter nights so much more magical, and feel the love during the season of goodwill. Remember that the perfect festive period doesn't exist, so instead, squeeze as much joy as possible from the one that you have. Practice gratitude for the people and things you love, allow yourself to feel the magic in the same way you did as a kid, and keep your intention front of mind. You'll find that the season is so much more joyful if you do!
I hope these tips have given you some guidance to help you truly enjoy the festive period this year. This season comes around just once a year, and by taking a little time to prep and plan, you'll give yourself the best chance of being present for all of the fun and magic. Sophie Cliff (aka The Joyful Coach) is a certified coach and positive psychology practitioner who uses her expertise to help individuals and organisations flourish by finding more joy and prioritising wellbeing. She is also the author of Choose Joy: Relieve Burnout, Focus on Your Happiness, and Infuse More Joy into Your Everyday Life.