How to Make a Christmas Wreath
8th August, 2022
Need to shake off any Scrooge feelings? Making a Christmas wreath with fresh flowers will do the trick. All you'll need is a few tools, some lovely blooms, maybe pop some Christmas tunes on, and soon you'll be feeling merrier than Santa himself.
And best of all – this Christmas wreath is eco-friendly! It's as kind to the planet as it is easy on the eye. No plastic baubles, an all-natural twig base (that you can reuse year after year) and you can dry the flowers or compost them when it's time to see in the new year.
(If you'd rather leave it to the experts remember our talented community of local florists would love to help. Check out our gorgeous, handcrafted wreaths. And if you really want to deck the halls we've got all sorts of festive flowers and even Christmas plants.)
To make your Christmas wreath you'll need:
Tools:
Natural twig wreath
Secateurs
Natural twine
Foliage (you can get this from your local florist, or your garden):
Blue spruce
Eucalyptus
Silver Brunia
Flowers:
Hydrangea
Proteas
Gravillia
Your choice of dried flowers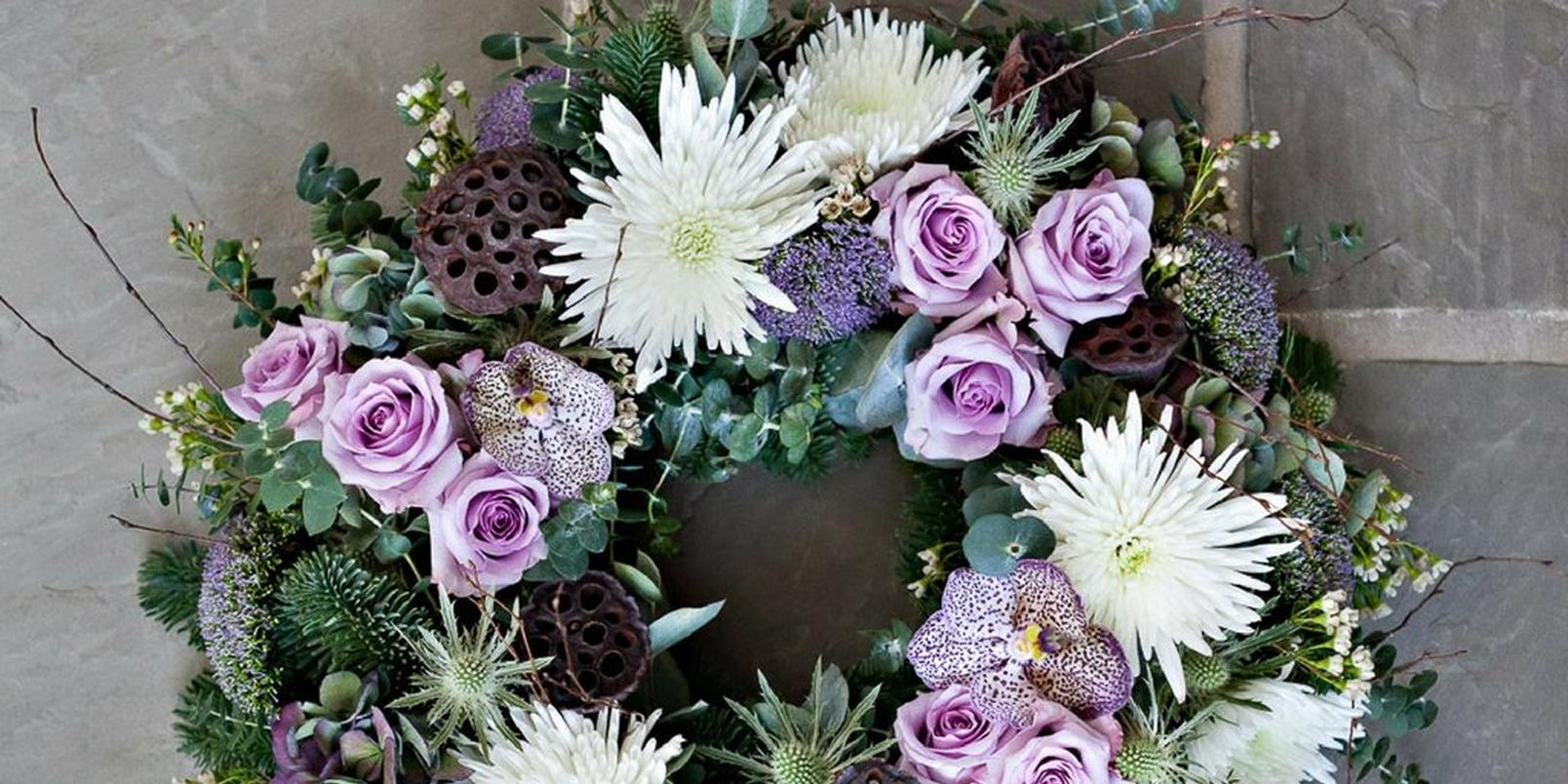 Step one: bundle, bundle, bundle
A green Christmas wreath starts with, well... lots of greenery! Create bundles of mixed foliage and dried flowers by cutting the stems into short lengths and binding them together with twine. You'll need to make around two dozen bundles (or more if you've set your heart on an oversized Christmas wreath!)
Pro-tip: make sure your bundles really are mixed with different types of foliage. This will create lots of lovely texture when you start building your wreath.
Step 2: lay it out
Lay the wreath out in front of you and decide where you want to start. Whichever side you choose you'll want to begin halfway up. You don't need to hide that lovely natural base – we want to show it off.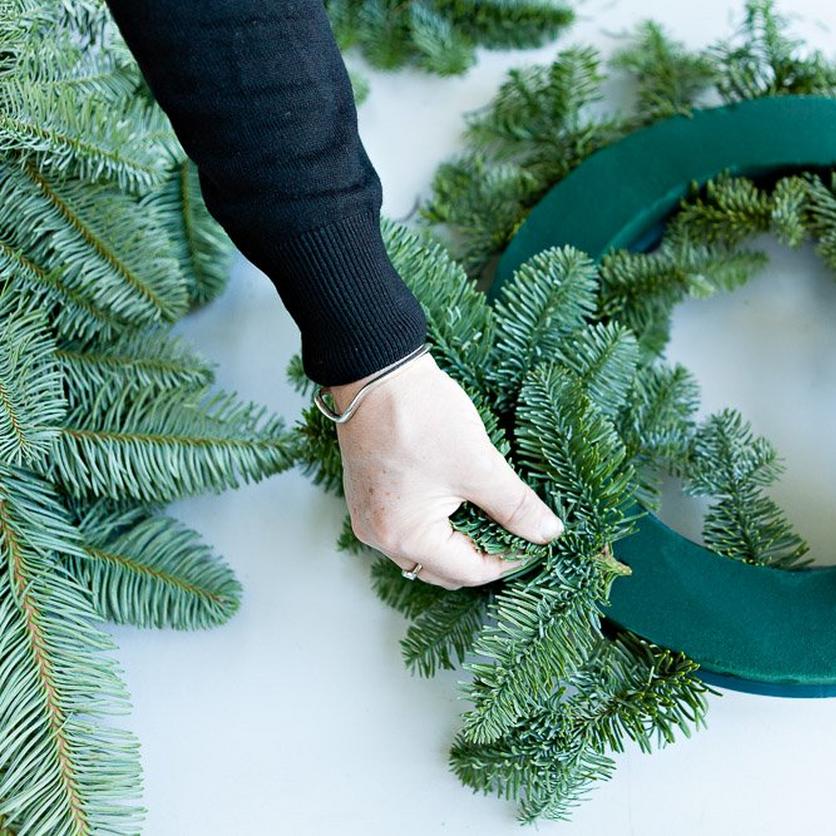 Step 3: secure your foliage
Use your thumb to hold a foliage bundle against the wreath. Once you're happy with where it is bind it into position, pulling the twine taut to help keep everything in place.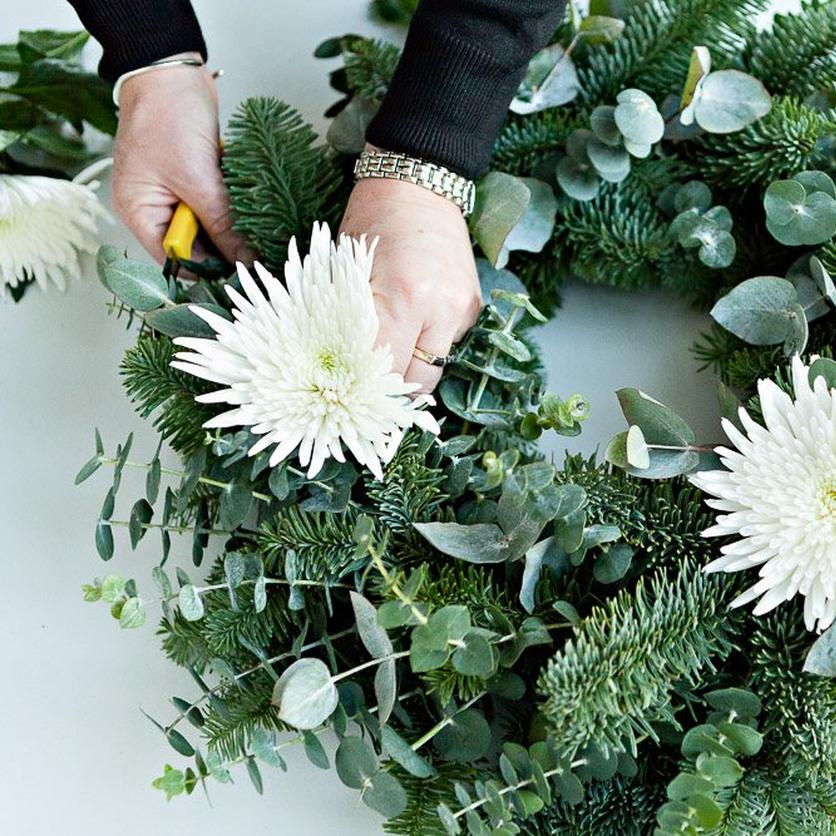 Step 4: build up your leaves and add your flowers
Continue to work up towards the top of the wreath adding more foliage bundles as you go (make sure they're all pointing in the same direction). Punctuate your foliage with flowers, adding a single bloom at a time and securing them with twine using the same technique.
Step 5: tie off your twine
Once you've almost reached the top, tie off any twine and start over again on the other side. Just repeat the steps over for this side.
Step 6: hiding the gaps
Once both sides are finished it's time to bridge the gap (and fill in any other areas that look a little sparse). To do this make up a few smaller bundles of foliage and bind them to the wreath. Feel free to add in more flowers too – the more the merrier!
Step 7: hooray for hydrangeas
Now's the time for your fabulous hydrangea blooms. Attach them by pushing their sturdy stems into the wreath base (don't worry these tough stems will be okay!)
Step 8: display and feel proud
Ta da! You did it! All that's left to do now is find the perfect spot to hang your eco-friendly Christmas wreath.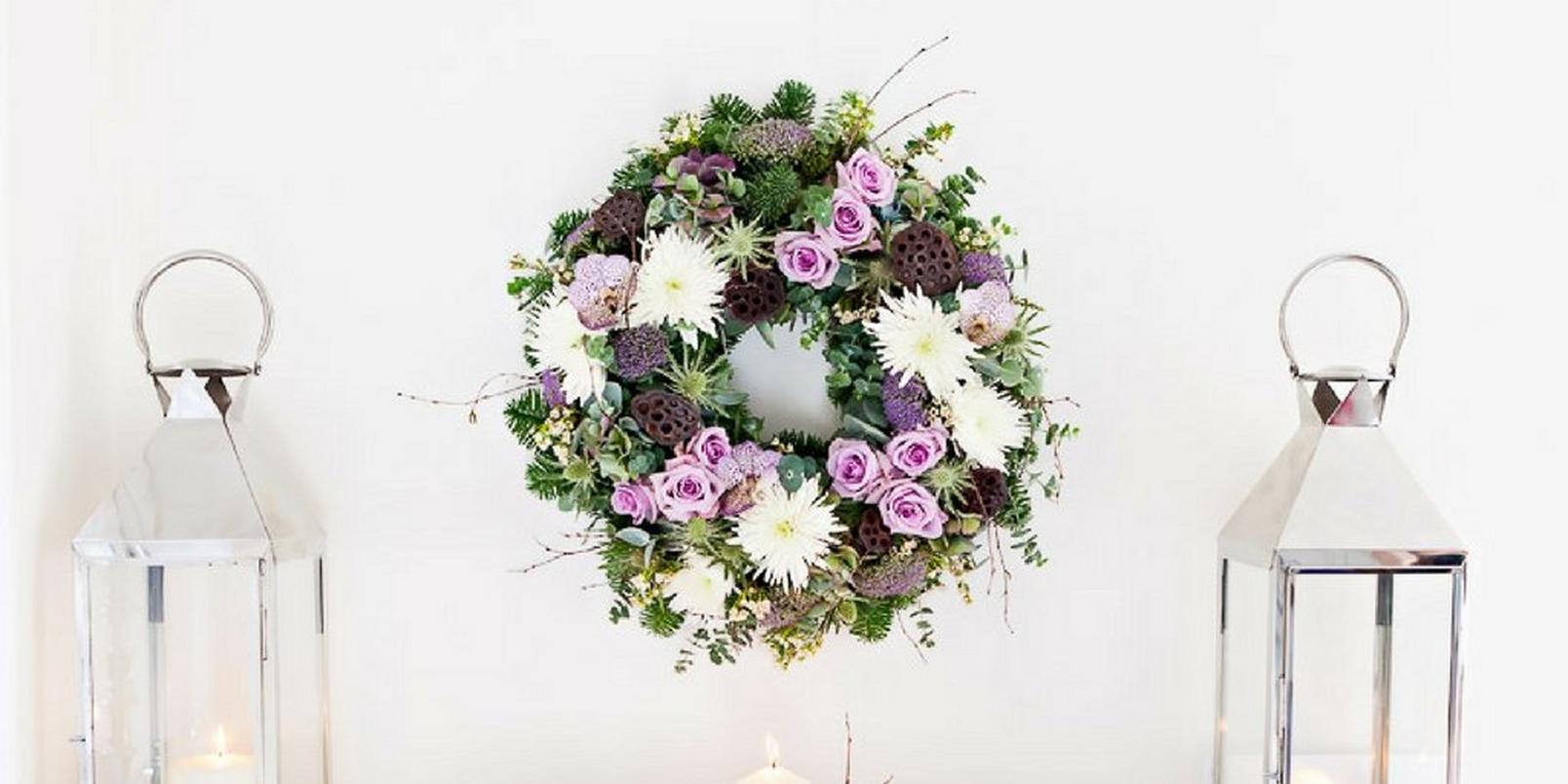 Other Christmas wreath ideas
We like our wreaths in all shapes, sizes and colours – you can mix and match what you include in your wreath to suit your style. Here's a couple more ideas for making your wreath your own.
Add feathers and dried grasses
For a boho vibe swap your flowers for pheasant feather, birch twigs, white dried grasses, cotton and fir cones. You could add some eucalyptus in too (the colour goes really well with the other natural elements). Follow the steps above, bundling up your foliage and adding it in clockwise direction, before adding bundles of the decorative bits and pieces – like the grasses and cotton. Fir cones go in last to finish off this striking design.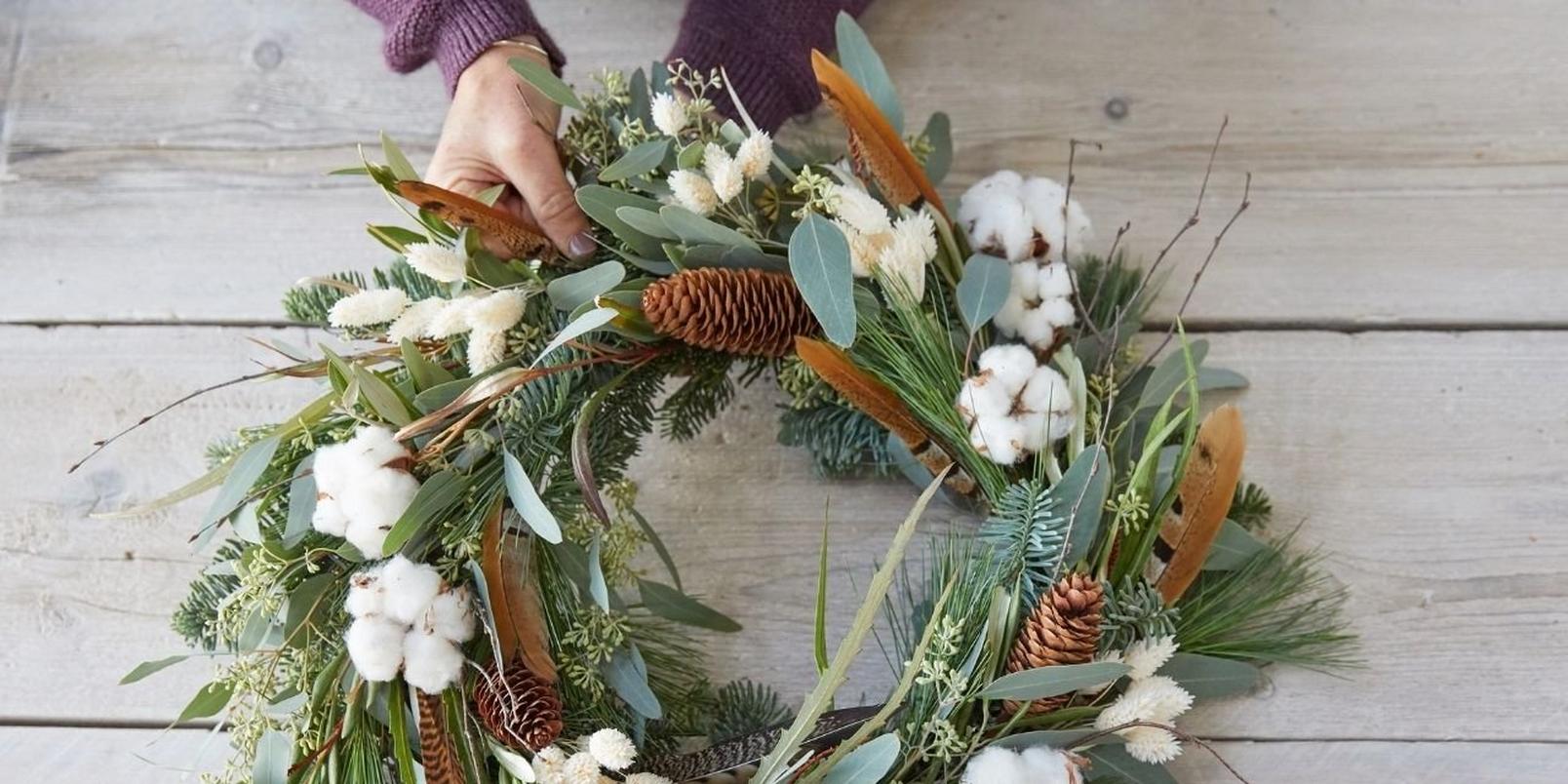 Add baubles and other Christmas decs
Although most Christmas decs are made of plastic, as long as you're using them year after year they're not going to landfill. And a wreath is a great way to show them off! Try hanging small baubles or decorations off your wreath (being sure to choose ones which match your blooms and colour scheme).