How to Make a Christmas Wreath
2nd November, 2023
Love a bit of Christmas crafting? Get the festive feels by making your own beautiful handmade winter wreath.
All you need are a few basic tools, some seasonal foliage and flowers, and (of course) Mariah on repeat.
Tools & Ingredients
Top tip: Your local florist can usually order in all the foliage and flowers you need to get started.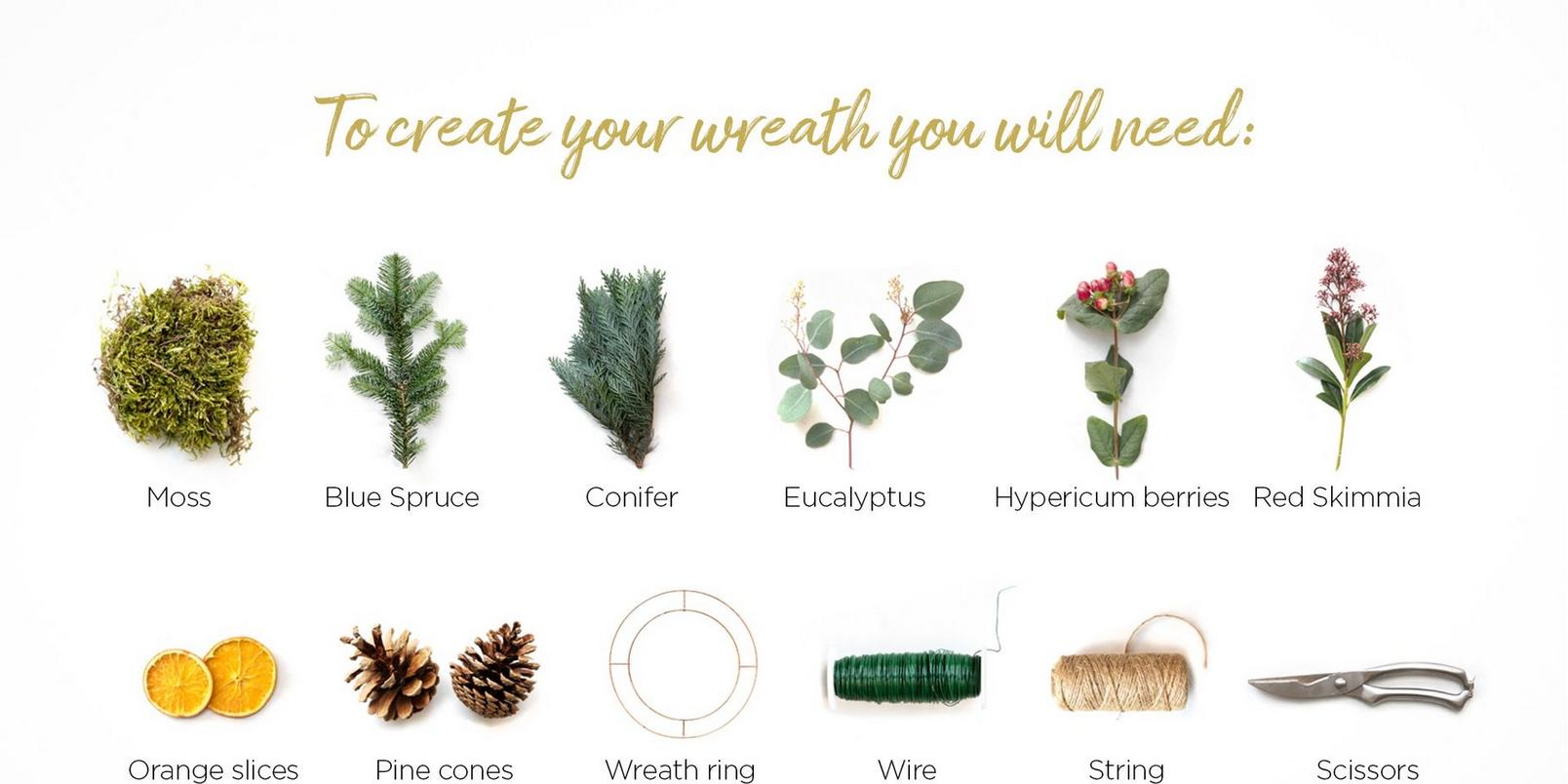 Step 1 – Make a very merry moss base
Take a piece of moss and lay it over your wire frame. With your florist wire, bind the moss to your frame, leaving around 1 inch of wire at the end to tie off later.
As you wrap the wire around, leave about a finger's width apart each time, being careful not to tie it on too tightly. After your first piece is attached, carry on (without cutting the wire) until your wreath is completely covered.
All mossed up and ready to move on? Using the inch of wire you left earlier, twist it together with the other end of your wire to secure your moss base. Make sure not to cut the wire off at this stage, as you'll need it to attach your festive foliage and flowers in the next steps.
Why moss? It's planet friendly and provides moisture to help your Christmas wreath last longer.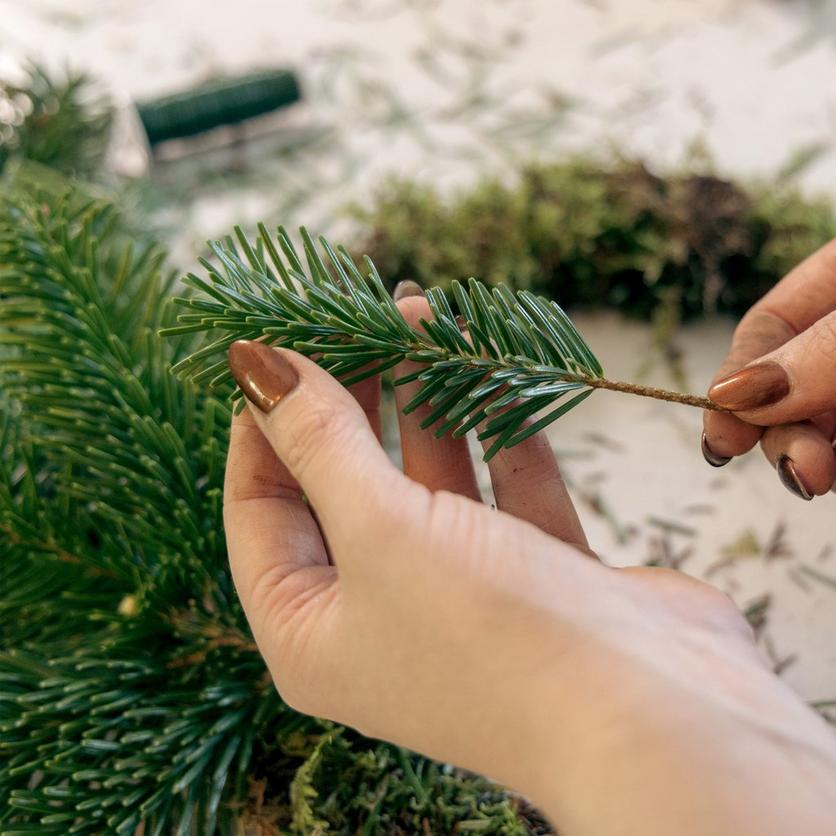 Step 2 – Prep your festive foliage and flowers
Blue spruce and conifer will give your wreath that oh-so nostalgic festive fragrance. For your blue spruce, cut the smaller side branches off and discard the main stem. To make it easier for you to push the pieces into your wreath later, pull off some of the pine needles at the bottom of each piece. Prep your conifer by cutting each branch into 2-3 pieces.
To cue some Christmas colour, bring on red skimmia and hypericum berries. Cut each stem of your hypericum berries and skimmia into smaller pieces. Remove the leaves from the hypericum berries as these will eventually go brown.
For your eucalyptus, cut each piece into smaller pieces, and just like you did with your blue spruce, take off a few leaves at the bottom.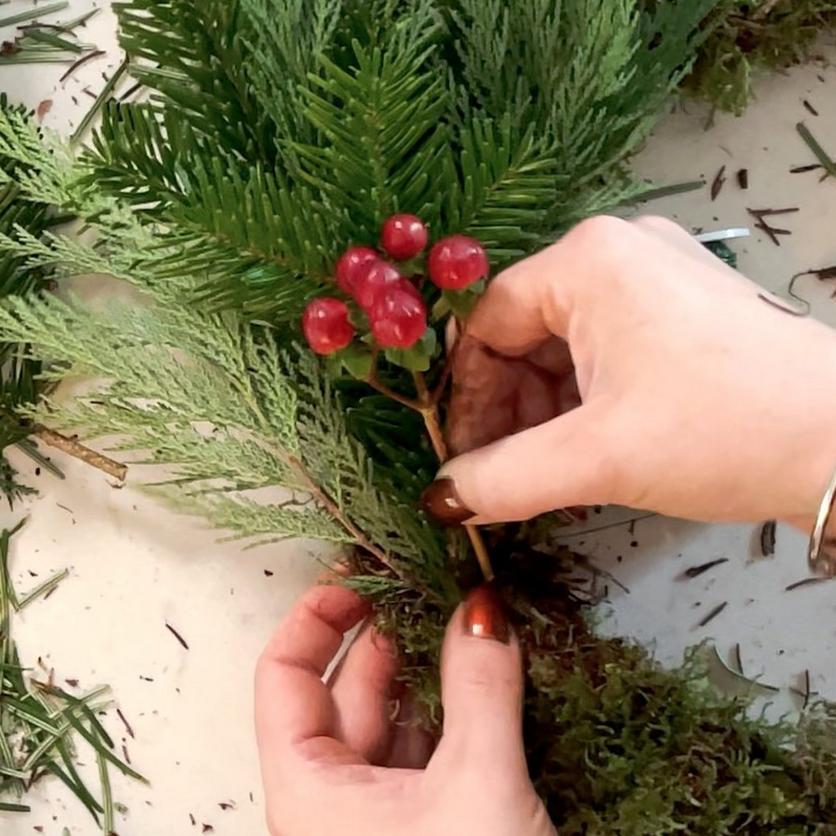 Step 3 – Ready your real Christmas wreath to hang
It's almost time to start adding your foliage and flowers. But before you do, you'll need to make a loop to hang your wreath. It's easier to do this now, before your wreath gets too thick. Cut a small piece of twine and fold it in half. Wrap it around the base of your wreath, loop it back through itself and pull tight. Tie the two cut ends together and voila, your Christmas door wreath has a handy loop ready to hang.
Step 4 – Now for some Christmas wreath making magic
Grab your pieces of spruce and conifer and start by tucking them into the moss, layering each piece over the last. Fan out your pieces in an anti-clockwise direction and arrange them loosely to create a soft, natural shape, placing each piece slightly outwards.
Once you've added a few pieces, use the wire to hold them in place by wrapping it over the top a couple of times. Next, add the eucalyptus, hypericum berries and skimmia in and around your foliage. Repeat these steps as you create a fabulously festive floral wreath.
Step 5 – Prep your pine cones and orange slices
This part is quick and easy and should only take a few minutes. First take two slices of orange and push a piece of wire (around 15cm) through the flesh, just underneath the rind (the white bit). Bend the wire in half so it makes two stems, then twist them together. Do this for the other slices too. For each pine cone, bend a piece of wire (around 15cm) around the bottom of the cone until it meets back up with the other end of the wire. Straighten the wires and twist together.
We've picked pine cones and orange slices, but if you want to add your own Christmas wreath ideas, like bows or baubles, go for it.
Step 6 – Add the finishing touches
Pop your pine cones and orange slices into your wreath. There's no perfect place – your wreath, your rules. When you're happy, attach them by pushing the wire through the moss from the front until it pokes out the other side. Once the wire is through, push it into the moss base to keep it in place. Do this for your other pine cones and orange slices. All that's left do to? Hang your Christmas wreath on your door for all your neighbours to admire (and envy).
If Christmas wreath making isn't for you this year, our community of local florists are always in the festive spirit. Take your pick from a range of beautiful handcrafted wreaths, festive blooms and Christmas plants. Merry Christmas!