The Ultimate Guide to Green Flowers
10th December, 2023
What do you think of when it comes to the colour green? New life? Health? That bag of spinach in the fridge that's calling out your name every time you open the door but you just aren't feeling a salad?
Well, green maybe isn't the first colour to spring to mind when we think of flowers. Red roses. Yellow daffodils. Pink tulips. In our minds, this colour is reserved just for grass, leaves and stems. But green flowers are (usually) naturally occurring beauties not to be overlooked. Featured in a bouquet, they add a zesty finish and are a modern alternative to your typical blooms, which is why we've put together this bumper guide to all that gorgeous green.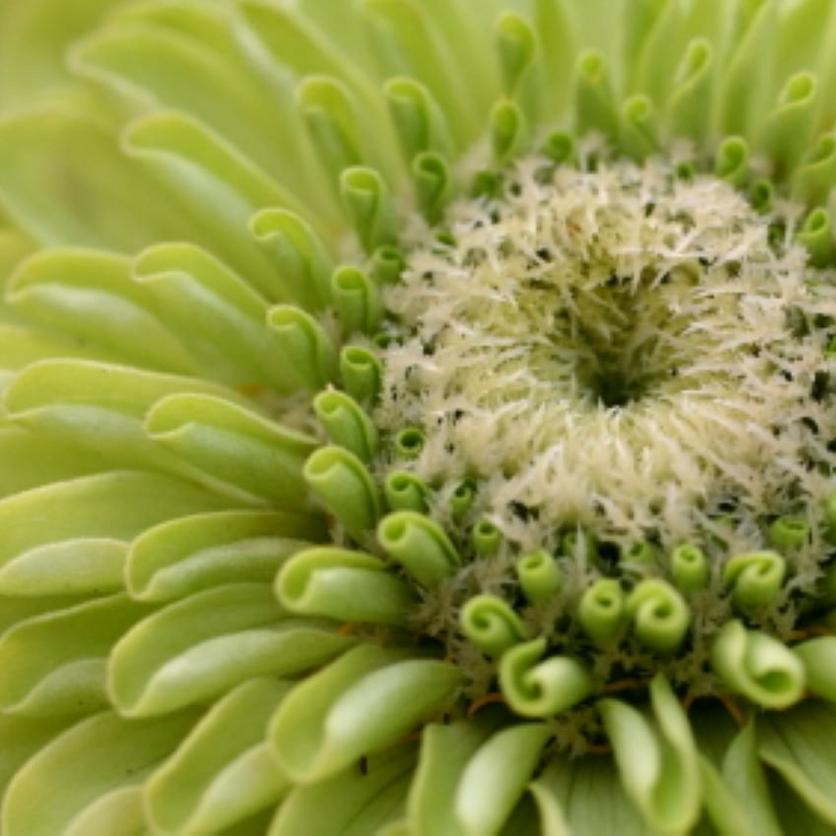 Green flower meanings
When it comes to flowers, the colour green usually symbolises new life, renewal, fertility, abundance and hope (not the usual meaning of envy or jealousy we associate with the colour green). Green is the colour that represents International Women's Day too. Put simply, green flowers usually symbolise positive, hopeful feelings making them a great choice for moments of new beginnings like a new job, a new arrival or a new home.
When are green flowers in season?
You'll find green flowers right through the year if you look hard enough. Some are summer classics, like green roses and chrysanthemums, while species like hellebore will bring you winter beauty. We've included the season which each of our faves below so you know when to look out for it.
Type of green flowers
Here are ten of our favourite green blooms.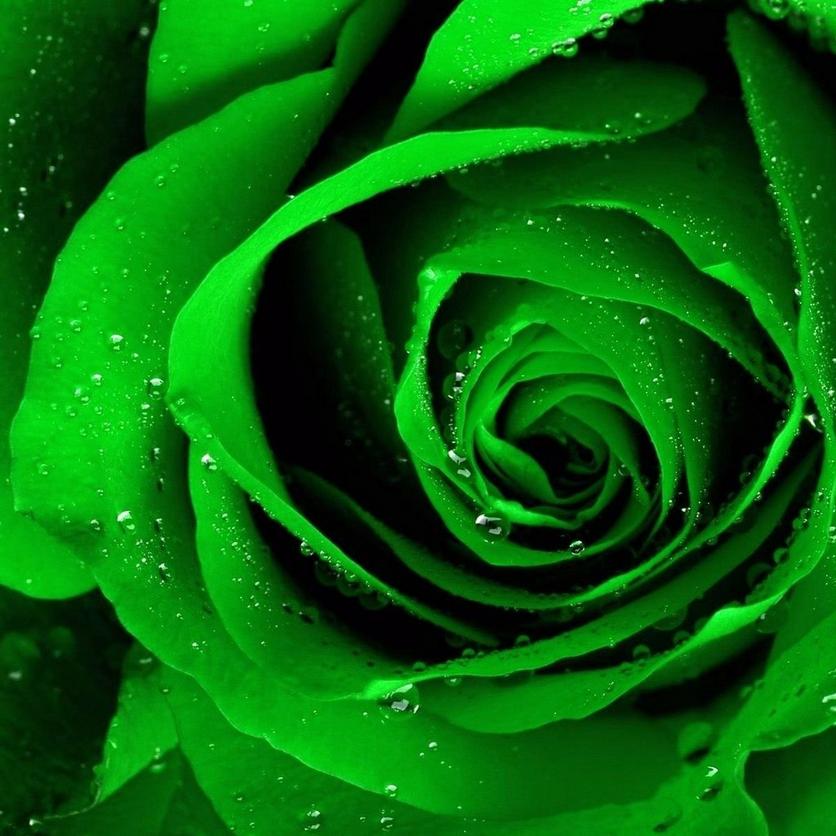 Green roses
We know, sounds crazy right? But green roses do exist and wow, do they look good. They're the perfect switch for your usual red variety, mixing up those Valentine's Day flowers so they'll be remembered for years to come.
What do green roses mean? Green roses are believed to symbolise hope and optimism. That means they're great as a gift for someone waiting on news, results or prepping for an exam. Give a bunch of these to send some good vibes!
Did you know? Green roses are pretty rare but they've been around since the 1800s and were first grown right here in the UK.
What should you pair green roses with? We think these blooms look stunning as a standalone flower in a bouquet but we also love pairing them with vibrant purple statice and fluffy white gypsophila. The green rose is the star of the show but these back up flowers will enhance its beauty.
When are green roses in season? Green roses flower in spring and summer, and the blooms will usually last right through to autumn.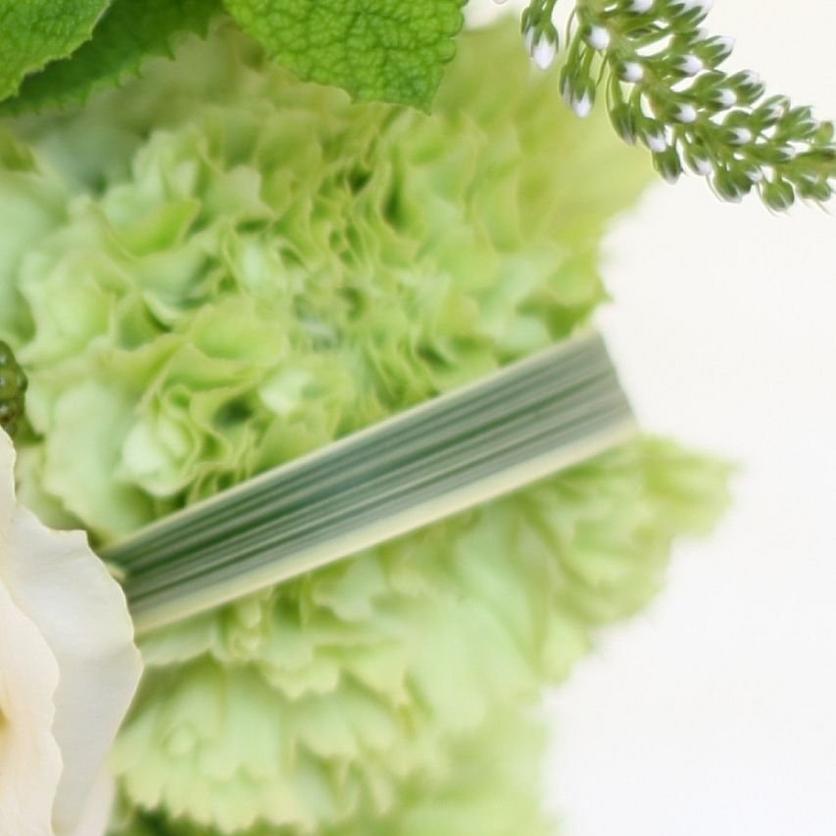 Green carnations
Sweet, fluffy carnations are sometimes overlooked when it comes to their importance in a bouquet but they'll definitely get your attention in vivid shades of green.
What do green carnations mean?
Overall, these blooms are said to symbolise love and adoration while carnations in shades of green mean health, resilience and luck.
Did you know?
The green carnation is pretty important on St Patrick's Day and is worn by people when out celebrating. We're not sure how the flowers look by the end of the night but they've likely seen some things!
What should you pair green roses with?
On St Patrick's Day, a green carnation is traditionally paired with a white carnation. But if you're opting for these blooms in a bouquet, we love playing matchmaker with oversized white chrysanthemums for a bouquet of flowers with a wonderfully fresh feel.
When are green carnations in season?
Like lots of carnations, the green kind will flower in early spring (around May).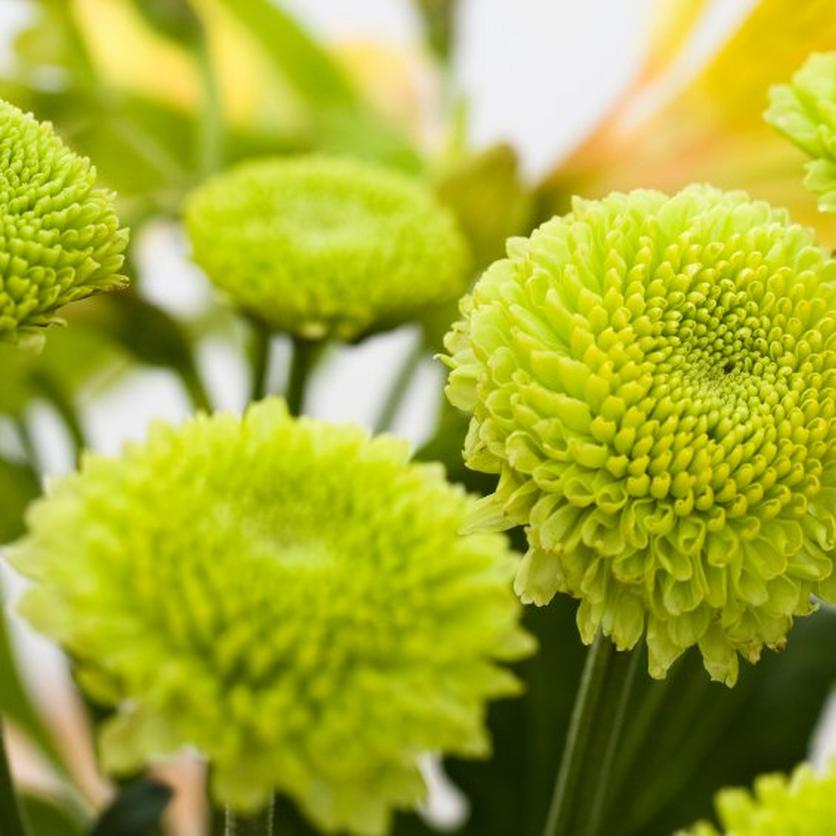 Green Chrysanthemums
While most opt for chrysanthemums on Mother's Day – they do have the nickname Mum after all – they don't just grow in your typical pink and white shades. We love green chrysanthemums that bloom in tight, clustered flower heads that add a unique touch to any bouquet.
What do green chrysanthemums mean?
Chrysanthemums mean optimism and joy overall and that's what we feel when we see these pom-pom shaped beauties in lime green shades. Choose these in a bouquet to add a pop of colour and happiness to the final display.
Did you know?
The head of a chrysanthemum flower is actually made up of lots of smaller flowers! They're definitely a value for money bloom.
What should you pair green chrysanthemums with?
Mix your green chrysanthemums with yellow and white chrysanthemums, with maybe one or two orange gerbera daisies thrown in. It's the perfect summer-inspired bouquet with energetic colours that will instantly perk you up.
When are green carnations in season?
Varieties like 'Green Mist' will bloom late spring through into summer.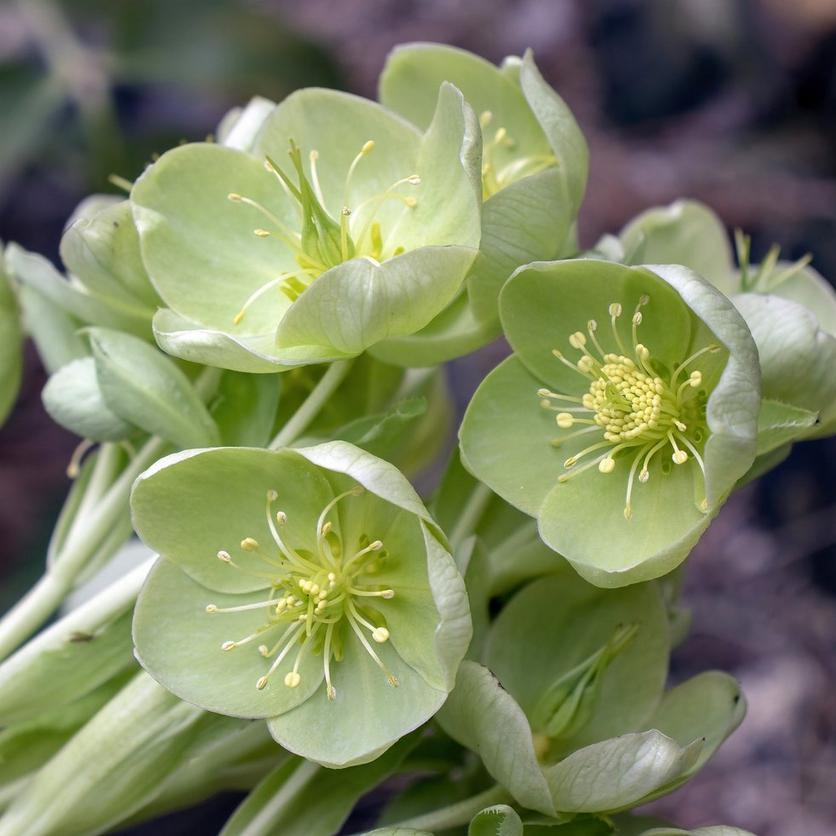 Green Hellebore
Usually reserved for the festive season – and with an alternative name like Christmas rose, it's not hard to understand why – green hellebore is a stand out choice.
What do green hellebore mean?
This flower is said to mean hope and this pairs perfectly with the colour green which makes us think of new beginnings and life.
Did you know?
Hellebore isn't actually a rose, it's part of the buttercup family! But we forgive it for being an imposter.
What should you pair green hellebore with?
We recommend combining your green flowers with deep red hellebores for the ultimate festive display. Red and green is a combo that screams Christmas, so enjoy these blooms together in December.
When are green hellebore in season?
They'll look their best from January through to May with blooms appearing in winter and early spring.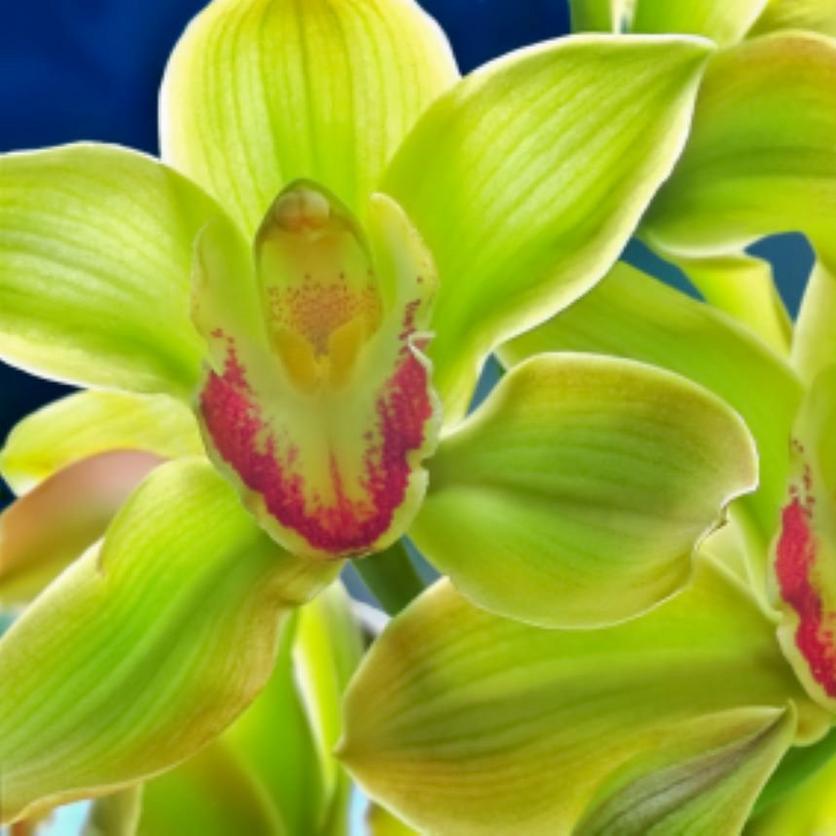 Green cymbidium orchid
Leave the pink and white orchids behind – just for now – and instead, choose these exotic blooms in vibrant shades of green.
What do green orchids mean?
Cymbidium orchids in green hues mean good health and a long life, which we think makes them the ideal flower to place on the bedside of someone who isn't feeling too well.
Did you know?
The name orchid has a bit of a cheeky backstory. It comes from the Greek 'orkhis' (we'll leave that up to you to translate). Ancient Greeks also ate the flowers because they believed it could determine whether they'd have a boy or a girl. Safe to say, that's not something we can influence so don't take a bite out of your orchid plant.
What should you pair green orchids with?
While we love these flowers as plants that bloom year after year we also enjoy seeing them in amongst wedding flowers. Make your green orchid the star of your wedding bouquet and marry it up with traditional white blooms for a striking display that looks great in those professional photos.
When are green cymbidium orchids in season?
Look out for their striking blooms autumn through to spring.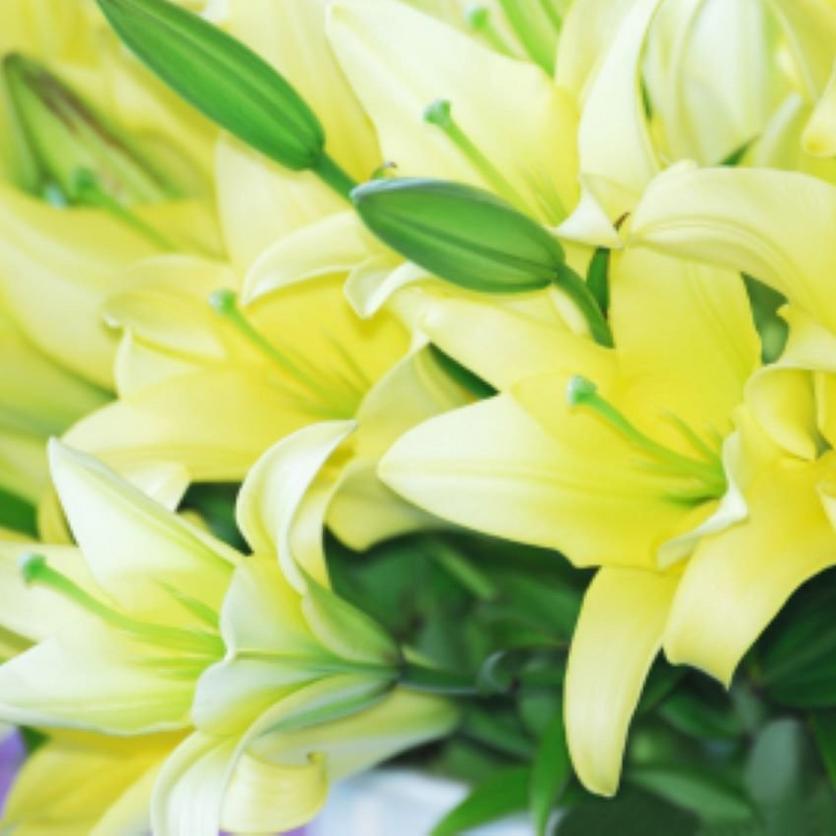 Green daylily
The always popular lily is a fan favourite in a bouquet and, while these blooms don't grow naturally and are created by gardeners and botanists, we think it's time to celebrate them.
What do green daylilies mean?
These lilies have strong religious ties – they're heavily linked to the Virgin Mary – and are a popular choice when you're planning on treating your Mum to some flowers.
Did you know?
Daylilies get their name from their habit of opening up in the day and closing their petals at night as if they're going to sleep! We love a flower that gets its recommended 8 hours of beauty sleep.
What should you pair green daylilies with?
Mix and match your daylilies with the same flowers but in a variety of shades. Green, yellow and orange daylilies make for a zesty combination that should cheer someone up while green and red daylilies are a striking festive pairing.
When are green daylilies in season?
A summer stunner look out for green daylilies late June through to July.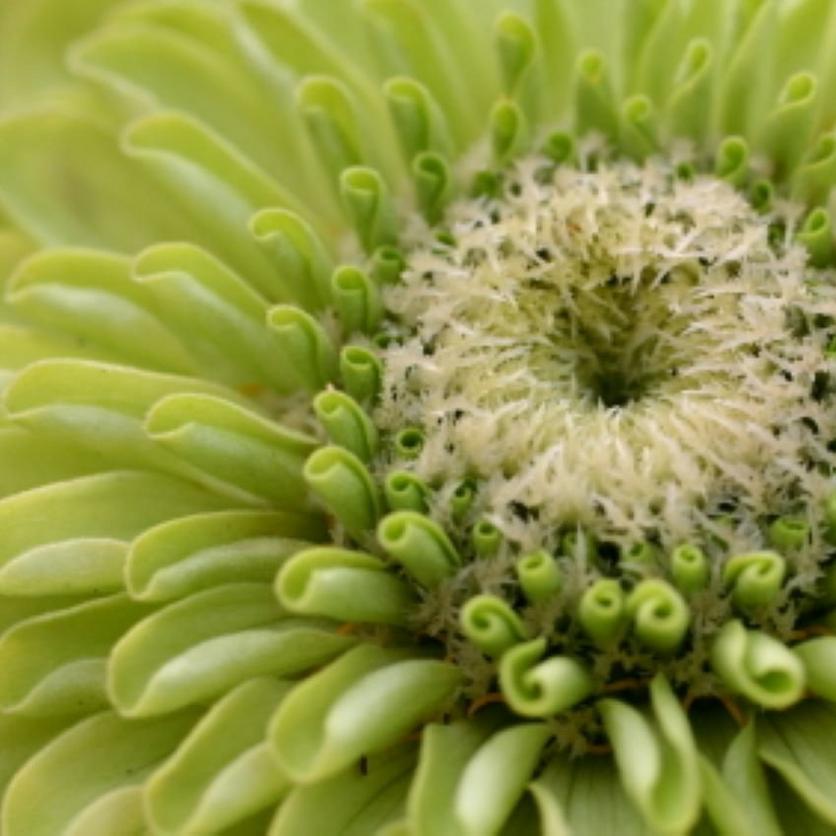 Green zinnia
Zinnias are usually seen in the garden but cuttings of them are a popular choice for that empty vase in your home. Green zinnia is available in a variety of shapes and sizes from spoon-shaped petals – so cute! – to dahlia like blooms.
What do green zinnia mean?
Zinnia flowers symbolise friends and lasting affection so a bunch of green zinnias is the perfect choice to let a pal know that they brighten up your day and that you'll always care for them.
Did you know?
Zinnias once had a negative meaning and were even called 'mal de ojos' by the Spanish which means 'sickness of the eye'! It's safe to say that we definitely don't agree.
What should you pair green zinnia with?
Green zinnia looks stunning when mixed with orange gerbera daisies in a small posy for a friend.
When are green zinnias in season?
These usually bloom July to September, but some will flower for longer.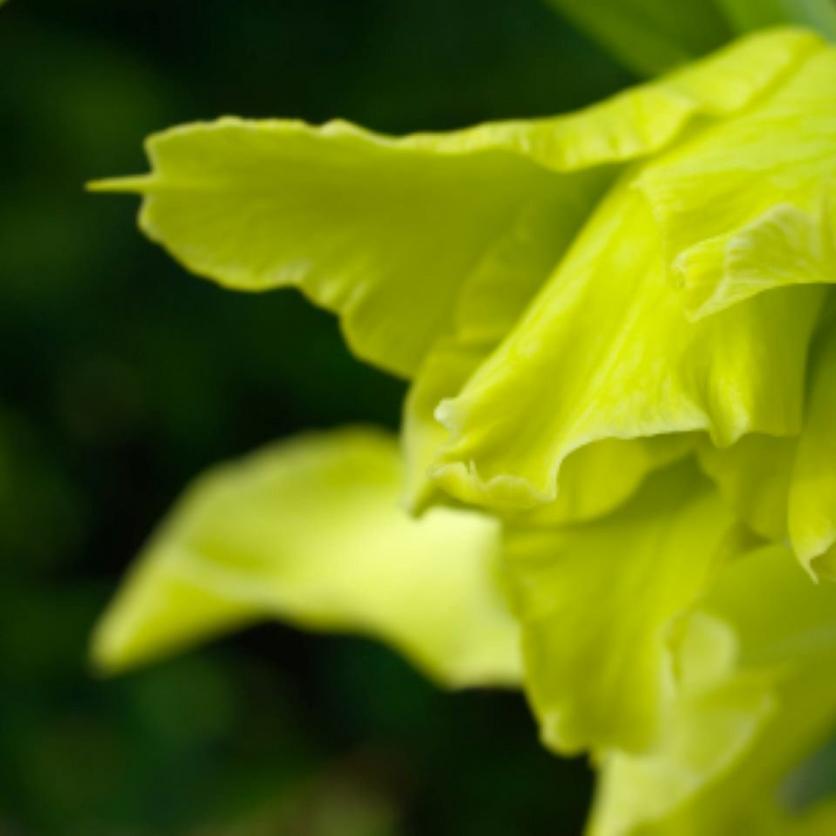 Green gladiolus
These sword-shaped blooms are popular in summer wedding bouquets and look striking in vivid shades of green.
What do green gladiolus mean?
These flowers are said to symbolise strength and green gladiolus represents strength in new beginnings. Give a bouquet of these bold blooms to someone who has bought their first home (they'll need all the strength they can get while redecorating!) or to new parents to welcome their little one to the brood.
Did you know?
Gladiolus is the traditional flower for a 40th wedding anniversary. Skip the usual red blooms and choose green for something a little fresher.
What should you pair with green gladiolus?
We love playing pick and mix with gladiolus flowers in all their colour varieties. Pair green, orange, purple, red and white gladiolus together in one bouquet for a rainbow-inspired finish that should brighten up any room.
When are green gladiolus in season?
These showy blooms appear in July and keep going through to October.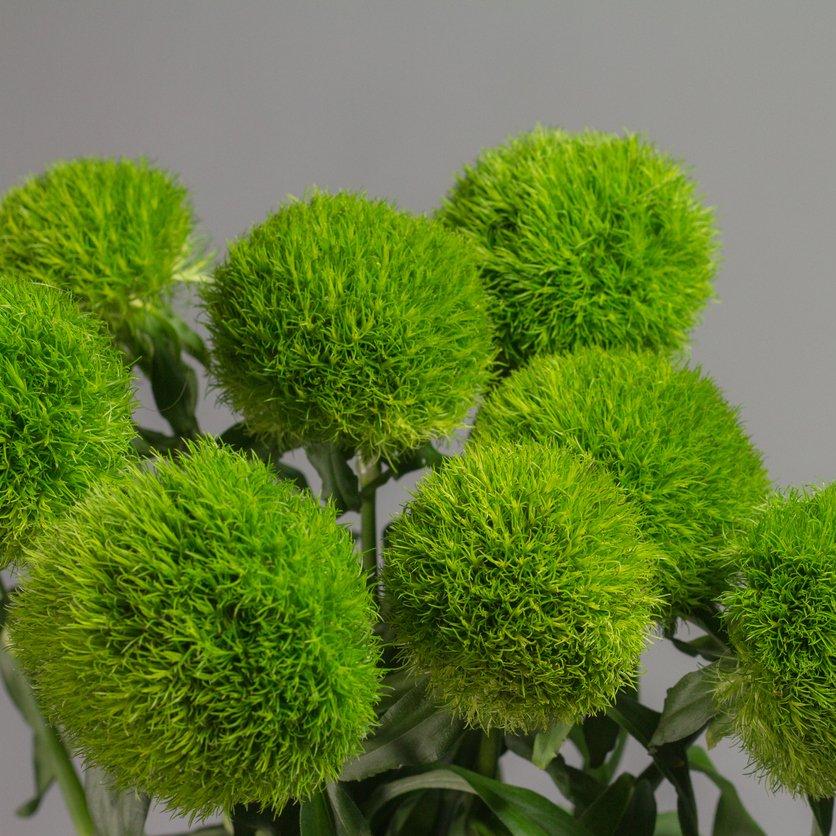 'Green Trick' dianthus
How cute are these fuzzy flowers? Green Trick dianthus reminds us of moss balls and spring lawns and adds a fun touch to any bouquet.
What does dianthus symbolise?
Dianthus translates to 'flower of the Gods' which we think is a pretty tough title to beat for any bloom. The flowers are also said to symbolise admiration and passion and we think anyone who receives these cute fuzzy blooms will definitely admire them.
Did you know?
There are over 300 species of dianthus flower, with the always stunning Sweet William and carnations members of the family.
What should you pair dianthus with?
If you're enjoying cuttings of this bloom, feature them in amongst an arrangement of vivid purple flowers such as freesia or the equally as unusual allium. Green Trick dianthus is also great for modern table arrangements and does all the hard work so no other flowers have to.
When are dianthus in season?
You'll usually find dianthus blooming between May to October.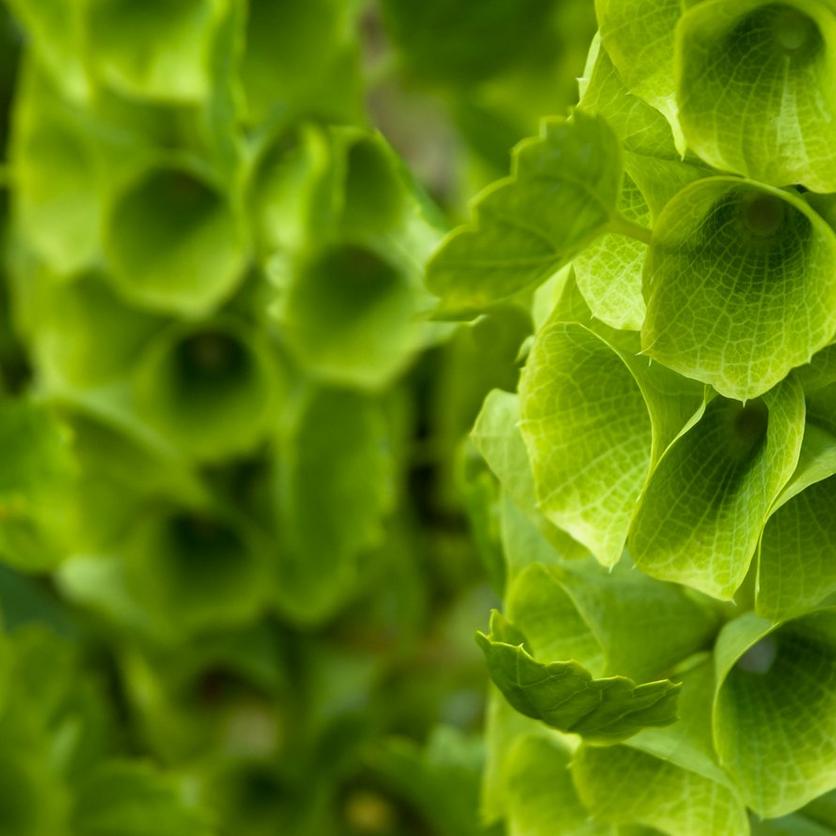 Bells of Ireland
Cuttings from this lush green plant are regularly featured in bouquets to add some vibrancy and texture. Look out for the bell-shaped flowers – we wonder where they get their name from? – that grow in uniform rows along the length of the plant.
What do green Bells of Ireland mean?
These plants are said to represent luck, so they're great for that bouquet you're planning to send to a friend who's about to go for a big job interview or is sitting a final exam.
Did you know?
Bells of Ireland are part of the mint family but don't smell like your toothpaste. Instead, they have a just as welcome sweet scent.
What should you pair Bells of Ireland with?
Team these unique flowers with other long-stemmed blooms such as gladiolus or stocks. We love the clashing colours of green and purple for a vibrant arrangement that works in any setting.
When are Bells of Ireland in season?
The bells usually bloom in summer and autumn.

Go green!
We hope you found our all-you-need-to-know guide to green flowers interesting. If you're feeling inspired and ready to send a vibrant bouquet we can help. You can pop in a special request for green blooms when you order and your florist will do their best to bring out those gorgeous greens.