How to take care of flowers in hot weather
6th December, 2023
It's a bit warm isn't it?! The sun is giving us its all at the moment and we're all being told to take extra care – and the same applies to your flowers too. So if you've got a glorious bunch you'd like to last the heatwave, read on, our top tips should help you keep it looking fresh for as long as possible – even when the rest of us are wilting in the heat!
Keep that water topped up
Your blooms need a steady supply of water, just like you. In hot weather the water in their vase will evaporate quickly, so keep a close eye on it and top it up if it starts to look empty.
Remember flower food
Flower food will keep your blooms going for longer, we always include some in your bouquet but you can usually buy more from your local florist or online. Feed your bouquet regularly and it should last longer.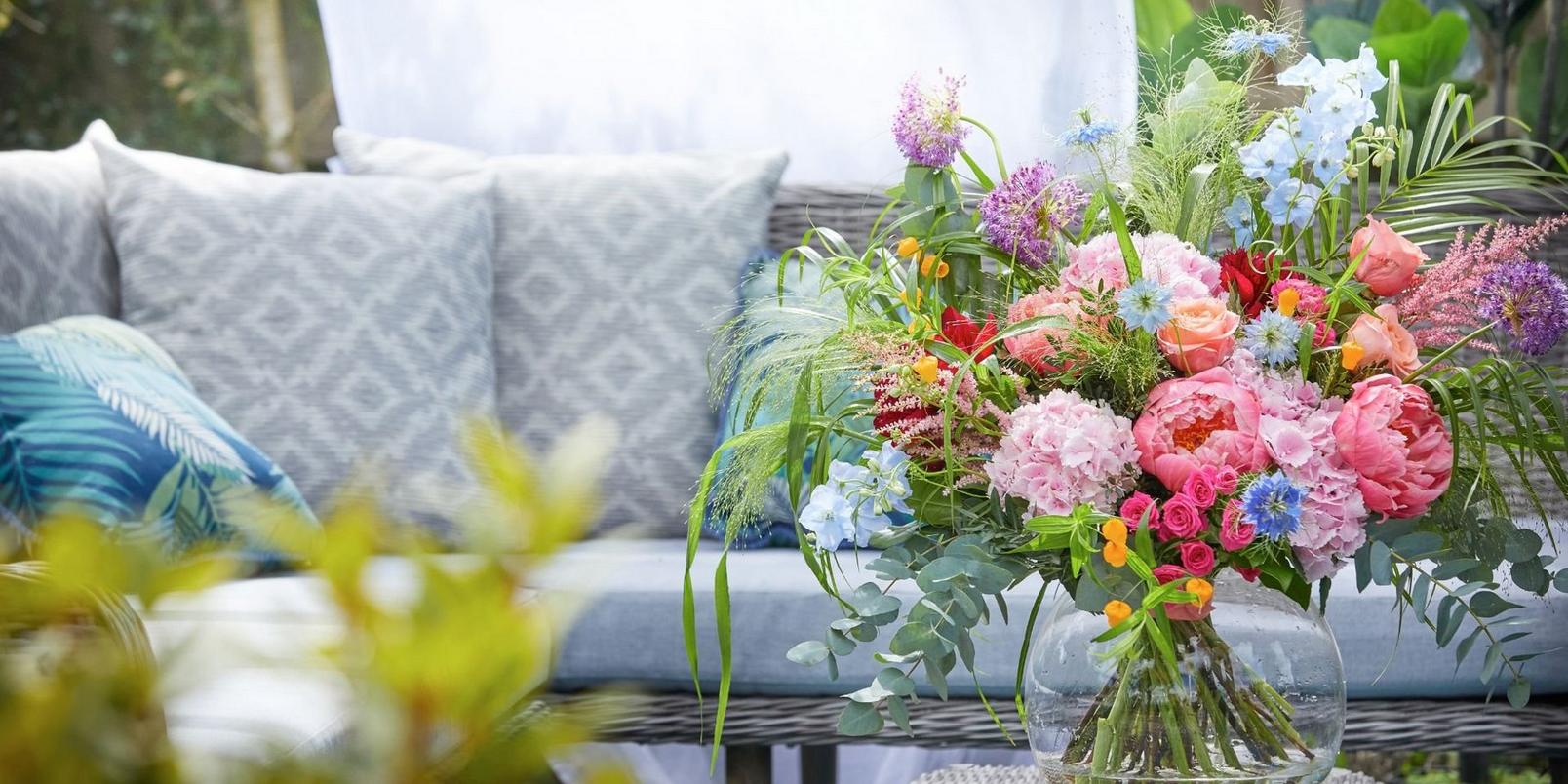 Don't miss a mist
Now's the time to make friends with a spray bottle. You can buy these in all sorts of places, like garden centres, homeware stores or online. We love an elegant amber glass spray bottle, because it's beautiful and functional (and more eco-friendly than plastic to boot). Fill your bottle with cool water and mist your flowers a few times a day, and hey why not mist yourself too, after all it really is hot!
Change the water regularly
One trick people usually miss is changing the water in their vase. Bacteria love warm weather so in a heatwave they'll be busy growing in that lovely fresh water you've given them. Take the time every other day to empty your vase, give it a clean and fill it with fresh water and your blooms will love you for it.
Keep them out of the sun
We might love to sunbathe (with the right amount of suncream of course) but flowers definitely don't. Be sure to keep your bouquet away from direct sunlight else you risk your flowers wilting rapidly. Pop them somewhere everyone can enjoy them but steer them well clear of windowsills and conservatories.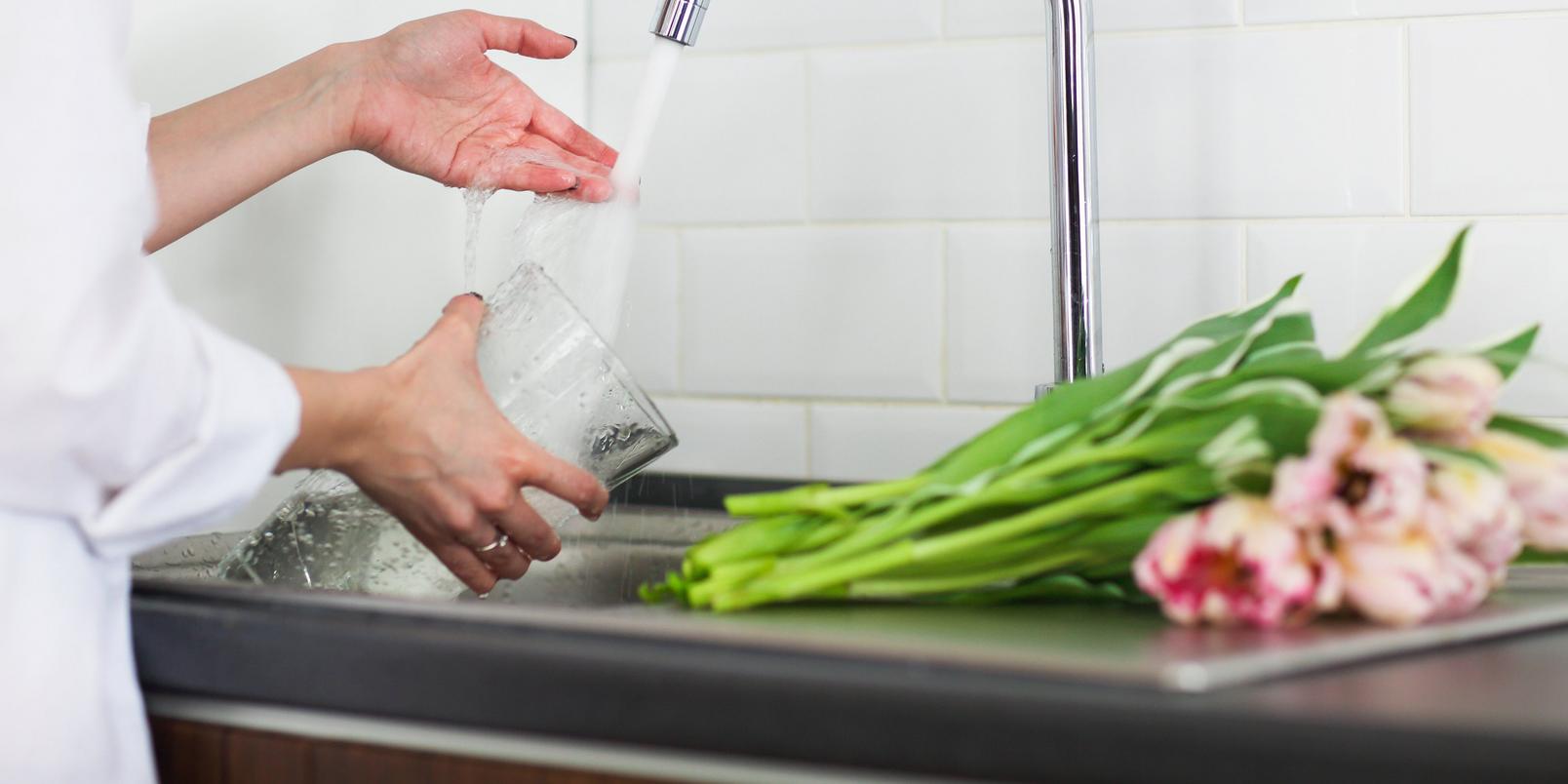 Relocate any sad stems
Some flowers will fade quicker than others in your bouquet, that doesn't mean you have to bin the lot. Keep a close eye on them and as soon as a bloom looks past its best whip it out and pop it in the compost, that way you'll avoid it contaminating the water with any nasties. Eventually your vase will start to look a little sparse, but don't panic – if there's still life in some of the blooms just transfer them little posy vases (top tip: you can make these out of jam jars). You can dot them around the house to spread the flower power far and wide, or keep them together to create a cute summer display.
Choose a bigger vase
To make sure air can circulate through the bouquet choose a vase with a wider neck. Think of it like the floral version of wearing loose fitting clothes, flowers need air too!
Which cut flowers cope better in the heat?
No prizes for guessing that summer flowers do best when the temperature starts to soar. Blooms like delphiniums and sunflowers have adapted to cope with warm weather (with sunflowers, the clue really is in the name!) Alstroemeria and gerberas are also quite happy in the heat. Most of these blooms commonly come in gorgeous bright colours too, ideal for celebrating the summer.