How to make floral Christmas place settings
18th September, 2023
From the presents to the tree, there are a few parts of Christmas that are truly iconic. But few moments come close to bringing seasonal joy quite like the traditional opulence of Christmas dinner. With the dining room the centre of the action on the big day, we all look forward to seeing the table groaning under the weight of turkey, seasonal side dishes and lashings of cranberry sauce.
But while the food is the undoubted headliner of the Christmas table, going the extra mile to make your festive table pop with seasonal joy can make all the difference and give your guests a Christmas they'll never forget. When visitors sit down, you want them to be wowed by what's in front of them, and that all starts with festive place settings that bring the table to life.
Make sure your Christmas table is Instagram ready with our top tips homemade Christmas place settings, from traditional arrangements to bright and quirky designs for a tip-top table, and all with a little floral flair added in.
Top tips for making Christmas table place settings
Christmas place settings are one of the best ways to make your guests feel welcome during their festive dinner. Whether you want traditional red, green and gold or something more modern and unusual, homemade Christmas place settings can really bring the wow factor to your celebrations.
Floral arrangements provide that vibrant splash of colour no matter what your theme, and allow you to create unique place settings for each guest without too much hassle. Using blushing poinsettias, vibrant roses and alluring amaryllis, among other festive flowers and foliage, brings a rush of tradition and a wave of stunning colour to any table. And you don't have to stop at red. Pink hydrangeas add a subtle tint to your table settings, while orchids and white roses can add a striking monochrome look that lifts their surroundings.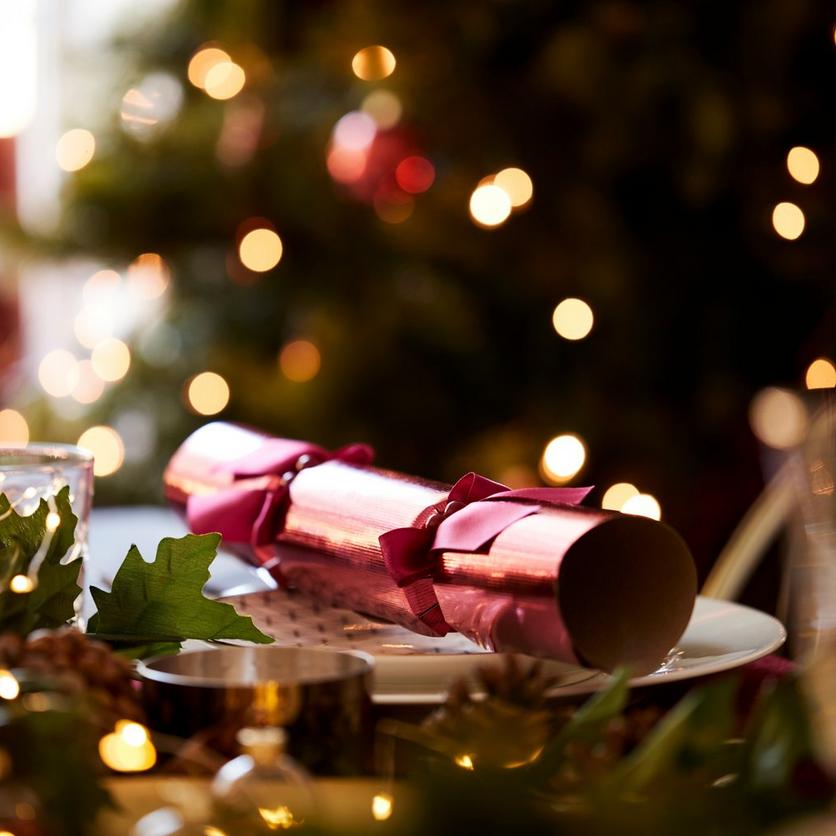 Choosing your theme
When crafting a coherent scheme, you want the festive décor in your home to tie in with your table decorations. Planning ahead means you have the time and space to experiment and purchase what you need to create a winter wonderland on the dining table as well as throughout the house.
Choose a theme ahead of time – this could be classic Christmas colours, elegant gold and purple, or even a contemporary design with bright fuchsia tones. Whatever your theme, integrate your chosen colours throughout the house as well as across your Christmas place settings for a consistent and instantly recognisable design your guests will remember for years to come.
Plan it out
Your place settings should ideally be designed to fit the table while still leaving room for the main event – the food! Plan your space before you start planning your decorations so you know exactly how big or small they need to be. The best Christmas table place settings will draw the eye without getting in the way – festive, vibrant, but not too much that it takes away from the turkey.
What you'll need
To craft beautiful DIY Christmas place settings, you may need to stock up on a few tools and accessories first. If you're going for floral place settings, you will most likely require some or all of the following:
Florist's wire
Pliers
Oasis foam blocks, pebbles, sand, marbles, compact moss and something to support your arrangements
Flowerpots or planters
Hot glue gun
Scissors / cutters / floral knife
Tape (ideally green)
Thorn strippers
Floral adhesive
Plants / flowers / greenery

To complete your Christmas place settings, you can also add a few other decorative items, including:
Place cards
Pens to write place cards
Napkins / napkin holders
Place mats
Crackers
Party poppers
Candles
Choosing the right flowers
Festive blooms are an ideal component of Christmas table place settings, bringing a guaranteed burst of colour to the table no matter what your chosen theme. But whether you're looking for a shimmering snowy look, or an all-in aesthetic brimming with colour and vibrancy, you need the right flowers for the task. Some of the most popular festive flowers include:
You may also want to include some Christmas-themed foliage and greenery to complete your displays. Pine cones, spruce, eucalyptus, sprigs of holly and berries all make attractive additions to festive floral arrangements. You can even spray paint your pinecones to match any colour scheme!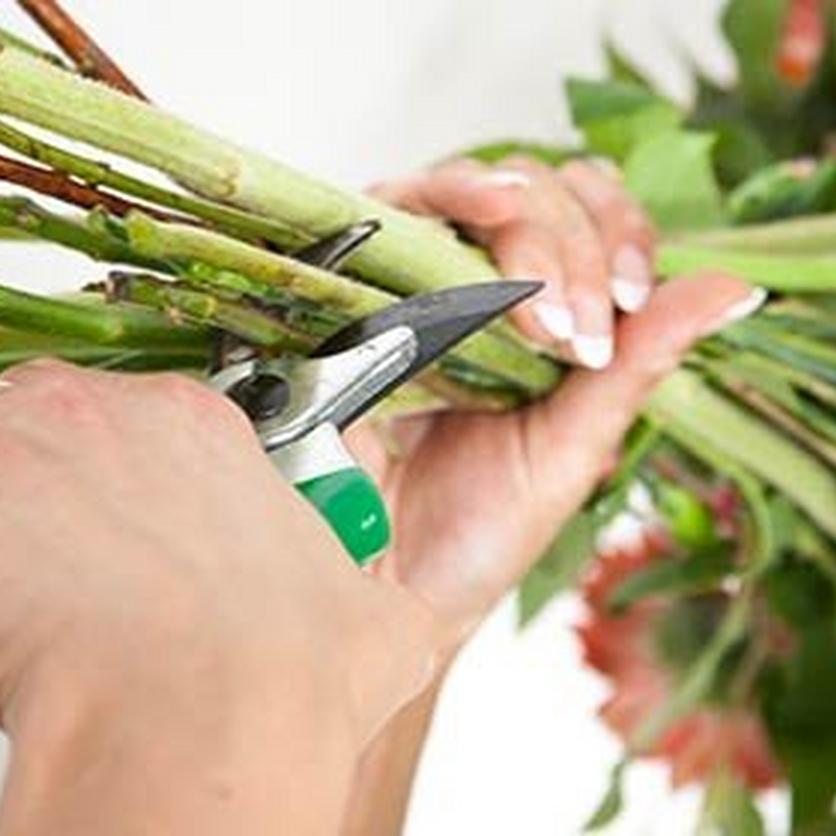 Trimming your flowers
Once you've planned your Christmas place settings and gathered everything you need, you can start to get creative! You'll want to make sure your arrangements look fabulous, and that no stray leaves, thorns or other bits of foliage escape and get in the way of diners, so trimming is important.
If your arrangements will be in vases with water, you should strip all foliage that will lie below the water level. This helps prevent the leaves from rotting in the water. The stems should be cut at a 45-degree angle – at least two inches off the bottom, or to height for the arrangement. Use proper gardening shears rather than scissors for a cleaner cut, as this helps make the flowers last longer.
If there are thorns, you can use clippers or a paring knife to strip them off. Any other excess leaves can be removed once you have made your table setting, as you'll be able to see exactly where the display needs trimming or where something sticks out too much or just doesn't look quite right.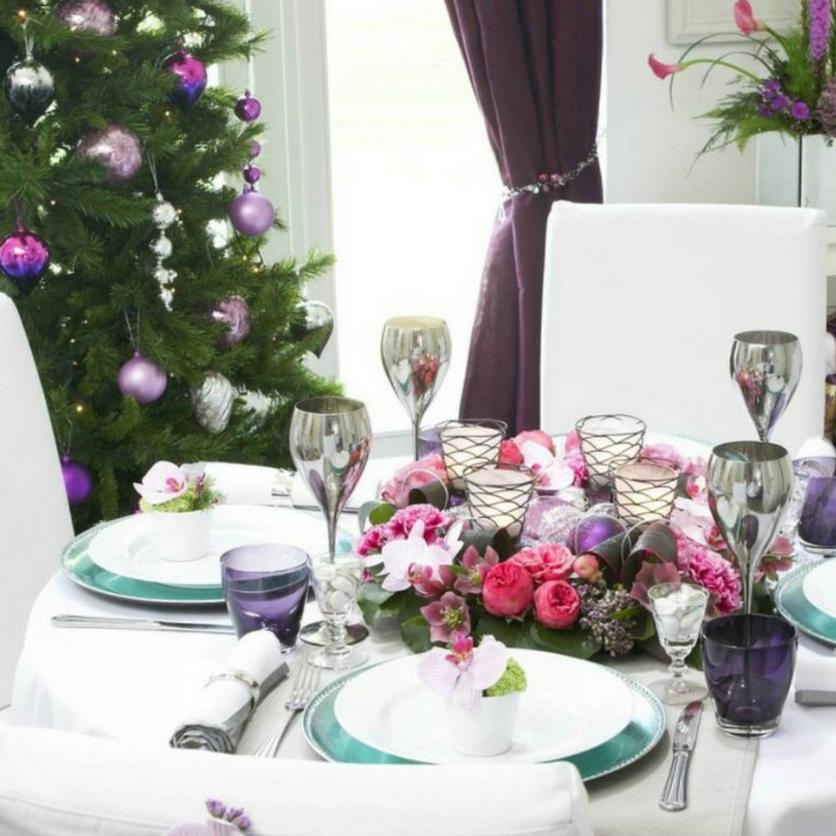 Building the table setting
Balance is the magic word when it comes to flower arranging. You can choose a symmetrical or asymmetrical design, but each side of the arrangement should have equal visual weight. For example, in a symmetrical design, each side will have a central invisible axis, with the same quantity of materials either side.
In an asymmetrical design, the axis doesn't have to be central and the materials don't have to be similar on each side. However, equal visual weight should be maintained.
Rather than having a vertical display for flowers, you could opt for small individual wreaths or bouquets for each place setting. These can be created using florist's wire – make a small frame to act as a base and then use the wire to wrap and attach your flowers. Pinecones and other accessories such as dried fruit slices or berries can make attractive additions to a wreath.
Now you have your floral arrangements and accessories, it's time to set the table. Start by measuring your table and dividing the circumference or perimeter by the number of guests. This not only ensures everyone has enough room, but also lets you decorate the table in perfect balance.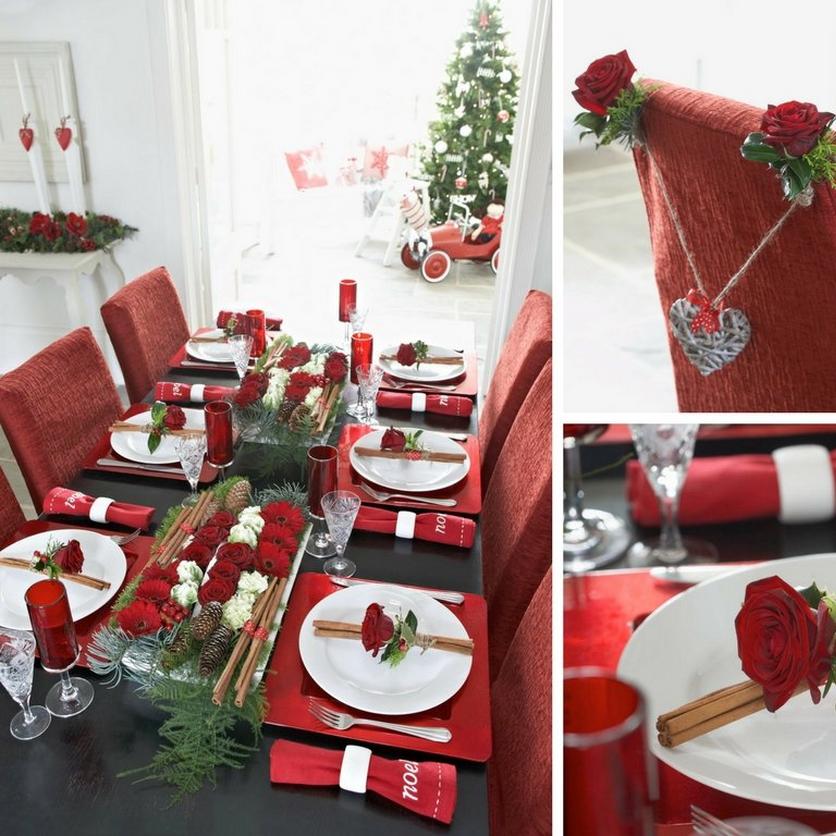 Setting places
There are many variations on proper place settings, but there are certain rules to follow if you want to do things right. Along with your napkins, place settings and other table decorations, you'll need to know how to lay everything out to give your guests that top-table experience.
Cutlery and utensils are always placed from outside the setting to closest to the plate in order of use.
Forks go on the left of the plate and knives and spoons go on the right.
Only set the table with cutlery your guests will be using. For example, if you're not serving a soup course then you wouldn't place soup spoons on the table.
Dessert cutlery can be placed above the plate during the meal, or brought out with the desserts.
The napkin should be to the left of the setting, on the outside of the forks.
Glasses go to the top right of the place setting, starting with the water glass nearest to the diner and with one or more wine glasses to the right of this.
As with cutlery, only provide glasses for drinks you will be serving.
Place cards and crackers can be placed on top of the plate, or to the top of the place setting.
Your floral arrangement or place setting designs can also be placed either on the plate or at the top of the setting. If you choose to display these on the plate, be sure to leave room on the table for your diners to move them when they're eating.
When you take the time to make your guests feel appreciated by adding those small, thoughtful touches to your table, you set the scene for making wonderful memories. Christmas flowers make the perfect finishing touch to your festive table