Search for flowers for my date and postcode
Hand-crafted by a local artisan florist in Aberdeenshire
Flower delivery for all occasions
Aberdeenshire Flower Delivery
Flower Delivery in Aberdeenshire
When it comes to sending a thoughtful and heartfelt gift to a loved one in Aberdeenshire, Interflora's flower delivery service is your ideal choice. Our dedicated Aberdeenshire florists skillfully create stunning arrangements using fresh, locally sourced flowers. Whether it's a birthday, anniversary, or an opportunity to show your appreciation, our personalised bouquets are designed to express your sentiments and bring joy to someone's day.
With Interflora's reliable delivery service, you can trust that your flowers will arrive on time and in perfect condition, making every occasion in Aberdeenshire truly special.
About Aberdeenshire
Aberdeenshire, located in the northeast of Scotland, is a region known for its captivating landscapes, rich history, and warm hospitality. From stunning coastal cliffs and sandy beaches to rolling hills and picturesque countryside, Aberdeenshire offers a diverse and breathtaking natural beauty that is sure to enchant visitors.
The region is home to some of Scotland's most iconic castles, such as the grand Dunnottar Castle perched on a cliff edge, and the fairytale-like Crathes Castle with its enchanting gardens. History enthusiasts can explore ancient stone circles and standing stones, such as the iconic Dunnideer Hill Fort and the fascinating Maiden Stone.
Aberdeenshire is also renowned for its whisky production, with numerous distilleries scattered throughout the region. Whisky aficionados can embark on a whisky trail, immersing themselves in the art of whisky-making and enjoying tastings of the finest Scotch whiskies.
The vibrant city of Aberdeen, often referred to as the "Granite City," serves as the gateway to Aberdeenshire. It boasts a charming blend of historic architecture, modern amenities, and a lively cultural scene. Visitors can explore the city's museums and art galleries, indulge in delectable local cuisine, or simply stroll along the sandy shores of Aberdeen Beach.
Florists in Aberdeenshire
Interflora is delighted to partner with skilled florists in Aberdeenshire who craft exquisite floral arrangements. Our dependable flower delivery service covers the entire region, including charming towns like Ballater, Banchory, and Stonehaven. We take pride in ensuring that your heartfelt sentiments are artfully expressed through beautiful blooms, making every occasion in Aberdeenshire truly unforgettable.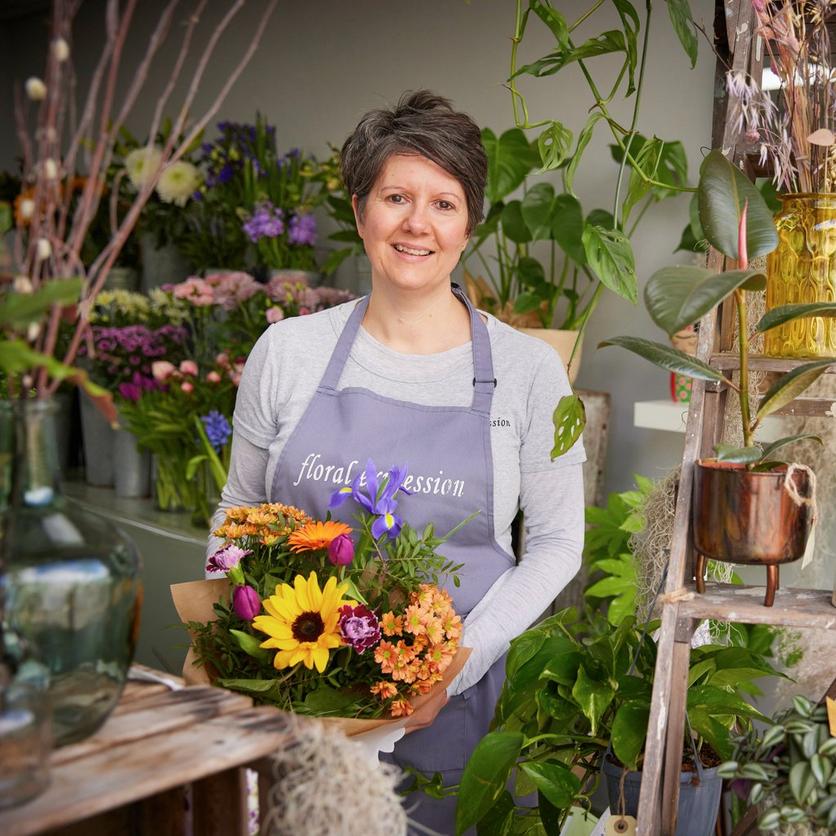 Find a local florist to craft your bouquet
Whatever the occasion, we're here to help. From birthdays to anniversaries or simply just because, we deliver flowers across the UK and even overseas.
Over 900 local florists nationwide
Every bouquet is created by an experienced artisan florist.
No lost bouquets here, these are made to wow them on the doorstep.
We guarantee all our flowers will be fresh for 7 days at least.
Our bouquets are created by local florists. Long live the high street!