Search for flowers for my date and postcode
Hand-crafted by a local artisan florist in Ayrshire
Flower delivery for all occasions
Ayrshire Flower Delivery
Flower Delivery in Ayrshire
When it comes to expressing your sentiments with a thoughtful and heartfelt gift in Ayrshire, Interflora is your trusted flower delivery service. Our dedicated local Ayrshire florists meticulously create stunning arrangements using fresh, locally sourced flowers, ensuring that your gift is not only beautiful but also long-lasting. Whether it's a birthday, anniversary, or a simple gesture of appreciation, our personalised bouquets are designed to convey your heartfelt emotions and bring joy to your loved one's day.
With Interflora's reliable delivery service, you can be confident that your flowers will arrive on time and in perfect condition, no matter where your loved ones are located in Ayrshire.
About Ayrshire
Ayrshire, located on the southwestern coast of Scotland, is a region brimming with natural beauty, rich history, and warm hospitality. From stunning coastlines to rolling hills, Ayrshire offers a diverse range of landscapes to explore and enjoy.
One of the region's highlights is its picturesque coastline, featuring beautiful sandy beaches and rugged cliffs. Visitors can take leisurely walks along the shore, bask in the sun, or indulge in water sports such as surfing and sailing. The iconic Culzean Castle, perched on a cliff overlooking the Firth of Clyde, is a must-visit attraction. Its breathtaking architecture and well-manicured gardens make it a perfect spot for a leisurely stroll.
Ayrshire is also known for its connections to Scotland's national bard, Robert Burns. The Burns National Heritage Park in Alloway pays tribute to the poet's life and works. Visitors can explore the thatched cottage where Burns was born, wander through the beautifully landscaped gardens, and gain insights into his literary genius.
Nature enthusiasts will appreciate the lush green landscapes of Ayrshire. The region is dotted with sprawling parks and nature reserves, including the majestic Galloway Forest Park. Here, visitors can embark on scenic walks, spot wildlife, and even marvel at the captivating dark skies.
Florists in Ayrshire
Interflora is delighted to partner with skilled florists in Ayrshire, known for their exceptional ability to create stunning floral arrangements. With our reliable flower delivery service in Ayrshire, encompassing towns such as Ayr, Kilmarnock, and Irvine, we guarantee that your heartfelt sentiments are beautifully expressed through exquisite blooms, adding a touch of magic to every occasion in Ayrshire. Trust Interflora's collaboration with talented local florists to ensure that each moment is made truly special with our remarkable floral offerings.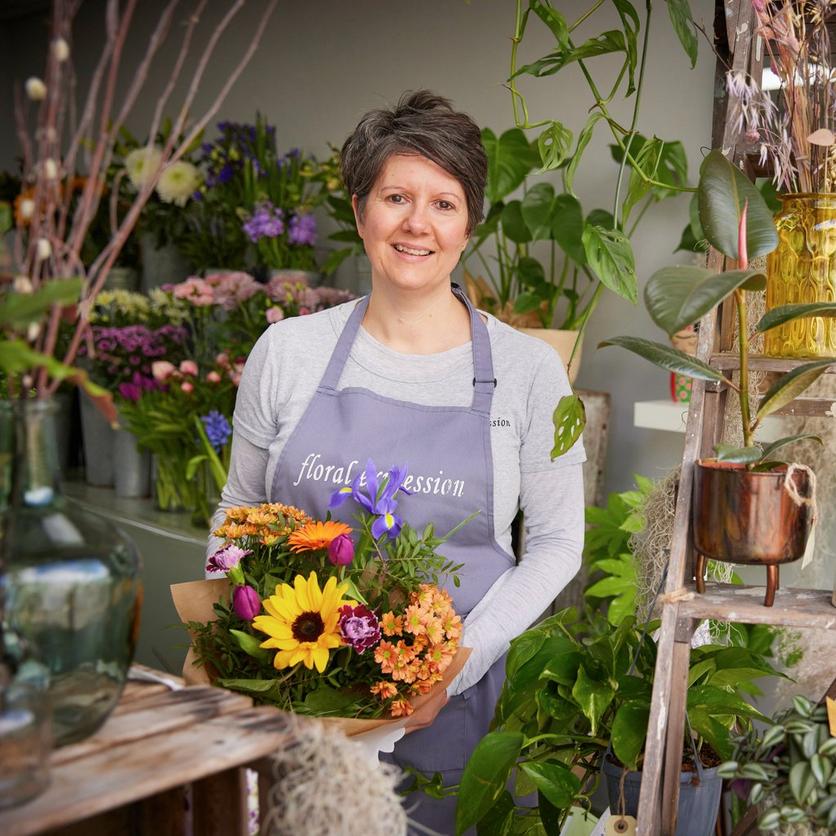 Find a local florist to craft your bouquet
Whatever the occasion, we're here to help. From birthdays to anniversaries or simply just because, we deliver flowers across the UK and even overseas.
Over 900 local florists nationwide
Every bouquet is created by an experienced artisan florist.
No lost bouquets here, these are made to wow them on the doorstep.
We guarantee all our flowers will be fresh for 7 days at least.
Our bouquets are created by local florists. Long live the high street!