Search for flowers for my date and postcode
Hand-crafted by a local artisan florist in Berkshire
Flower delivery for all occasions
Berkshire Flower Delivery
Flower Delivery in Berkshire
Whether you're commemorating a milestone, marking a birthday, or expressing gratitude, our expert florists in Berkshire are here to make your day extraordinary. From Windsor to Reading, Newbury to Slough, our stunning Berkshire flower arrangements are the ideal way to convey your heartfelt sentiments to a loved one. Our personalised bouquets and arrangements are perfect for showing affection to family and friends or simply reminding them that you care. Trust us to deliver your message with love and care through our exceptional floral creations.
About Berkshire
Nestled in the picturesque countryside of southern England, Berkshire is a county known for its rich history, stunning landscapes, and vibrant communities. This enchanting county is home to a diverse range of attractions and landmarks that cater to various interests. The royal town of Windsor stands proudly with its majestic Windsor Castle, a residence of the British royal family and a symbol of regal grandeur. Visitors can explore the castle's magnificent State Apartments and witness the Changing of the Guard ceremony, immersing themselves in centuries of royal heritage.
Berkshire also offers ample opportunities for outdoor enthusiasts. The tranquil beauty of the Berkshire Downs and the charming villages of the Thames Valley provide idyllic settings for leisurely walks, cycling, or picnicking. The county is also intersected by the River Thames, offering delightful riverside walks and boating experiences.
For those seeking a touch of culture, Berkshire boasts an array of art galleries, museums, and theaters. The town of Reading, known for its annual music festival, hosts a thriving arts scene and vibrant nightlife. The historic town of Newbury is renowned for its horse racing events and offers a glimpse into the past with its well-preserved Tudor buildings.
In summary, Berkshire is a captivating county that effortlessly blends natural beauty, historical landmarks, and cultural offerings. Whether you're seeking royal splendor, outdoor escapades, or artistic pursuits, this county has something for everyone to enjoy and create lasting memories.
Florists in Berkshire
Interflora takes pride in our dedicated florists in Berkshire who are ready to create exquisite floral arrangements for any occasion. With our reliable flower delivery in Berkshire, you can trust us to convey your heartfelt sentiments with stunning blooms. Experience the joy of sending and receiving beautiful flowers with Interflora today.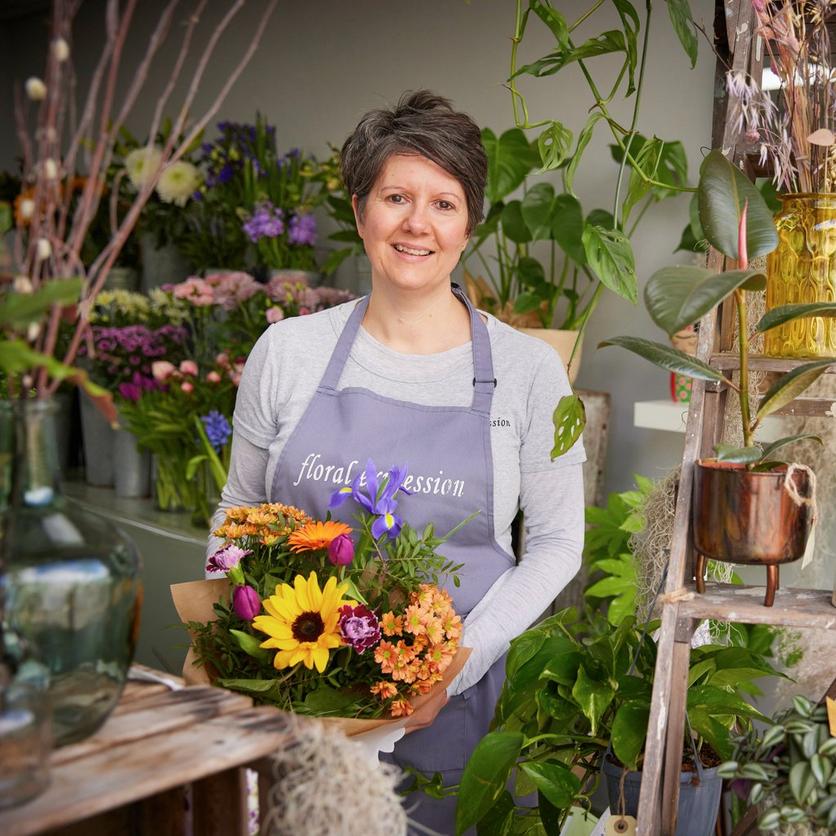 Find a local florist to craft your bouquet
Whatever the occasion, we're here to help. From birthdays to anniversaries or simply just because, we deliver flowers across the UK and even overseas.
Over 900 local florists nationwide
Every bouquet is created by an experienced artisan florist.
No lost bouquets here, these are made to wow them on the doorstep.
We guarantee all our flowers will be fresh for 7 days at least.
Our bouquets are created by local florists. Long live the high street!