Search for flowers for my date and postcode
Hand-crafted by a local artisan florist in Buckinghamshire
Flower delivery for all occasions
Buckinghamshire Flower Delivery
Flower Delivery in Buckinghamshire
In Buckinghamshire, our Interflora florists are dedicated to making every occasion extraordinary. Whether it's an anniversary, birthday, or any special event, our personalized flower arrangements are crafted with care to convey your sentiments to loved ones. From Milton Keynes to High Wycombe, Aylesbury to Buckingham, our stunning Buckinghamshire county flower arrangements are the perfect way to express affection. Even if there's no specific occasion, our personalised bouquets are a heartfelt gesture to show appreciation and care to family and friends. Trust Interflora for reliable and exceptional flower delivery in Buckinghamshire, where every moment is an opportunity to make someone feel cherished.
About Buckinghamshire
In the picturesque countryside of South East England, Buckinghamshire is a county renowned for its rich history, charming villages, and stunning landscapes. Home to the majestic Chiltern Hills, this area offers a tranquil escape for nature lovers and outdoor enthusiasts. The rolling hills, ancient woodlands, and meandering rivers provide a perfect backdrop for scenic walks, cycling adventures, and exploration of the countryside.
Buckinghamshire is also known for its architectural wonders and cultural heritage. The historic city of Aylesbury showcases its impressive architecture, including the iconic St. Mary's Church and Aylesbury Waterside Theatre. The market town of High Wycombe is famous for its furniture industry and stunning Georgian architecture. Bletchley Park, the World War II code-breaking center, is another must-visit attraction that highlights the county's significant role in history.
Charming villages like Amersham and Marlow exude a timeless appeal with their traditional architecture, quaint shops, and welcoming atmosphere. Visitors can indulge in the local cuisine, explore artisanal shops, and experience the vibrant community spirit that thrives in these delightful towns.
Florists in Buckinghamshire
Our Interflora florists in Buckinghamshire are dedicated to crafting exquisite floral arrangements that convey your heartfelt sentiments. With reliable flower delivery in Buckinghamshire, we ensure your loved ones receive beautiful blooms, whether they're in Aylesbury, High Wycombe, or any town in this charming county.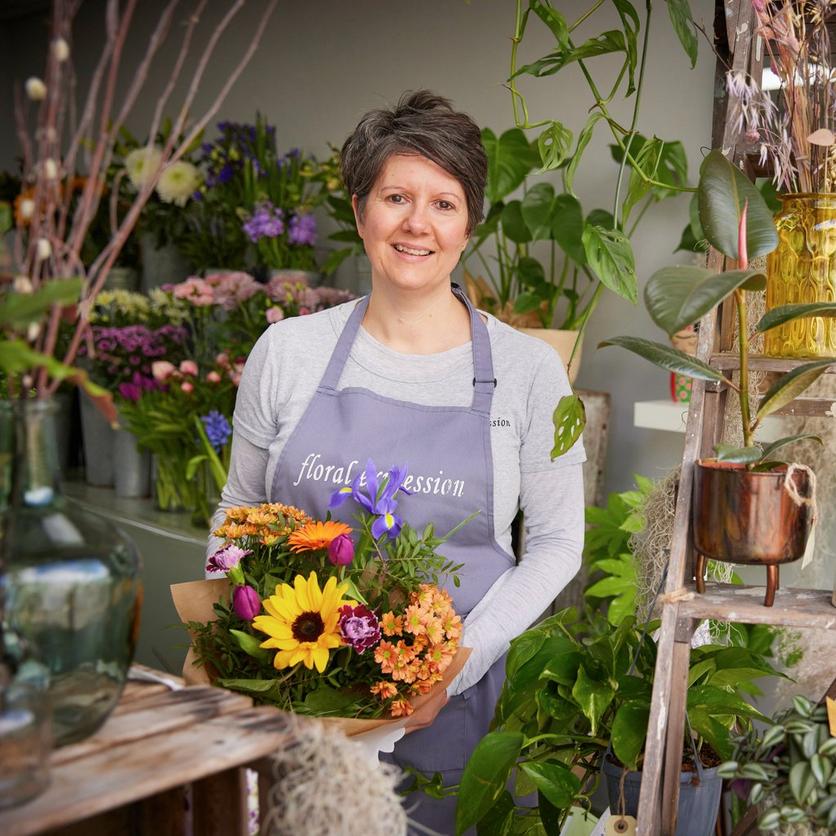 Find a local florist to craft your bouquet
Whatever the occasion, we're here to help. From birthdays to anniversaries or simply just because, we deliver flowers across the UK and even overseas.
Every bouquet is created by an experienced artisan florist.
No lost bouquets here, these are made to wow them on the doorstep.
We guarantee all our flowers will be fresh for 7 days at least.
Our bouquets are created by local florists. Long live the high street!