Search for flowers for my date and postcode
Hand-crafted by a local artisan florist in Cambridgeshire
Flower delivery for all occasions
Cambridgeshire Flower Delivery
Flower Delivery in Cambridge
When it comes to flower delivery in Cambridge, Interflora is the perfect choice for a meaningful and cherished gift. Our skilled local Cambridge florists meticulously craft exquisite arrangements using fresh, hand-picked flowers. Whether it's a birthday, anniversary, or a simple gesture of appreciation, our personalised bouquets are designed to express your sentiments and bring joy to your loved ones.
With Interflora's reliable delivery service, you can rest assured that your thoughtful gift will be promptly and safely delivered, making someone's day truly special. Celebrate the moments that matter with Interflora's beautiful floral creations in Cambridge.
About Cambridge
Cambridge, a historic and prestigious city located in the eastern part of England, is renowned worldwide for its academic excellence and captivating charm. Home to the prestigious University of Cambridge, the city exudes an intellectual ambiance that is palpable as you stroll through its quaint streets. The stunning architecture of the university's colleges, such as King's College and Trinity College, leaves visitors in awe with their intricate details and centuries-old heritage.
Cambridge is not just a haven for scholars, but also a delightful destination for visitors of all interests. The River Cam meanders through the city, offering picturesque views and the opportunity to experience the iconic tradition of punting, gliding along the river in flat-bottomed boats. The city's tranquil parks and gardens, including Parker's Piece and the Cambridge University Botanic Garden, provide serene spaces to relax and admire the natural beauty.
Cultural enrichment is abundant in Cambridge, with a vibrant arts and music scene. The city hosts an array of festivals, concerts, and theatrical performances throughout the year, attracting talents from all over the world. Museums like the Fitzwilliam Museum and the Sedgwick Museum of Earth Sciences offer captivating exhibits that delve into art, history, and science.
Florists in Cambridge
Interflora takes pride in our skilled florists in Cambridge who create stunning floral arrangements for every occasion. With our reliable flower delivery in Cambridge, you can trust us to deliver beautiful blooms that convey your heartfelt sentiments. Brighten someone's day with Interflora's exquisite floral creations in Cambridge.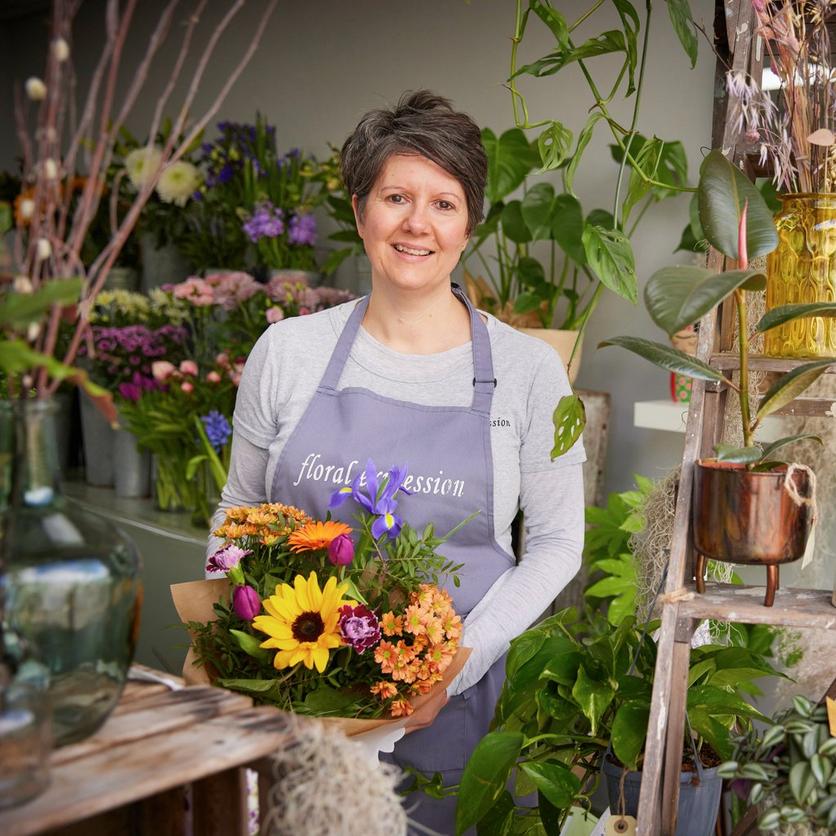 Find a local florist to craft your bouquet
Whatever the occasion, we're here to help. From birthdays to anniversaries or simply just because, we deliver flowers across the UK and even overseas.
Every bouquet is created by an experienced artisan florist.
No lost bouquets here, these are made to wow them on the doorstep.
We guarantee all our flowers will be fresh for 7 days at least.
Our bouquets are created by local florists. Long live the high street!