Search for flowers for my date and postcode
Hand-crafted by a local artisan florist in Carlow
Flower delivery for all occasions
Carlow Flower Delivery
Flower Delivery in Carlow
When it comes to sending a meaningful and beautiful gift to your loved ones in Carlow, Interflora's flower delivery service is your perfect choice. Our dedicated local florists in Carlow craft stunning arrangements using the freshest and most exquisite flowers, ensuring that your gift is not only visually captivating but also long-lasting. Whether it's a birthday, anniversary, or a simple gesture of appreciation, our personalised bouquets offer a heartfelt way to convey your sentiments and bring joy to someone's day.
About Carlow
Nestled in the picturesque landscapes of Ireland's Ancient East, Carlow is a charming county that offers a delightful blend of history, natural beauty, and warm hospitality. Located in the southeastern part of Ireland, Carlow is known for its idyllic countryside, lush green fields, and meandering rivers. The county is adorned with rolling hills, historic castles, and serene woodlands, providing ample opportunities for outdoor adventures and tranquil escapes.
Carlow town, the county's bustling hub, boasts a rich heritage and a vibrant cultural scene. Visitors can explore Carlow's historic landmarks such as Carlow Castle and the ruins of St. Mary's Church, which offer glimpses into the region's past. The town also hosts a variety of festivals and events throughout the year, including the Carlow Arts Festival and the Éigse Carlow Arts Festival, showcasing local talent in music, theater, and visual arts.
In addition to its natural and historical attractions, Carlow is renowned for its warm and welcoming community. Visitors can experience the renowned Irish hospitality in the county's cozy pubs, charming cafes, and traditional restaurants. The locals take pride in their agricultural heritage, and visitors can sample delicious locally sourced food and beverages, including artisan cheeses and craft beers.
Florists in Carlow
Interflora takes great pride in partnering with skilled florists in Carlow who craft exquisite floral compositions. Our dependable flower delivery service extends throughout Carlow, covering various towns and areas, including Tullow, Hacketstown, and Rathvilly. By entrusting us, you can rest assured that your heartfelt emotions will be conveyed through the artistry of stunning blooms, turning any occasion in Carlow into an unforgettable moment.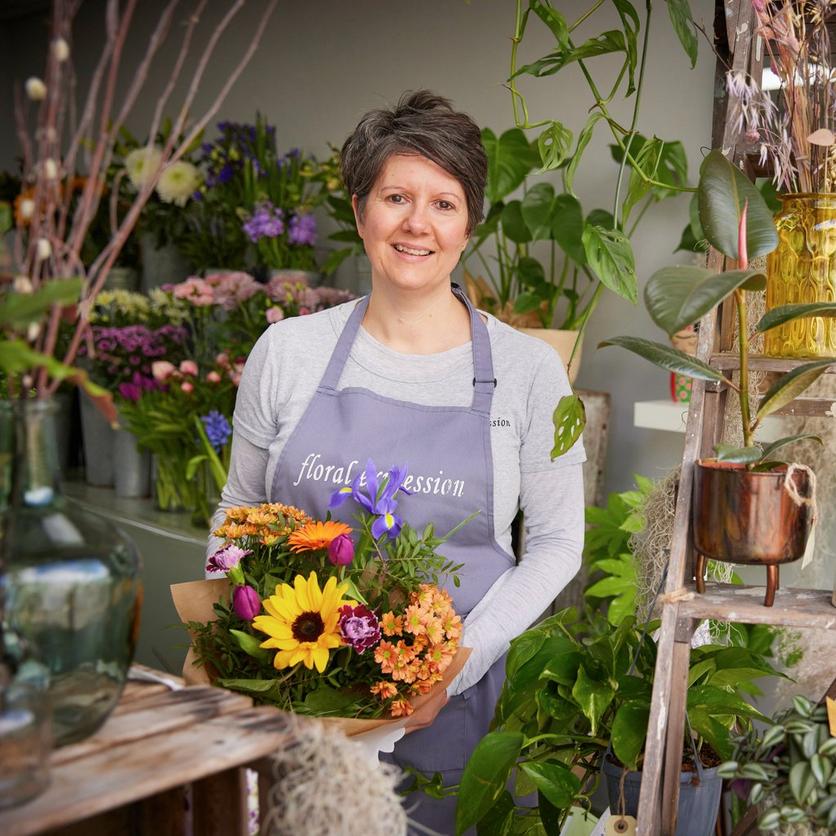 Find a local florist to craft your bouquet
Whatever the occasion, we're here to help. From birthdays to anniversaries or simply just because, we deliver flowers across the UK and even overseas.
Over 900 local florists nationwide
Every bouquet is created by an experienced artisan florist.
No lost bouquets here, these are made to wow them on the doorstep.
We guarantee all our flowers will be fresh for 7 days at least.
Our bouquets are created by local florists. Long live the high street!