Search for flowers for my date and postcode
Hand-crafted by a local artisan florist in Carmarthenshire
Flower delivery for all occasions
Carmarthenshire Flower Delivery
Flower Delivery in Carmarthenshire
When it comes to sending a thoughtful and heartfelt gift to a loved one in Carmarthenshire, Interflora's flower delivery service is the perfect choice. Our dedicated Carmarthenshire florists expertly craft stunning arrangements using fresh, locally sourced flowers. Whether it's a birthday, anniversary, or a simple gesture of appreciation, our personalised bouquets are designed to express your sentiments and brighten someone's day.
With Interflora's reliable delivery service, you can trust that your flowers will be delivered on time and in perfect condition, ensuring a delightful surprise for your loved ones in Carmarthenshire.
About Carmarthenshire
Carmarthenshire, situated in the picturesque countryside of southwest Wales, is a region brimming with natural beauty, historical landmarks, and a vibrant cultural heritage. Known as the "Garden of Wales," Carmarthenshire is adorned with rolling hills, lush valleys, and scenic coastal stretches, making it a haven for outdoor enthusiasts and nature lovers. The breathtaking landscapes provide ample opportunities for leisurely walks, hiking, cycling, and even exploring the enchanting Brechfa Forest.
In addition to its natural splendor, Carmarthenshire is steeped in history and boasts a rich heritage. The town of Carmarthen, with its medieval castle ruins and historic market, is believed to be the oldest town in Wales. History enthusiasts can also explore notable sites such as Laugharne Castle, associated with the renowned poet Dylan Thomas, and the stunning Carreg Cennen Castle, perched dramatically on a hilltop overlooking the Towy Valley.
Carmarthenshire is a cultural hub, with a vibrant arts scene and a strong connection to Welsh traditions. Visitors can experience traditional Welsh music, literature, and folklore through events and festivals held throughout the year. The town of Llandeilo, with its charming streets lined with independent boutiques and art galleries, is a popular destination for art and culture enthusiasts.
Florists in Carmarthenshire
Interflora takes great pride in partnering with skilled florists in Carmarthenshire who craft stunning floral arrangements. With our reliable flower delivery service in Carmarthenshire, including towns like Carmarthen, Llanelli, and Ammanford, we guarantee that your heartfelt sentiments will be conveyed through beautiful blooms, making every occasion in Carmarthenshire truly special and memorable.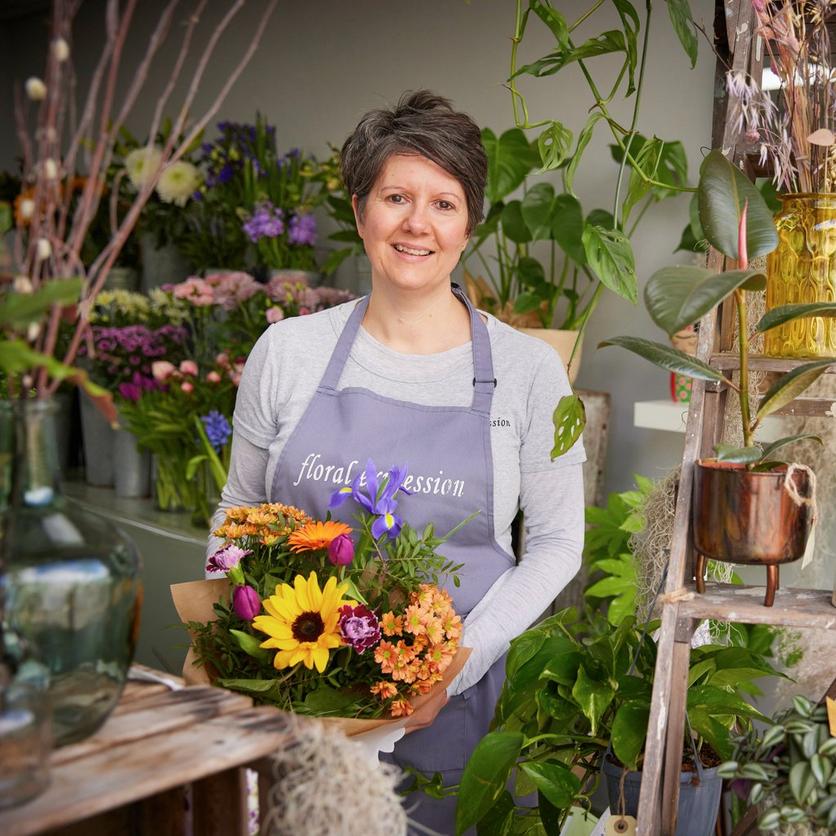 Find a local florist to craft your bouquet
Whatever the occasion, we're here to help. From birthdays to anniversaries or simply just because, we deliver flowers across the UK and even overseas.
Over 900 local florists nationwide
Every bouquet is created by an experienced artisan florist.
No lost bouquets here, these are made to wow them on the doorstep.
We guarantee all our flowers will be fresh for 7 days at least.
Our bouquets are created by local florists. Long live the high street!