Search for flowers for my date and postcode
Hand-crafted by a local artisan florist in Clackmannanshire
Flower delivery for all occasions
Clackmannanshire Flower Delivery
Flower Delivery in Clackmannanshire
Interflora is dedicated to bringing the beauty of flowers to Clackmannanshire. Our talented local florists in the area create breathtaking arrangements using fresh, hand-picked blooms. Whether it's a birthday, anniversary, or a simple gesture of appreciation, our personalised bouquets will convey your heartfelt sentiments and bring joy to your loved ones.
With our reliable flower delivery service, you can trust that your flowers will arrive on time and in perfect condition, making every occasion in Clackmannanshire truly memorable.
About Clackmannanshire
Clackmannanshire, located in the heart of Scotland, is a region known for its stunning natural beauty and rich history. Nestled between the Ochil Hills and the River Forth, Clackmannanshire offers breathtaking landscapes and charming towns that captivate visitors.
In Clackmannanshire, history comes alive with its numerous historical sites and landmarks. From the imposing Clackmannan Tower to the magnificent Castle Campbell, there are endless opportunities to explore the region's fascinating past. Additionally, the picturesque village of Dollar, with its quaint streets and picturesque scenery, is a must-visit destination.
Nature enthusiasts will be delighted by the abundance of outdoor activities in Clackmannanshire. The Ochil Hills provide a playground for hikers, offering breathtaking panoramic views of the surrounding countryside. The nearby River Devon is perfect for fishing and leisurely walks along its scenic banks.
For those seeking a touch of culture, the vibrant town of Alloa offers a thriving arts and entertainment scene. From art galleries to live music venues, there is always something to inspire and entertain.
Florists in Clackmannanshire
Interflora is proud to collaborate with talented florists in Clackmannanshire, serving the delightful towns of Alloa, Tillicoultry, and Clackmannan. With our reliable flower delivery service, we ensure that the beauty of fresh, handcrafted floral arrangements reaches every doorstep in these charming towns. Trust Interflora to make every moment in Clackmannanshire truly special with our exceptional flower delivery service and the artistry of our talented local florists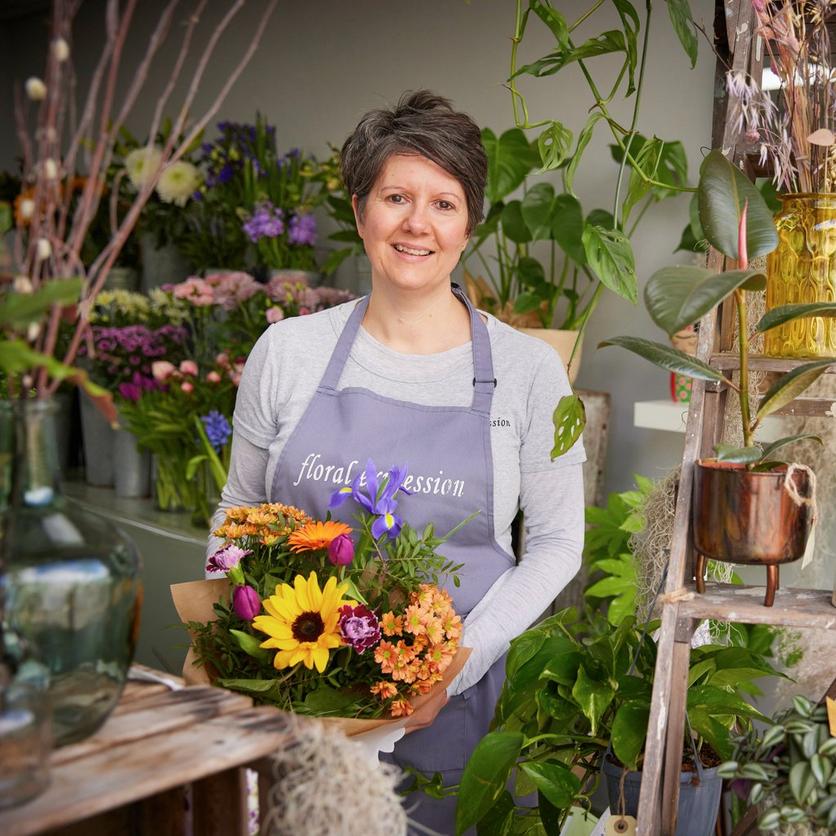 Find a local florist to craft your bouquet
Whatever the occasion, we're here to help. From birthdays to anniversaries or simply just because, we deliver flowers across the UK and even overseas.
Over 900 local florists nationwide
Every bouquet is created by an experienced artisan florist.
No lost bouquets here, these are made to wow them on the doorstep.
We guarantee all our flowers will be fresh for 7 days at least.
Our bouquets are created by local florists. Long live the high street!