Search for flowers for my date and postcode
Hand-crafted by a local artisan florist in Cornwall
Flower delivery for all occasions
Cornwall Flower Delivery
Flower Delivery in Cornwall
For a truly remarkable flower delivery in Cornwall, trust Interflora. Our skilled Cornwall florists craft breathtaking arrangements using the freshest, locally sourced blooms. Whether it's a birthday, anniversary, or a heartfelt gesture, our personalised bouquets are designed to express your sentiments and bring joy to your loved ones. With Interflora's dependable delivery service, your flowers will arrive promptly and in impeccable condition, making a lasting impression in the beautiful coastal landscapes of Cornwall.
About Cornwall
Nestled in the southwestern tip of England, Cornwall is a captivating county renowned for its rugged coastline, picturesque landscapes, and rich cultural heritage. With its stunning sandy beaches, turquoise waters, and dramatic cliffs, Cornwall offers breathtaking scenery that attracts visitors from far and wide.
Cornwall is famous for its charming fishing villages, such as St Ives, Padstow, and Mousehole, where colorful cottages dot the harbors and delicious seafood can be enjoyed. The county is also home to iconic landmarks like Land's End, the westernmost point of England, and the historic Tintagel Castle, steeped in Arthurian legend.
Nature lovers will find solace in Cornwall's diverse landscapes, from the enchanting beauty of the Eden Project's biomes to the wild and untamed Bodmin Moor. Surfers flock to popular spots like Newquay, while hikers and walkers explore the South West Coast Path, offering stunning vistas and hidden coves along the way.
Cornwall's cultural heritage is deeply rooted in its mining history, celebrated in the UNESCO-listed Cornwall and West Devon Mining Landscape. The county also hosts vibrant festivals, including the St Ives September Festival and the Falmouth International Sea Shanty Festival, where music, arts, and maritime traditions come to life.
Florists in Cornwall
Experience exceptional flower delivery in Cornwall with Interflora. Our talented Cornwall florists create stunning arrangements using the freshest blooms, handcrafted with care. Trust us to deliver your heartfelt sentiments with precision and reliability, bringing joy and beauty to your loved ones in Cornwall.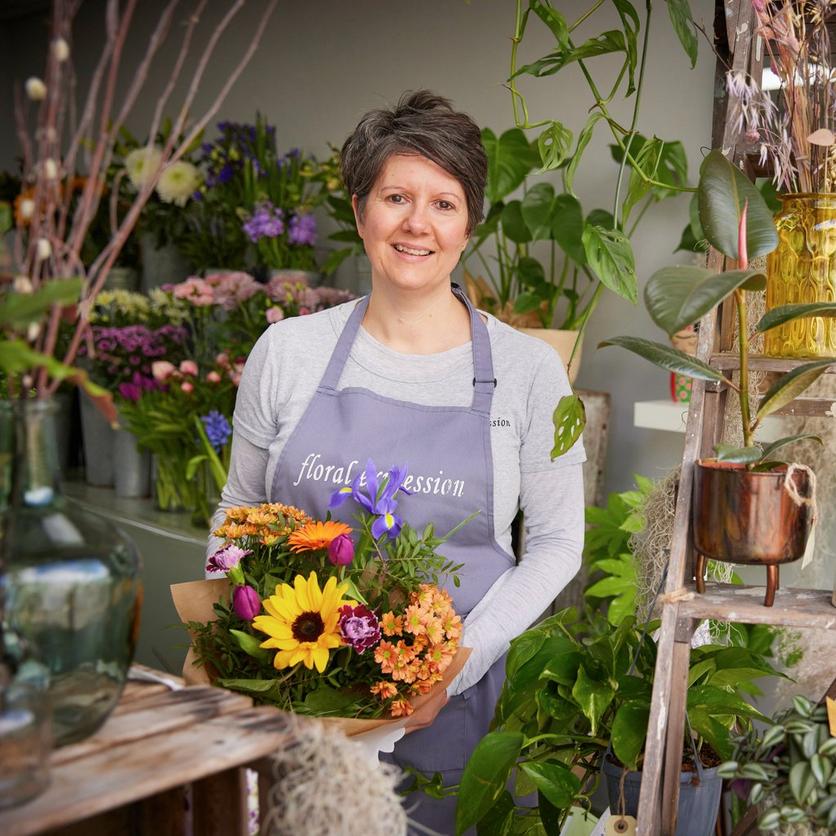 Find a local florist to craft your bouquet
Whatever the occasion, we're here to help. From birthdays to anniversaries or simply just because, we deliver flowers across the UK and even overseas.
Every bouquet is created by an experienced artisan florist.
No lost bouquets here, these are made to wow them on the doorstep.
We guarantee all our flowers will be fresh for 7 days at least.
Our bouquets are created by local florists. Long live the high street!