Search for flowers for my date and postcode
Hand-crafted by a local artisan florist in County Antrim
Flower delivery for all occasions
County Antrim Flower Delivery
Flower Delivery in County Antrim
When it comes to sending a meaningful and heartfelt gift to your loved ones in County Antrim, Interflora's flower delivery service is your perfect choice. Our dedicated County Antrim florists skillfully design stunning arrangements using fresh, locally sourced flowers, ensuring that your gift is both beautiful and long-lasting. Whether it's a birthday, anniversary, or a simple gesture of appreciation, our personalized bouquets are the ideal way to express your sentiments and bring joy to someone's day.
No matter where your loved ones are in County Antrim, you can rely on Interflora's reliable delivery service to ensure that their flowers arrive on time and in impeccable condition, making the occasion truly special.
About County Antrim
County Antrim, located in Northern Ireland, is a region of stunning natural landscapes, vibrant cities, and a rich cultural heritage. From the rugged coastline of the Causeway Coast to the bustling streets of Belfast, County Antrim offers a diverse range of experiences for visitors.
One of the county's most iconic attractions is the Giant's Causeway, a UNESCO World Heritage site. The geological wonder features thousands of interlocking basalt columns formed by volcanic activity millions of years ago. This unique landscape provides a surreal and awe-inspiring setting for visitors to explore and marvel at the power of nature.
Beyond the Causeway Coast, County Antrim is home to picturesque villages such as Cushendun and Cushendall, nestled along the scenic Glens of Antrim. These charming communities offer a glimpse into traditional Irish culture, with colorful cottages, local pubs, and vibrant festivals celebrating music, dance, and folklore.
The county's capital, Belfast, is a vibrant city that seamlessly blends history and modernity. Visitors can delve into the rich maritime history at Titanic Belfast, explore the vibrant Cathedral Quarter with its lively arts scene, or wander through the city's beautiful parks and gardens. Belfast also offers a range of cultural experiences, from world-class museums and galleries to buzzing nightlife and a thriving culinary scene.
County Antrim's natural beauty is further highlighted by attractions like the Carrick-a-Rede Rope Bridge, Dunluce Castle, and the idyllic Glenariff Forest Park. Whether exploring the stunning landscapes, immersing oneself in the vibrant cities, or discovering the county's rich history and culture, County Antrim offers a captivating experience that leaves visitors with lasting memories.
Florists in County Antrim
Interflora is thrilled to partner with skilled florists in County Antrim who craft exquisite floral arrangements. Our dependable flower delivery service covers the entire county, including towns like Belfast, Ballycastle, and Carrickfergus, ensuring that your heartfelt emotions are conveyed through the sheer beauty of our blooms, making every occasion in County Antrim truly remarkable. Our network of talented local florists guarantees that the floral creations you send or receive in County Antrim are of the highest quality, capturing the essence of your sentiments and creating cherished memories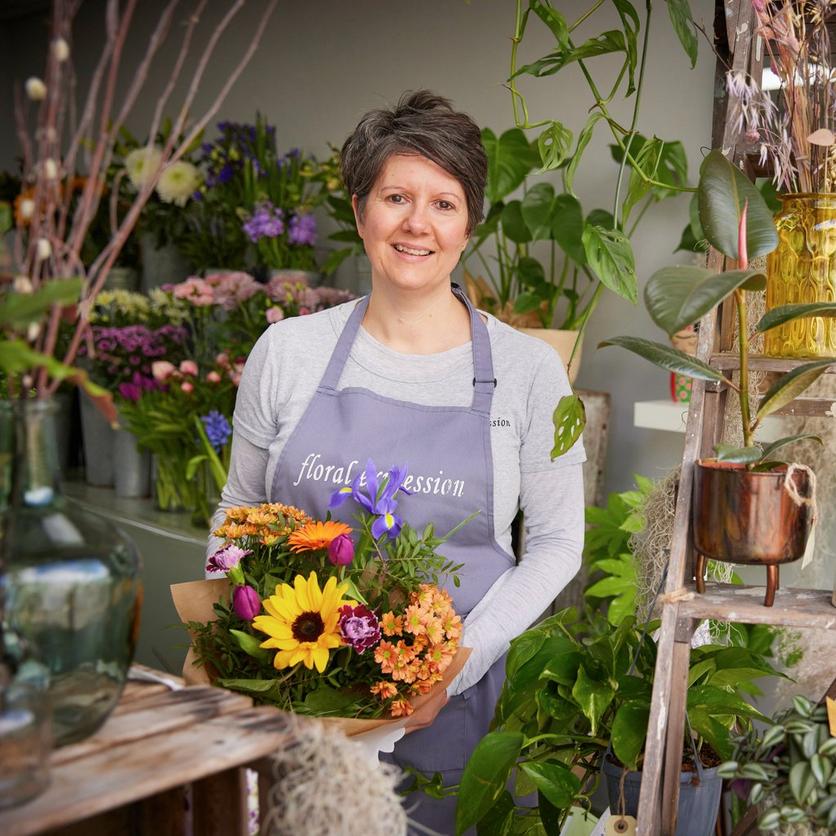 Find a local florist to craft your bouquet
Whatever the occasion, we're here to help. From birthdays to anniversaries or simply just because, we deliver flowers across the UK and even overseas.
Every bouquet is created by an experienced artisan florist.
No lost bouquets here, these are made to wow them on the doorstep.
We guarantee all our flowers will be fresh for 7 days at least.
Our bouquets are created by local florists. Long live the high street!