Search for flowers for my date and postcode
Hand-crafted by a local artisan florist in County Down
Flower delivery for all occasions
County Down Flower Delivery
Flower Delivery in County Down
When it comes to sending a meaningful and heartfelt gift to your loved ones in County Down, Interflora's flower delivery service is your ultimate choice. Our dedicated County Down florists skillfully design stunning arrangements using fresh, locally sourced flowers, ensuring that your gift is both beautiful and long-lasting. Whether it's a birthday, anniversary, or a simple gesture of appreciation, our personalised bouquets are the ideal way to express your sentiments and bring joy to someone's day.
With Interflora's reliable delivery service, you can trust that your carefully chosen flowers will arrive on time and in impeccable condition, no matter where your loved ones are in County Down, making the occasion truly special.
About County Down
Nestled on the eastern coast of Northern Ireland, County Down is a captivating region renowned for its stunning natural beauty and rich history. From the majestic Mourne Mountains to the picturesque coastal towns, County Down offers a diverse range of attractions and experiences for visitors.
At the heart of County Down lies the majestic Mourne Mountains, an area of outstanding natural beauty. These rugged peaks, including the iconic Slieve Donard, provide a paradise for hikers, climbers, and outdoor enthusiasts. The scenic trails offer breathtaking views of the surrounding landscapes, including shimmering lakes, cascading waterfalls, and ancient forests, making it a haven for nature lovers.
County Down is also home to charming coastal towns and villages that exude a distinct charm. The town of Newcastle is a popular seaside destination, with its long sandy beaches, lively promenade, and world-class golf courses. Further along the coast, the quaint village of Strangford captivates visitors with its picturesque harbor and the enchanting Strangford Lough, a haven for wildlife.
The county is steeped in history and boasts several notable landmarks. The historic city of Downpatrick is renowned for being the burial place of Saint Patrick, the patron saint of Ireland. Visitors can explore the fascinating Saint Patrick Centre and the nearby ruins of Inch Abbey. The stunning Castle Ward, a National Trust property, offers a glimpse into the region's aristocratic past with its elegant mansion and beautiful gardens.
Florists in County Down
Interflora is thrilled to partner with skilled florists in County Down who craft exquisite floral arrangements. Our dependable flower delivery service covers the entire county, including towns like Bangor, Newcastle, and Downpatrick, ensuring that your heartfelt emotions are conveyed through the sheer beauty of our blooms, making every occasion in County Down truly remarkable.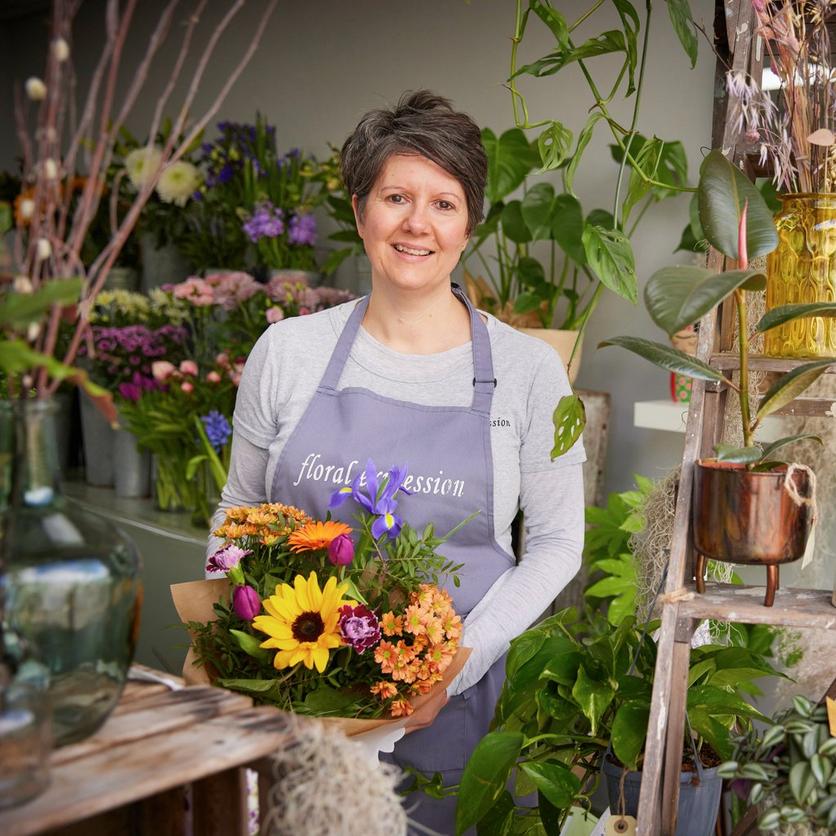 Find a local florist to craft your bouquet
Whatever the occasion, we're here to help. From birthdays to anniversaries or simply just because, we deliver flowers across the UK and even overseas.
Every bouquet is created by an experienced artisan florist.
No lost bouquets here, these are made to wow them on the doorstep.
We guarantee all our flowers will be fresh for 7 days at least.
Our bouquets are created by local florists. Long live the high street!