Search for flowers for my date and postcode
Hand-crafted by a local artisan florist in County Durham
Flower delivery for all occasions
County Durham Flower Delivery
Flower Delivery in County Durham
In County Durham, Interflora's talented florists are dedicated to making your special moments extraordinary. Whether it's an anniversary, birthday, or any significant occasion, our skilled team is ready to create stunning floral arrangements that perfectly convey your sentiments. No matter where you are in County Durham, from Durham City to Darlington, Bishop Auckland to Consett, our beautiful county-inspired flower arrangements are the ideal way to express your love and appreciation to your loved ones.
At Interflora, we believe in the power of flowers to convey emotions and make lasting memories. Trust us for reliable flower delivery in County Durham, and let our exquisite blooms be the perfect way to express your feelings and bring joy to your loved ones' lives.
About County Durham
County Durham, located in the northeast of England, is a captivating region known for its rich history, stunning landscapes, and warm hospitality. With a blend of picturesque countryside and vibrant urban areas, County Durham offers a diverse range of experiences for visitors.
At the heart of the county stands the historic city of Durham, home to the magnificent Durham Cathedral and Castle, both designated World Heritage Sites. The city's charming cobbled streets, riverside walks, and bustling marketplaces provide a delightful atmosphere for exploration. County Durham is also renowned for its breathtaking natural beauty, with the rugged North Pennines Area of Outstanding Natural Beauty offering opportunities for hiking, cycling, and wildlife spotting.
History comes to life in County Durham, with attractions like Beamish, The Living Museum of the North, where visitors can step back in time and experience life in a recreated Victorian-era town. Additionally, the open-air museum of Bishop Auckland's Auckland Castle showcases centuries of history and art.
For outdoor enthusiasts, the county boasts the stunning High Force Waterfall and the enchanting landscapes of the Durham Dales. The region's mining heritage can be explored at the Killhope Lead Mining Museum, providing insight into the county's industrial past..
Florists in County Durham
Interflora collaborates with skilled florists in County Durham, creating stunning floral arrangements. With our reliable flower delivery in County Durham, including towns like Durham, Darlington, and Bishop Auckland, we ensure heartfelt sentiments are expressed through beautiful blooms, making every occasion in County Durham truly special.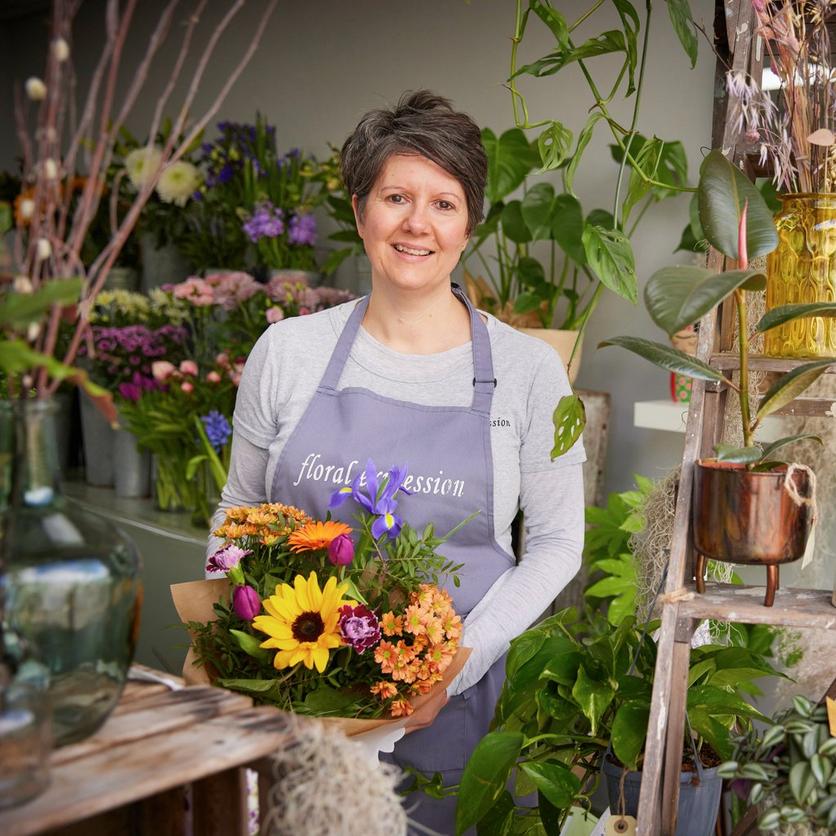 Find a local florist to craft your bouquet
Whatever the occasion, we're here to help. From birthdays to anniversaries or simply just because, we deliver flowers across the UK and even overseas.
Every bouquet is created by an experienced artisan florist.
No lost bouquets here, these are made to wow them on the doorstep.
We guarantee all our flowers will be fresh for 7 days at least.
Our bouquets are created by local florists. Long live the high street!