Search for flowers for my date and postcode
Hand-crafted by a local artisan florist in County Fermanagh
Flower delivery for all occasions
County Fermanagh Flower Delivery
Flower Delivery in County Fermanagh
When it comes to sending a meaningful and heartfelt gift to your loved ones in County Fermanagh, Interflora's flower delivery service is your ultimate choice. Our dedicated County Fermanagh florists skillfully design stunning arrangements using fresh, locally sourced flowers, ensuring that your gift is both beautiful and long-lasting. Whether it's a birthday, anniversary, or a simple gesture of appreciation, our personalised bouquets are the ideal way to express your sentiments and bring joy to someone's day.
With Interflora's reliable delivery service, you can trust that your carefully chosen flowers will arrive on time and in impeccable condition, no matter where your loved ones are in County Fermanagh, making the occasion truly special.
About County Fermanagh
Nestled in the picturesque region of Northern Ireland, County Fermanagh is a serene and enchanting destination known for its breathtaking natural landscapes and tranquil waterways. With its rolling hills, shimmering lakes, and charming villages, County Fermanagh offers a perfect escape for those seeking a peaceful and idyllic retreat.
The jewel in County Fermanagh's crown is undoubtedly Lough Erne, a stunning expanse of water that stretches across the county. The lake is adorned with numerous islands, each with its own unique charm and history. Boating, fishing, and watersports are popular activities on Lough Erne, allowing visitors to immerse themselves in the tranquility of the surroundings.
The county is also home to the world-famous Marble Arch Caves, an underground marvel formed over millions of years. Visitors can embark on a guided tour through awe-inspiring caverns, marvel at intricate limestone formations, and learn about the geological wonders that lie beneath the surface.
In addition to its natural beauty, County Fermanagh boasts a rich cultural heritage. Enniskillen, the county town, is a hub of history and heritage, with its striking castle perched on the banks of the River Erne. The town is also known for its lively arts scene, with festivals and events showcasing the best of local talent.
Florists in County Fermanagh
Interflora is delighted to partner with skilled florists in County Fermanagh who craft exquisite floral arrangements. Our dependable flower delivery service covers the entire county, including towns like Enniskillen, Lisnaskea, and Belleek, ensuring that your heartfelt emotions are conveyed through the sheer beauty of our blooms, making every occasion in County Fermanagh truly remarkable. Our network of talented local florists guarantees that the floral creations you send or receive in County Fermanagh are of the highest quality, capturing the essence of your sentiments and creating cherished memories.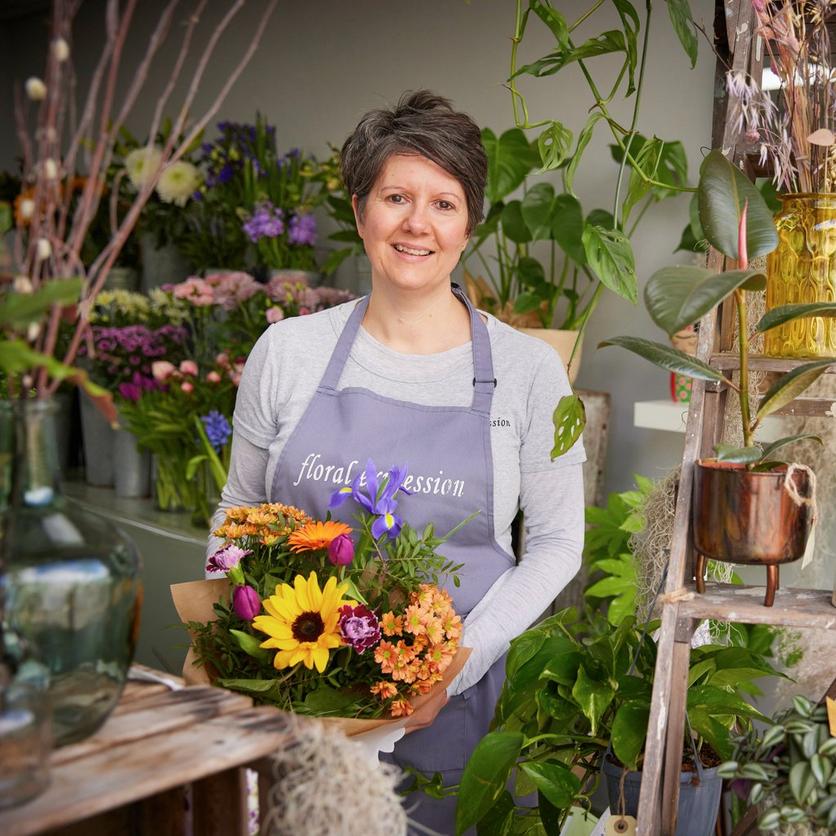 Find a local florist to craft your bouquet
Whatever the occasion, we're here to help. From birthdays to anniversaries or simply just because, we deliver flowers across the UK and even overseas.
Over 900 local florists nationwide
Every bouquet is created by an experienced artisan florist.
No lost bouquets here, these are made to wow them on the doorstep.
We guarantee all our flowers will be fresh for 7 days at least.
Our bouquets are created by local florists. Long live the high street!