Search for flowers for my date and postcode
Hand-crafted by a local artisan florist in County Longford
Flower delivery for all occasions
County Longford Flower Delivery
Flower Delivery in Longford
When it comes to sending a delightful surprise to your loved ones in Longford, we have just the thing for you. Our flower delivery service in Longford is dedicated to creating enchanting floral arrangements that will bring joy and warmth to any occasion. Our talented local florists in Longford handpick the finest and freshest flowers, guaranteeing that your gift will radiate natural beauty and fragrance.
Whether you're celebrating a birthday, commemorating an anniversary, or simply want to express your gratitude, our personalised bouquets are designed to convey your emotions and brighten someone's day.
So, why wait? Let the language of flowers speak for you and make someone's day in Longford truly special. Trust our flower delivery service to convey your sentiments in a truly memorable and beautiful way.
About Longford
Longford, a picturesque town nestled in the heart of Ireland, captivates visitors with its charm and rich heritage. Steeped in history, this enchanting destination offers a delightful blend of old-world charm and contemporary vibrancy. With its winding streets, Georgian architecture, and stunning landscapes, Longford beckons travelers to explore its hidden treasures.
As you stroll through the town, you'll be enchanted by its warm and friendly atmosphere. The locals embrace their heritage with pride and are always ready to share stories of the town's past. Longford boasts a wealth of historical landmarks, such as the beautifully preserved St. Mel's Cathedral and the iconic Strokestown Park House, offering glimpses into the region's fascinating past.
Nature enthusiasts will find solace in the tranquil beauty of Longford's countryside. The majestic River Shannon, Ireland's longest river, meanders through the landscape, inviting leisurely boat trips and riverside walks. Lough Ree, one of the many lakes in the region, provides a serene setting for fishing, sailing, and birdwatching.
Longford's cultural scene is vibrant and diverse, with numerous festivals, art exhibitions, and traditional music sessions throughout the year. From the lively streets to the cozy pubs, you'll find a warm welcome and a lively atmosphere that reflects the true spirit of Ireland.
Florists in Longford
Interflora collaborates with talented florists in Longford, creating stunning floral arrangements for every occasion. With our reliable flower delivery covering towns like Longford, Granard, Edgeworthstown, and Ballymahon, your heartfelt sentiments are expressed through beautiful blooms, making each moment in Longford truly special.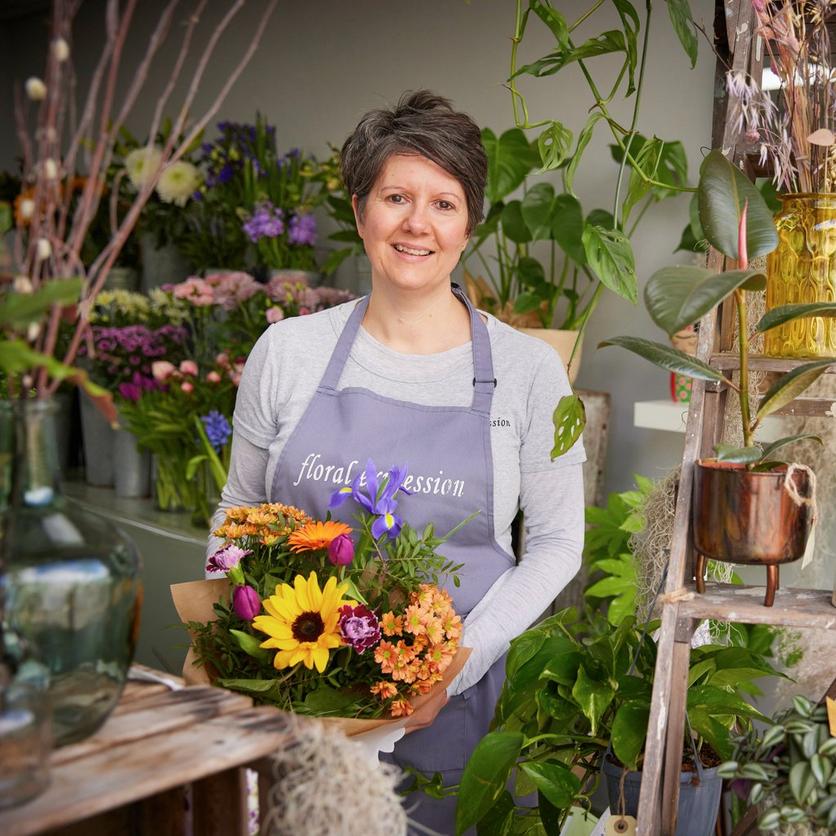 Find a local florist to craft your bouquet
Whatever the occasion, we're here to help. From birthdays to anniversaries or simply just because, we deliver flowers across the UK and even overseas.
Every bouquet is created by an experienced artisan florist.
No lost bouquets here, these are made to wow them on the doorstep.
We guarantee all our flowers will be fresh for 7 days at least.
Our bouquets are created by local florists. Long live the high street!