Search for flowers for my date and postcode
Hand-crafted by a local artisan florist in Cumbria
Flower delivery for all occasions
Cumbria Flower Delivery
Flower Delivery in Cumbria
For an exceptional flower delivery experience in Cumbria, choose Interflora. Our dedicated Cumbria florists craft exquisite arrangements using the finest, locally sourced blooms. Whether it's a birthday, anniversary, or a heartfelt gesture, our personalised bouquets are designed to convey your sentiments and bring joy to your loved ones. With Interflora's reliable delivery service, their flowers will arrive on time and in pristine condition, creating cherished moments in the heart of Cumbria.
About Cumbria
Cumbria, located in the northwest of England, is a county known for its breathtaking landscapes and natural wonders. Home to the Lake District National Park, it boasts some of the most stunning scenery in the country. Majestic mountains, serene lakes, and picturesque valleys make Cumbria a paradise for outdoor enthusiasts and nature lovers.
The Lake District, with its famous lakes such as Windermere, Derwentwater, and Ullswater, attracts millions of visitors each year. The rugged fells and tranquil waters offer endless opportunities for hiking, boating, and simply immersing oneself in the beauty of nature. The region also inspired famous poets like William Wordsworth, who found inspiration in the enchanting landscapes of Cumbria.
Cumbria is not only blessed with natural beauty but also rich in history and cultural heritage. The city of Carlisle, with its medieval castle and cathedral, showcases the county's historic charm. Other notable attractions include Hadrian's Wall, a UNESCO World Heritage Site, and the picturesque towns of Keswick and Ambleside, known for their quaint shops and charming atmosphere.
With its stunning scenery, rich history, and warm hospitality, Cumbria is a destination that captivates and leaves a lasting impression. Whether exploring the lakes, delving into history, or simply enjoying the tranquility of the countryside, Cumbria offers an unforgettable experience for all who visit.
Florists in Cumbria
Experience the finest flower delivery in Cumbria with Interflora. Our skilled Cumbria florists handcraft exquisite arrangements, using the freshest blooms, to create stunning bouquets. Trust us to deliver your heartfelt sentiments with precision and care, bringing beauty and joy to your loved ones in Cumbria.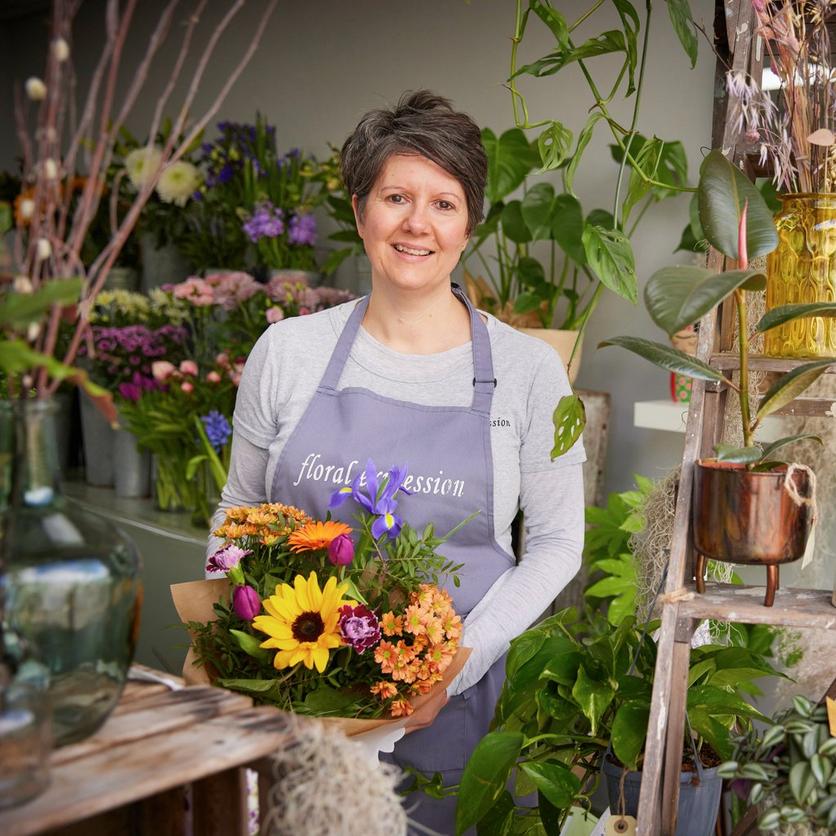 Find a local florist to craft your bouquet
Whatever the occasion, we're here to help. From birthdays to anniversaries or simply just because, we deliver flowers across the UK and even overseas.
Every bouquet is created by an experienced artisan florist.
No lost bouquets here, these are made to wow them on the doorstep.
We guarantee all our flowers will be fresh for 7 days at least.
Our bouquets are created by local florists. Long live the high street!