Search for flowers for my date and postcode
Hand-crafted by a local artisan florist in Devon
Flower delivery for all occasions
Devon Flower Delivery
Flower Delivery in Devon
If you're looking for a thoughtful and heartfelt gift for a loved one in Devon, look no further than our flower delivery service. Our local Devon florists create stunning arrangements using fresh, locally sourced flowers, ensuring that your gift is both beautiful and long-lasting. From birthdays to anniversaries, or simply to show your appreciation, our personalised bouquets are the perfect way to express your sentiments and brighten someone's day. No matter where your loved ones are in Devon, Interflora's reliable delivery service ensures that their flowers will arrive on time and in perfect condition.
About Devon
Devon is a county that offers visitors a mix of stunning natural landscapes, charming towns, and historic cities. Its coastline stretches for over 350 miles, offering beautiful beaches, rugged cliffs, and quaint fishing villages. The South West Coast Path, which runs along the coastline, is a popular trail for walkers and hikers. Dartmoor National Park is a must-see destination in Devon, with its breathtaking landscapes of rolling hills, rivers, and forests. The park is also home to a range of wildlife, including the iconic Dartmoor ponies.
In addition to its natural beauty, Devon has a rich cultural heritage. The historic city of Exeter, for example, boasts a 2,000-year-old history, with Roman ruins, a stunning Gothic cathedral, and a network of medieval underground passages. Plymouth, on the other hand, is a bustling city with a proud naval history, and its famous Barbican area is full of charming old buildings, galleries, and restaurants.
One of the most famous traditions in Devon is the cream tea, which typically consists of scones, clotted cream, and jam, served with a pot of tea. Devon is also known for its locally produced cider, which is made from apples grown in the county's orchards.
Florists in Devon
Interflora's florists in Devon are highly skilled and experienced in creating beautiful floral arrangements for every occasion. Using fresh, locally sourced flowers, our Devon florists can create stunning bespoke arrangements tailored to your preferences. Our reliable delivery service ensures that your flowers are delivered on time and in perfect condition, no matter where in Devon you are.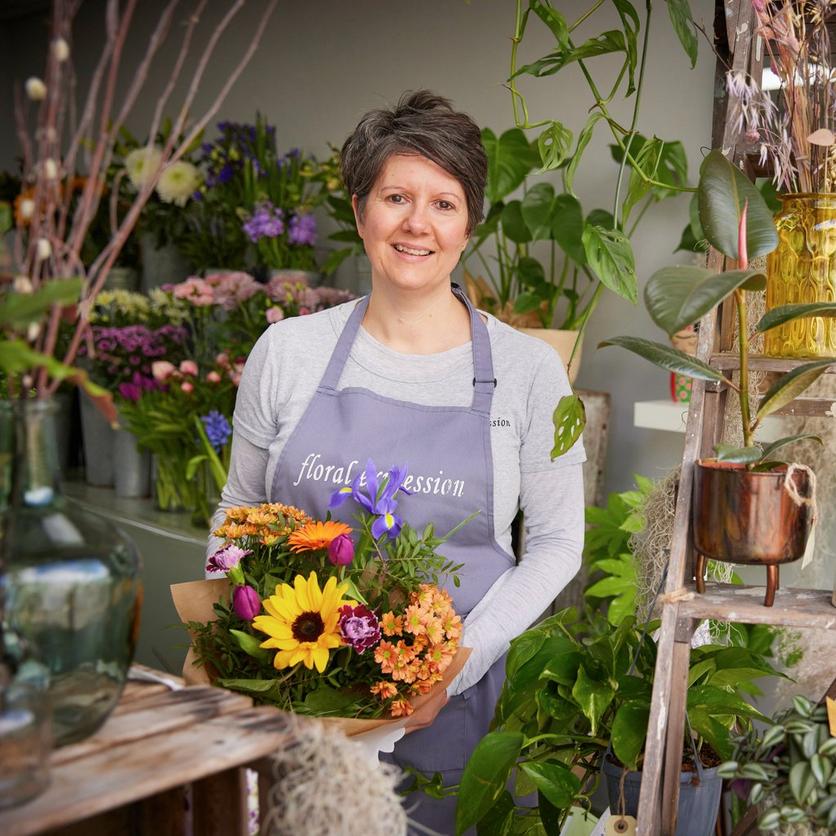 Find a local florist to craft your bouquet
Whatever the occasion, we're here to help. From birthdays to anniversaries or simply just because, we deliver flowers across the UK and even overseas.
Over 900 local florists nationwide
Every bouquet is created by an experienced artisan florist.
No lost bouquets here, these are made to wow them on the doorstep.
We guarantee all our flowers will be fresh for 7 days at least.
Our bouquets are created by local florists. Long live the high street!