Search for flowers for my date and postcode
Hand-crafted by a local artisan florist in Dorset
Flower delivery for all occasions
Dorset Flower Delivery
Flower Delivery in Dorset
Interflora's florists in Dorset are here to make your special moments even more extraordinary. Whether it's an anniversary, birthday, or any significant occasion, our dedicated team is ready to create stunning floral arrangements. No matter where you are in Dorset, from Dorchester to Bournemouth, Weymouth to Poole, our beautiful flower arrangements are the perfect way to express your sentiments to your loved ones.
Personalized bouquets and arrangements are an ideal display of affection for family and friends, whether it's to show appreciation or simply let them know you care. At Interflora, we believe that every day is an opportunity to celebrate and make someone's day brighter with our thoughtfully crafted floral gifts.
About Dorset
Dorset, located on the picturesque south coast of England, is a county brimming with natural beauty, stunning coastline, and charming countryside. With its idyllic landscapes, historic landmarks, and vibrant towns, Dorset offers a captivating blend of heritage, culture, and outdoor exploration. The Jurassic Coast, a UNESCO World Heritage Site, stretches along the county's coastline, revealing breathtaking cliffs, hidden coves, and ancient fossils that provide a glimpse into Earth's history.
The county is home to iconic landmarks such as Durdle Door, a magnificent natural limestone arch, and the Old Harry Rocks, a series of chalk formations jutting out of the sea. Nature enthusiasts can explore the serene countryside of the Dorset Area of Outstanding Natural Beauty, with its rolling hills, meandering rivers, and picturesque villages.
Dorset's cultural heritage is rich and diverse, with historical sites like Corfe Castle and Cerne Abbas Giant captivating visitors with their intriguing stories. Literary enthusiasts will appreciate Dorset's connections to famous authors like Thomas Hardy, whose novels were inspired by the county's landscapes. From exploring sandy beaches to wandering through quaint villages, Dorset offers an unforgettable experience that showcases the essence of English charm and natural splendor.
Florists in Dorset
Interflora is delighted to work with talented florists in Dorset who expertly create beautiful floral arrangements. With our dependable flower delivery in Dorset, we ensure your heartfelt sentiments are expressed through exquisite blooms, making every occasion truly special. Trust Interflora for unforgettable floral gifts delivered with care.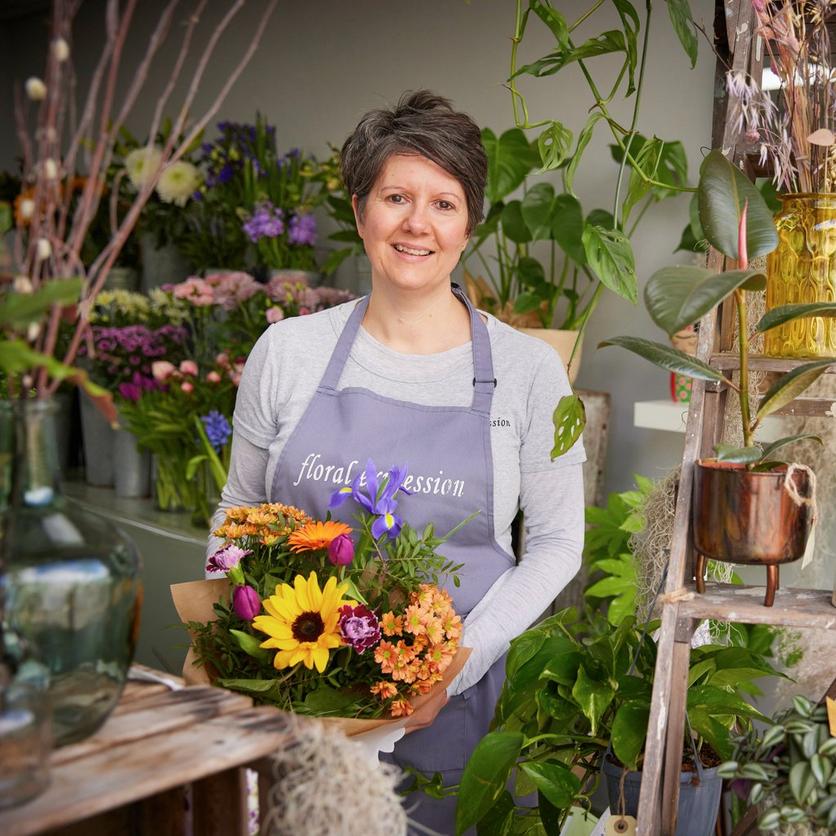 Find a local florist to craft your bouquet
Whatever the occasion, we're here to help. From birthdays to anniversaries or simply just because, we deliver flowers across the UK and even overseas.
Every bouquet is created by an experienced artisan florist.
No lost bouquets here, these are made to wow them on the doorstep.
We guarantee all our flowers will be fresh for 7 days at least.
Our bouquets are created by local florists. Long live the high street!