Search for flowers for my date and postcode
Hand-crafted by a local artisan florist in Guernsey
Flower delivery for all occasions
Guernsey Flower Delivery
Flower Delivery in Guernsey
When it comes to sending a meaningful and heartfelt gift to someone special in Guernsey, Interflora's flower delivery service is the perfect choice. Our dedicated Guernsey florists expertly design stunning arrangements using fresh, locally sourced flowers.
Whether it's a birthday, anniversary, or a simple gesture of appreciation, our personalised bouquets are sure to convey your sentiments and bring joy to their day. With Interflora's reliable delivery service, you can rest assured that your flowers will be delivered promptly and in impeccable condition, ensuring a delightful surprise for your loved ones in Guernsey.
About Guernsey
Guernsey, nestled in the English Channel, is a charming and picturesque island known for its natural beauty and rich history. With its idyllic coastline, golden sandy beaches, and stunning cliff paths, Guernsey offers a haven for outdoor enthusiasts and nature lovers. The island's breathtaking landscapes, including hidden coves and rugged cliffs, provide endless opportunities for coastal walks, beach picnics, and water activities such as sailing and kayaking.
Beyond its natural allure, Guernsey boasts a captivating history that is evident in its architecture and cultural heritage. The island is dotted with charming stone buildings, quaint harbor towns, and fortifications dating back to the Napoleonic era. St. Peter Port, the island's capital, is a delightful mix of narrow cobbled streets, boutique shops, and vibrant cafes, offering a glimpse into Guernsey's past while embracing a lively present.
Guernsey also has a thriving arts and cultural scene, with art galleries, theaters, and museums showcasing the island's creative talent and heritage. Visitors can explore the fascinating German Occupation Museum, which sheds light on Guernsey's experiences during World War II, or visit the famous Hauteville House, the former home of renowned writer Victor Hugo.
Florists in Guernsey
Interflora takes great pride in partnering with skilled florists in Guernsey who craft breathtaking floral compositions. We are dedicated to providing dependable flower delivery services across the island, including towns such as St. Peter Port, St. Sampson, and Vale. Our commitment lies in ensuring that your heartfelt emotions are eloquently conveyed through exquisite blooms, transforming every occasion in Guernsey into a truly remarkable and unforgettable experience.
FAQs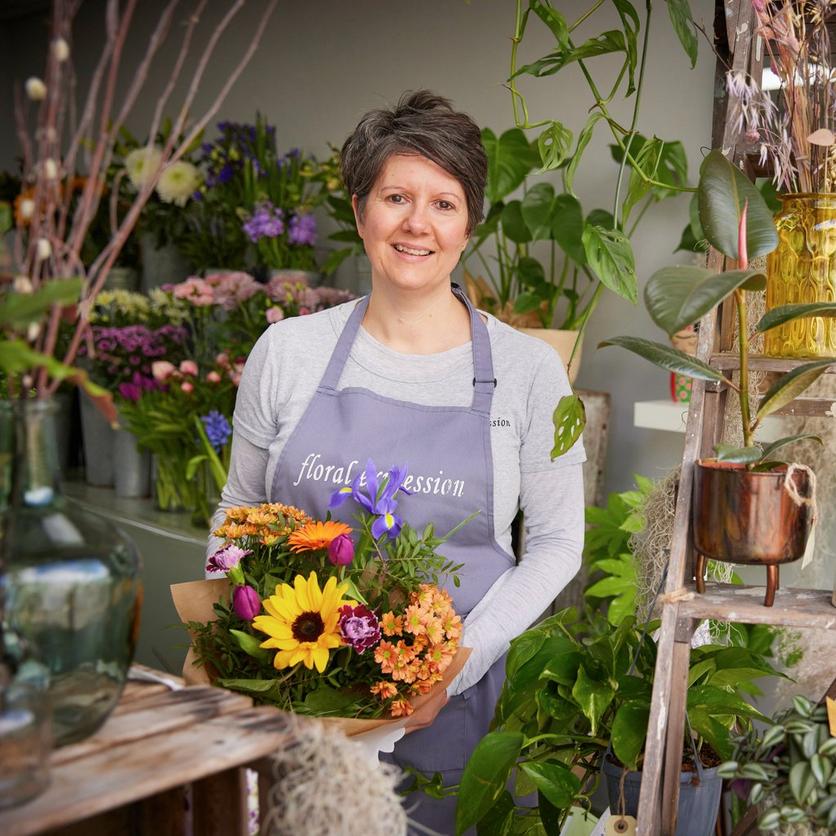 Find a local florist to craft your bouquet
Whatever the occasion, we're here to help. From birthdays to anniversaries or simply just because, we deliver flowers across the UK and even overseas.
Over 900 local florists nationwide
Every bouquet is created by an experienced artisan florist.
No lost bouquets here, these are made to wow them on the doorstep.
We guarantee all our flowers will be fresh for 7 days at least.
Our bouquets are created by local florists. Long live the high street!