Search for flowers for my date and postcode
Hand-crafted by a local artisan florist in Gwynedd
Flower delivery for all occasions
Gwynedd Flower Delivery
Flower Delivery in Gwynedd
When it comes to sending a meaningful and heartfelt gift to a loved one in Gwynedd, Interflora's flower delivery service is the perfect choice. Our dedicated Gwynedd florists expertly design stunning arrangements using fresh, locally sourced flowers.
Whether it's a birthday, anniversary, or a simple gesture of appreciation, our personalised bouquets are sure to convey your sentiments and bring joy to their day. With Interflora's reliable delivery service, you can rest assured that your flowers will be delivered promptly and in impeccable condition, ensuring a delightful surprise for your loved ones in Gwynedd.
About Gwynedd
Gwynedd, located in northwest Wales, is a region renowned for its striking natural beauty and rich cultural heritage. The area is dominated by the majestic peaks of Snowdonia National Park, offering breathtaking vistas, exhilarating hiking trails, and opportunities for outdoor adventures. From scaling the highest peak in Wales, Mount Snowdon, to exploring serene lakes and cascading waterfalls, Gwynedd provides a haven for nature enthusiasts and explorers.
Apart from its awe-inspiring landscapes, Gwynedd is steeped in history and culture. The region boasts a wealth of historic sites, including ancient castles, medieval towns, and impressive heritage railways. The town of Caernarfon is home to the grand Caernarfon Castle, a UNESCO World Heritage Site that showcases stunning architecture and played a significant role in Welsh history.
Gwynedd is also known for its vibrant Welsh culture, with the Welsh language being widely spoken and celebrated. Visitors can immerse themselves in traditional music, folklore, and local festivals, gaining a deeper appreciation for the region's cultural identity.
With its blend of breathtaking natural scenery, rich history, and vibrant cultural traditions, Gwynedd offers a captivating destination for those seeking a memorable experience. Whether it's exploring the rugged mountains, delving into fascinating historical sites, or engaging with the warm and welcoming local community, Gwynedd promises an unforgettable journey into the heart of Wales.
Florists in Gwynedd
Interflora takes great pride in partnering with skilled florists in Gwynedd who craft breathtaking floral compositions. We are dedicated to providing dependable flower delivery services across the region, including towns such as Bangor, Caernarfon, and Porthmadog. Our commitment lies in ensuring that your heartfelt emotions are eloquently conveyed through exquisite blooms, transforming every occasion in Gwynedd into a truly remarkable and unforgettable experience.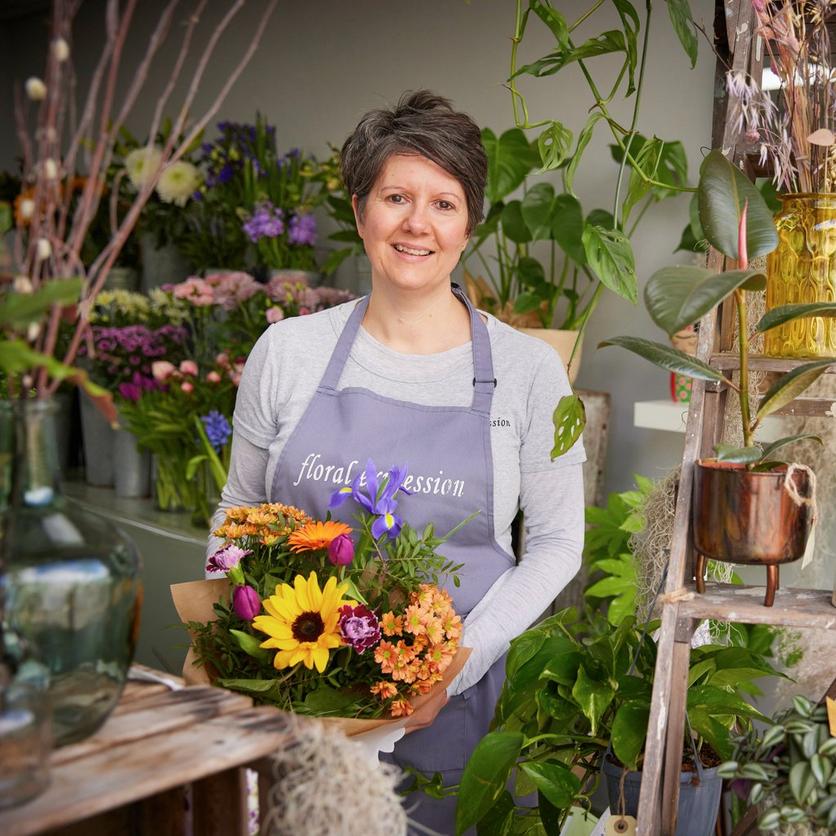 Find a local florist to craft your bouquet
Whatever the occasion, we're here to help. From birthdays to anniversaries or simply just because, we deliver flowers across the UK and even overseas.
Every bouquet is created by an experienced artisan florist.
No lost bouquets here, these are made to wow them on the doorstep.
We guarantee all our flowers will be fresh for 7 days at least.
Our bouquets are created by local florists. Long live the high street!