Search for flowers for my date and postcode
Hand-crafted by a local artisan florist in Kent
Flower delivery for all occasions
Kent Flower Delivery
Flower Delivery in Kent
Our Interflora florists in Kent are dedicated to making your special occasions truly memorable. From anniversary celebrations to birthdays, our exquisite flower arrangements are carefully crafted to convey your heartfelt sentiments. Whether you're in Canterbury, Maidstone, or any town in Kent, our reliable flower delivery service ensures your loved ones receive the perfect blooms to cherish. Let Interflora help you express your affection and appreciation, because every day is an opportunity to show your loved ones how much you care.
About Kent
Located in the southeastern corner of England, Kent is a county renowned for its captivating beauty, rich history, and diverse landscapes. With its beautiful countryside, charming coastal towns, and historic landmarks, Kent offers an array of experiences.
The Garden of England, as Kent is often referred to, showcases an abundance of lush gardens, orchards, and hop fields. From the iconic white cliffs of Dover to the scenic beauty of the Kent Downs, this county is a haven for nature lovers and outdoor enthusiasts. Explore the enchanting landscapes of the Canterbury countryside, stroll through the peaceful gardens of Sissinghurst Castle, or embark on a scenic boat trip along the River Medway.
Kent is also steeped in history and boasts a wealth of historical sites and landmarks. Visit the majestic Canterbury Cathedral, a UNESCO World Heritage Site, or discover the intriguing history of Dover Castle, known as the "Key to England." Explore the charming streets of Rochester, home to the magnificent Rochester Castle and the historic Rochester Cathedral.
In addition to its natural and historical wonders, Kent offers a vibrant cultural scene, with a thriving arts community, local festivals, and a variety of culinary delights. From traditional seaside fish and chips to award-winning vineyards producing exquisite wines, Kent tantalises the taste buds and provides a truly immersive experience.
Florists in Kent
Experience the artistry of Interflora's florists in Kent, dedicated to creating stunning floral arrangements for every occasion. With our reliable flower delivery in Kent, your heartfelt sentiments will be beautifully expressed, whether you're in Canterbury, Maidstone, or any town across this captivating county.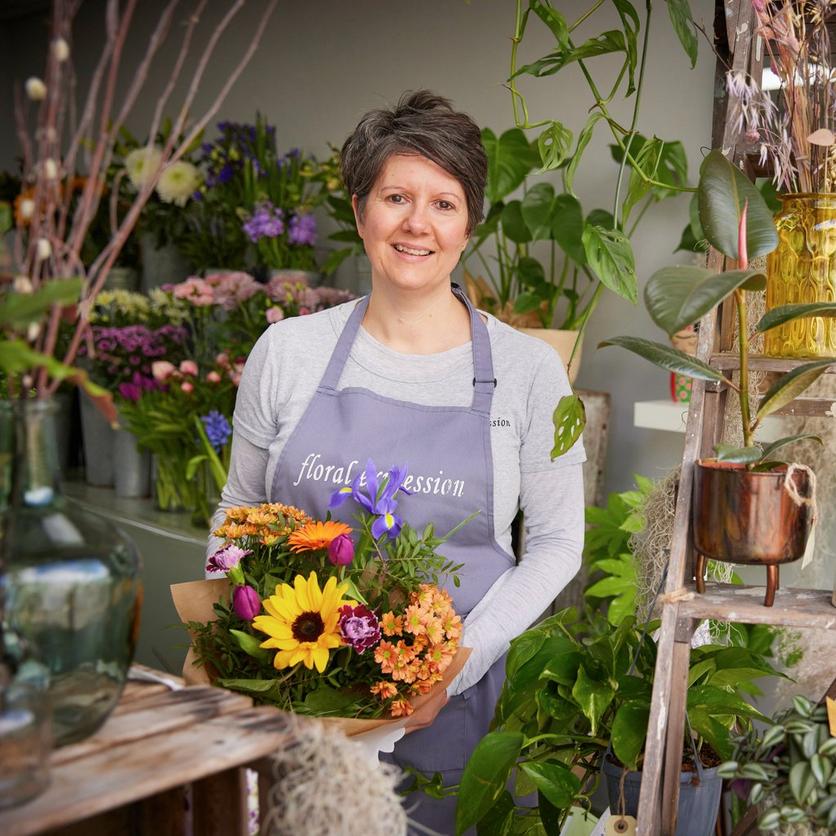 Find a local florist to craft your bouquet
Whatever the occasion, we're here to help. From birthdays to anniversaries or simply just because, we deliver flowers across the UK and even overseas.
Every bouquet is created by an experienced artisan florist.
No lost bouquets here, these are made to wow them on the doorstep.
We guarantee all our flowers will be fresh for 7 days at least.
Our bouquets are created by local florists. Long live the high street!