Search for flowers for my date and postcode
Hand-crafted by a local artisan florist in Kerry
Flower delivery for all occasions
Kerry Flower Delivery
Flower Delivery in Kerry
When it comes to sending a meaningful and heartfelt gift in Kerry, Interflora's flower delivery service is your ideal choice. Our dedicated team of local Kerry florists skillfully create stunning arrangements using fresh, locally sourced flowers, ensuring that your gift is not only visually captivating but also long-lasting. Whether it's a birthday, anniversary, or a simple gesture of gratitude, our personalised bouquets are the perfect way to convey your emotions and bring joy to your loved one's day.
With Interflora's reliable delivery service, you can trust that your flowers will be delivered punctually and in impeccable condition, no matter where your loved ones are located in Kerry.
About Kerry
Kerry, located on the southwest coast of Ireland, is a captivating destination renowned for its stunning landscapes, rich history, and warm hospitality. This picturesque county offers a diverse range of experiences that will leave visitors in awe.
One of the highlights of Kerry is its breathtaking natural beauty. From the majestic peaks of the MacGillycuddy's Reeks, including Ireland's highest mountain, Carrauntoohil, to the iconic Ring of Kerry, a scenic drive that winds through dramatic coastal cliffs, picturesque villages, and pristine lakes, the landscapes of Kerry are simply mesmerizing. The renowned Killarney National Park, with its serene lakes and ancient woodlands, is a haven for outdoor enthusiasts and nature lovers.
Kerry is also steeped in history and culture. The vibrant town of Dingle is known for its traditional Irish music, colorful houses, and friendly pubs. Visitors can explore the fascinating Dingle Peninsula, home to ancient archaeological sites such as the Gallarus Oratory and the Blasket Islands, which offer a glimpse into Ireland's rich past. The town of Tralee hosts the famous Rose of Tralee festival, a celebration of Irish heritage and beauty.=
In addition to its natural and cultural attractions, Kerry is a paradise for food lovers. The county is renowned for its fresh seafood, farm-fresh produce, and traditional Irish cuisine. From cozy pubs serving hearty stews to award-winning restaurants showcasing innovative dishes, Kerry offers a delightful culinary journey.
Florists in Kerry
Interflora is thrilled to partner with skilled florists in Kerry who excel in crafting breathtaking floral arrangements. Our reliable flower delivery service covers the entirety of Kerry, including vibrant towns like Killarney, Tralee, and Dingle, ensuring that your heartfelt sentiments are expressed through stunning blooms, making every occasion in Kerry truly extraordinary.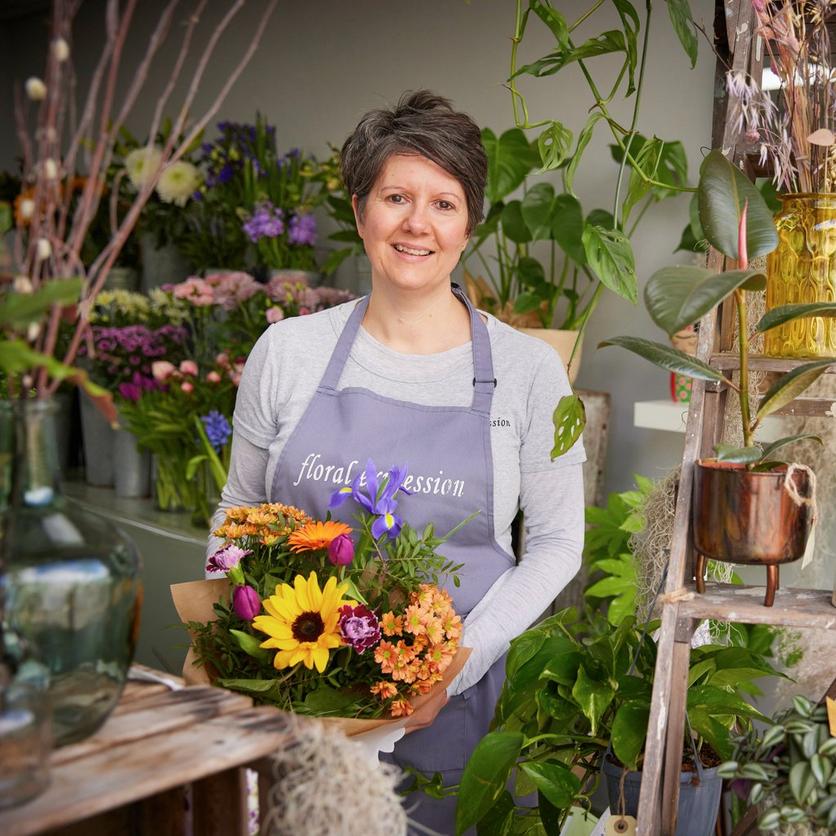 Find a local florist to craft your bouquet
Whatever the occasion, we're here to help. From birthdays to anniversaries or simply just because, we deliver flowers across the UK and even overseas.
Every bouquet is created by an experienced artisan florist.
No lost bouquets here, these are made to wow them on the doorstep.
We guarantee all our flowers will be fresh for 7 days at least.
Our bouquets are created by local florists. Long live the high street!