Search for flowers for my date and postcode
Hand-crafted by a local artisan florist in Kildare
Flower delivery for all occasions
Kildare Flower Delivery
Flower Delivery in Kildare
When it comes to sending a meaningful and cherished gift to your loved ones in Kildare, Interflora's flower delivery service is your ideal choice. Our dedicated team of local Kildare florists passionately create stunning floral arrangements using fresh, handpicked flowers sourced from local growers. Each arrangement is thoughtfully designed to reflect your sentiments, whether it's a birthday, anniversary, or a special occasion to show your appreciation. Our personalised bouquets are carefully crafted to bring joy and brightness to your loved one's day.
With Interflora's reliable delivery service, you can trust that your flowers will be delivered on time and in perfect condition, making your gift a memorable and heartwarming gesture for those in Kildare.
About Kildare
Kildare, located in the heart of Ireland, is a captivating county renowned for its rich history, stunning landscapes, and vibrant culture. From its historic castles and monastic sites to its lush green pastures and picturesque villages, Kildare offers a unique blend of heritage and natural beauty.
In Kildare, you can explore the fascinating ruins of the ancient monastic settlement at Clonmacnoise or immerse yourself in the grandeur of the magnificent Kildare Cathedral. For horse racing enthusiasts, the world-famous Curragh Racecourse is a must-visit, hosting thrilling races that attract visitors from near and far.
But it's not just the history and landscapes that make Kildare special. The county is also home to a thriving arts and crafts scene, with talented local artisans showcasing their creations in charming boutiques and galleries. From beautifully crafted ceramics to intricate handmade jewelry, there's something to inspire every artistic soul.
Whether you're exploring the enchanting Japanese Gardens, indulging in retail therapy at the Kildare Village Outlet, or simply taking a leisurely stroll along the serene River Liffey, Kildare offers a delightful mix of experiences for all to enjoy. So, come and discover the charm and allure of Kildare, where history, nature, and creativity come together to create a truly unforgettable destination.
Florists in Kildare
Interflora takes great pride in partnering with skilled local florists in Kildare, who are dedicated to crafting breathtaking floral arrangements. Through our dependable flower delivery service, we guarantee that your heartfelt sentiments will be conveyed through stunning blooms, transforming every occasion in Kildare into an extraordinary and memorable experience. From charming towns like Naas and Maynooth to the enchanting landscapes of the Curragh and the captivating Kildare Castle, our floral creations add an extra touch of beauty and elegance to this remarkable county. Trust Interflora to ensure that your chosen flowers are delivered promptly and in perfect condition, allowing you to make a lasting impression on your loved ones in Kildare.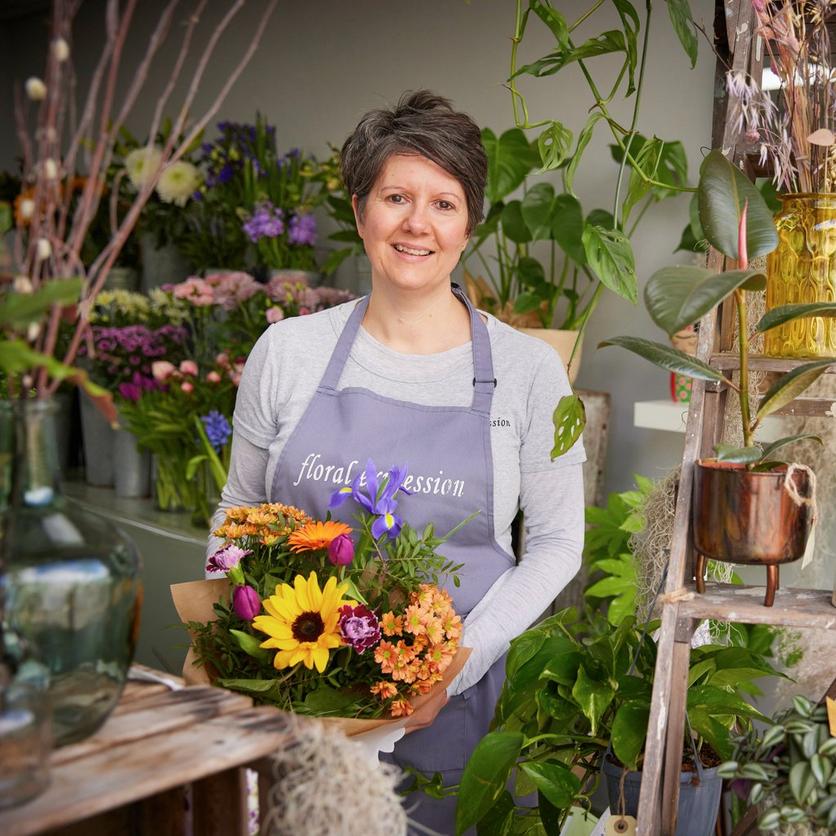 Find a local florist to craft your bouquet
Whatever the occasion, we're here to help. From birthdays to anniversaries or simply just because, we deliver flowers across the UK and even overseas.
Every bouquet is created by an experienced artisan florist.
No lost bouquets here, these are made to wow them on the doorstep.
We guarantee all our flowers will be fresh for 7 days at least.
Our bouquets are created by local florists. Long live the high street!