Search for flowers for my date and postcode
Hand-crafted by a local artisan florist in Lancashire
Flower delivery for all occasions
Lancashire Flower Delivery
Flower Delivery in Lancashire
When it comes to flower delivery in Lancashire, Interflora is your go-to choice for sending a meaningful and memorable gift. Our skilled local Lancashire florists expertly arrange stunning bouquets using fresh, hand-selected flowers. Whether it's a birthday, anniversary, or simply a gesture of appreciation, our personalized floral creations are designed to convey your sentiments and bring joy to your loved ones.
With Interflora's reliable delivery service, you can trust that your thoughtful gift will be delivered on time and in impeccable condition, making it a delightful surprise that brightens their day. Celebrate special moments and show you care with Interflora's exceptional flower delivery service in Lancashire.
About Lancashire
Lancashire, located in the northwest of England, is a county with a rich history, stunning landscapes, and vibrant cities. Home to picturesque countryside, rolling hills, and charming villages, Lancashire offers a perfect blend of natural beauty and cultural heritage. The iconic Forest of Bowland, known for its outstanding beauty and diverse wildlife, is a haven for outdoor enthusiasts, offering opportunities for hiking, cycling, and birdwatching.
Lancashire is also known for its bustling cities and towns. The vibrant city of Preston showcases a mix of modern architecture and historical landmarks such as the impressive Preston Guild Hall. The coastal town of Blackpool is famous for its entertainment and attractions, including the iconic Blackpool Tower and the Pleasure Beach amusement park.
The county is deeply rooted in history and heritage, with sites like Lancaster Castle, where centuries of history come alive, and the Ribble Steam Railway, a nostalgic journey through Lancashire's industrial past. Lancashire is also renowned for its warm hospitality and culinary delights, with traditional Lancashire hotpot and tasty regional delicacies waiting to be savored.
Florists in Lancashire
Interflora takes pride in our talented florists in Lancashire who create stunning floral arrangements for every occasion. With our reliable flower delivery in Lancashire, you can trust us to deliver beautiful blooms that convey your heartfelt sentiments. Brighten someone's day with Interflora's exquisite floral creations in Lancashire.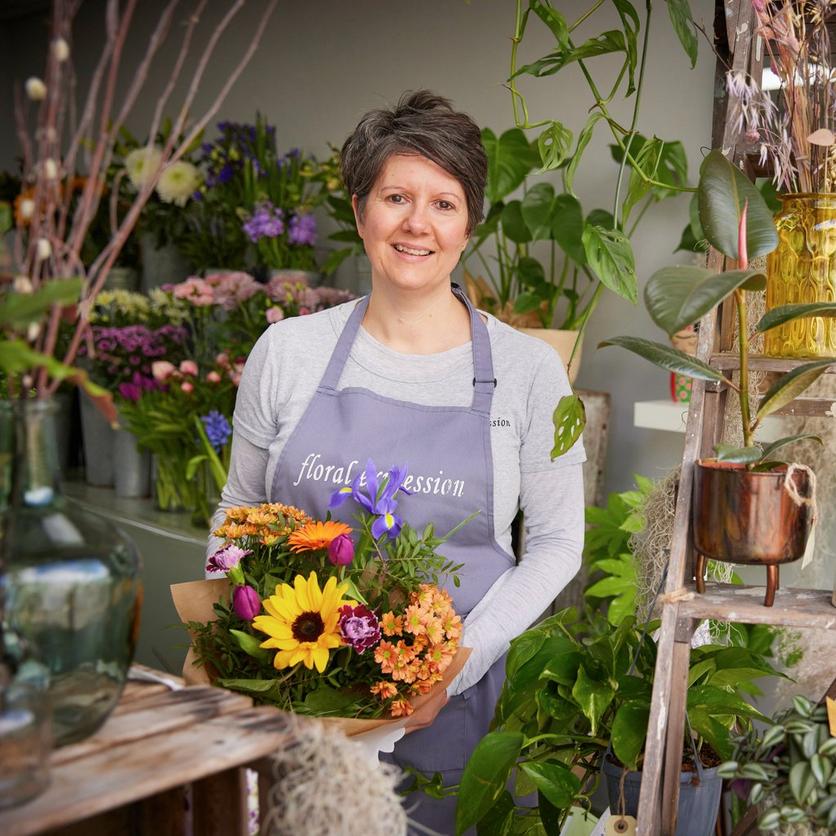 Find a local florist to craft your bouquet
Whatever the occasion, we're here to help. From birthdays to anniversaries or simply just because, we deliver flowers across the UK and even overseas.
Every bouquet is created by an experienced artisan florist.
No lost bouquets here, these are made to wow them on the doorstep.
We guarantee all our flowers will be fresh for 7 days at least.
Our bouquets are created by local florists. Long live the high street!