Search for flowers for my date and postcode
Hand-crafted by a local artisan florist in Leicestershire
Flower delivery for all occasions
Leicestershire Flower Delivery
Flower Delivery in Leicestershire
When it comes to flower delivery in Leicestershire, Interflora is your trusted choice for sending a meaningful gift. Our skilled Leicestershire florists meticulously craft stunning arrangements using fresh, flowers. Whether it's a birthday, anniversary, or a simple gesture of appreciation, our personalised bouquets are designed to convey your sentiments and bring joy to your loved ones.
With Interflora's reliable delivery service, you can rest assured that your thoughtful gift will arrive on time and in perfect condition, making it a cherished surprise that brightens their day. Celebrate special moments and show you care with Interflora's exceptional flower delivery service in Leicestershire.
About Leicestershire
Leicestershire, a county located in the heart of England, offers a rich tapestry of history, picturesque landscapes, and vibrant urban centers. The county is steeped in heritage, with notable landmarks like Leicester Cathedral, where King Richard III was laid to rest, and the historic Leicester Guildhall, one of the oldest surviving timber-framed halls in the country. The city of Leicester itself is a bustling hub of cultural diversity, featuring a thriving arts scene, renowned museums, and a vibrant food culture.
Leicestershire's countryside is a haven for nature lovers, with rolling hills, charming villages, and sprawling parks. The county is home to the picturesque Bradgate Park, where visitors can explore ancient woodlands, encounter wildlife, and enjoy breathtaking views. Additionally, the tranquil waterways of the Grand Union Canal and the River Soar provide opportunities for peaceful walks and leisurely boat trips.
Leicestershire is also renowned for its thriving food and drink scene. The county is famous for its Stilton cheese, pork pies, and traditional ales. Visitors can indulge in a range of culinary experiences, from fine dining restaurants to cozy country pubs, showcasing the region's delicious local produce.
Florists in Leicestershire
Interflora takes pride in our talented florists in Leicestershire who create stunning floral arrangements for every occasion. With our reliable flower delivery in Leicestershire, you can trust us to deliver beautiful blooms that convey your heartfelt sentiments. Brighten someone's day with Interflora's exquisite floral creations in Leicestershire.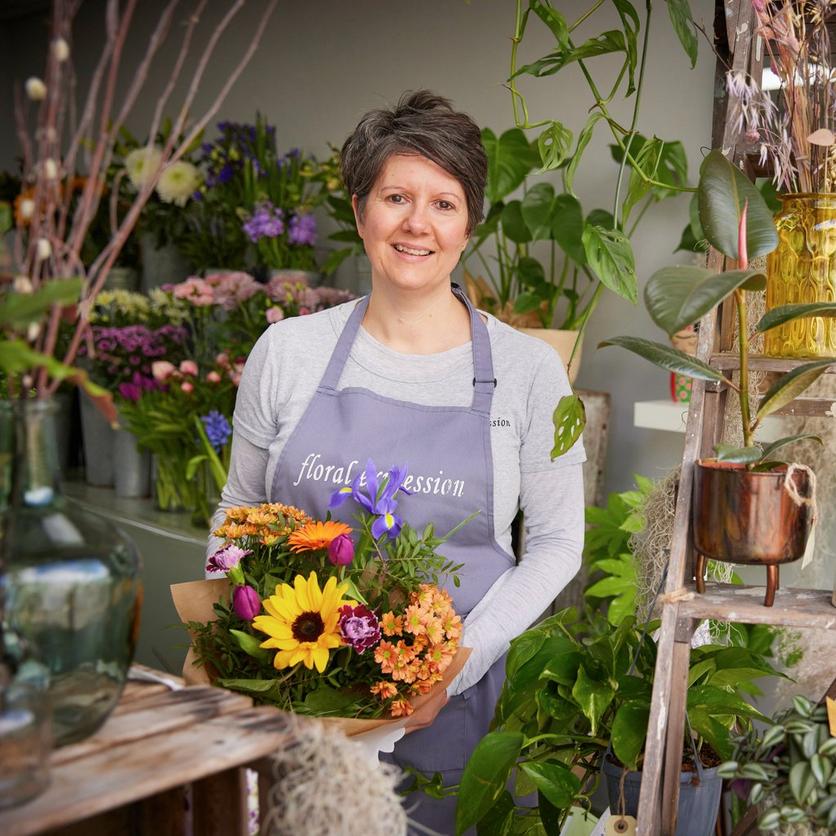 Find a local florist to craft your bouquet
Whatever the occasion, we're here to help. From birthdays to anniversaries or simply just because, we deliver flowers across the UK and even overseas.
Every bouquet is created by an experienced artisan florist.
No lost bouquets here, these are made to wow them on the doorstep.
We guarantee all our flowers will be fresh for 7 days at least.
Our bouquets are created by local florists. Long live the high street!