Search for flowers for my date and postcode
Hand-crafted by a local artisan florist in Limerick
Flower delivery for all occasions
Limerick Flower Delivery
Flower Delivery in Limerick
When it comes to flower delivery in Limerick, Interflora is your trusted choice. We understand the importance of a thoughtful and heartfelt gift, and our dedicated local florists in Limerick create exquisite arrangements using the freshest, locally sourced flowers. Whether it's a birthday, anniversary, or a simple gesture of appreciation, our personalised bouquets are designed to express your sentiments and bring joy to your loved ones' day.
With Interflora's reliable delivery service, you can rest assured that your flowers will be delivered promptly and in perfect condition to any location in Limerick. Trust Interflora to make every occasion in Limerick truly special with our exceptional flower delivery service.
About Limerick
Nestled on the banks of the River Shannon, Limerick is a vibrant city brimming with rich history, captivating architecture, and warm Irish hospitality. Known as the "City of Culture," Limerick offers a diverse range of attractions and experiences for both locals and visitors alike.
Immerse yourself in Limerick's fascinating heritage by exploring iconic landmarks such as King John's Castle and St. Mary's Cathedral. Wander through the charming streets lined with colorful Georgian townhouses and discover the city's vibrant arts scene in its numerous galleries and theaters. Limerick is also renowned for its lively music and literary traditions, with regular festivals and events celebrating these cultural treasures.
Indulge in the lively culinary scene of Limerick, where traditional Irish flavors blend seamlessly with contemporary cuisine. From cozy pubs serving hearty Irish stews to award-winning restaurants showcasing the finest local produce, there's something to satisfy every palate.
Nature enthusiasts will be delighted by the picturesque beauty of County Limerick, with its rolling green hills, meandering rivers, and scenic coastal areas. Explore the enchanting landscapes of the Ballyhoura Mountains, take a leisurely stroll along the River Shannon, or embark on an adventure along the stunning Wild Atlantic Way.
Florists in Limerick
Interflora is delighted to partner with skilled local florists in Limerick who craft breathtaking floral arrangements. Our flower delivery service in Limerick guarantees that your emotions and well-wishes are beautifully conveyed through exquisite blooms, adding a touch of elegance to any occasion. From birthdays to weddings, or simply to brighten someone's day, our personalized bouquets are carefully handcrafted using the freshest flowers, ensuring both beauty and longevity. With Interflora's reliable delivery service, your flowers will be promptly delivered to any location in Limerick, ensuring they arrive in perfect condition. Choose Interflora for a truly memorable and enchanting floral experience in Limerick.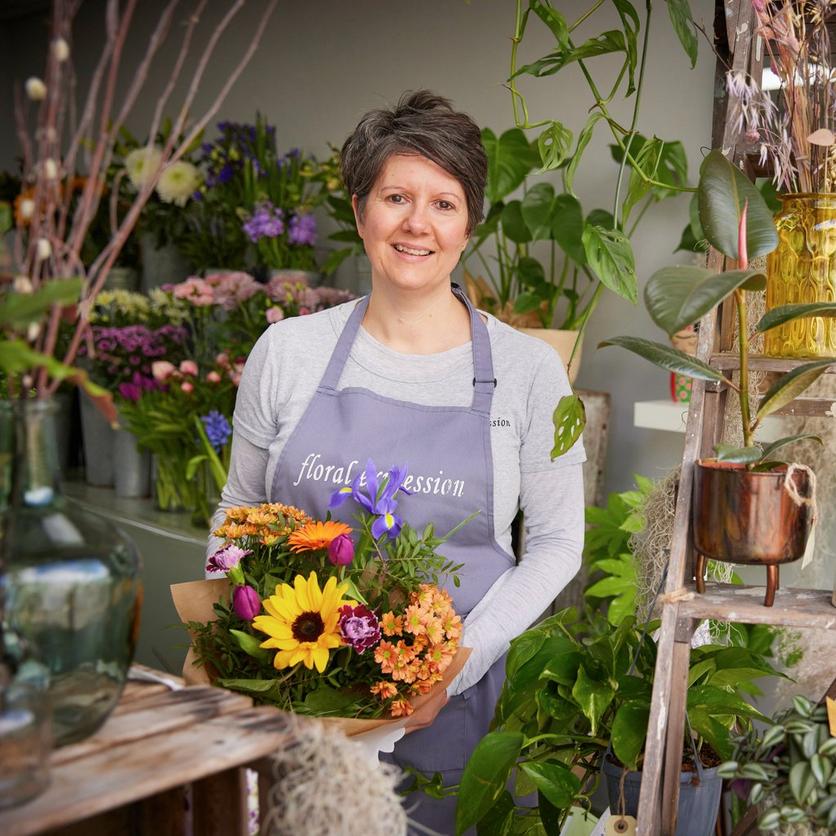 Find a local florist to craft your bouquet
Whatever the occasion, we're here to help. From birthdays to anniversaries or simply just because, we deliver flowers across the UK and even overseas.
Every bouquet is created by an experienced artisan florist.
No lost bouquets here, these are made to wow them on the doorstep.
We guarantee all our flowers will be fresh for 7 days at least.
Our bouquets are created by local florists. Long live the high street!