Search for flowers for my date and postcode
Hand-crafted by a local artisan florist in Lincolnshire
Flower delivery for all occasions
Lincolnshire Flower Delivery
Flower Delivery in Lincolnshire
When it comes to flower delivery in Lincolnshire, Interflora is your trusted choice. Our skilled Lincolnshire florists craft exquisite arrangements using the finest blooms, ensuring your gift is truly special. Whether it's a birthday, anniversary, or a gesture of appreciation, our personalised bouquets will convey your emotions and bring joy to your loved ones. With Interflora's reliable delivery service, you can rest assured that your flowers will arrive promptly and in pristine condition, making every occasion in Lincolnshire memorable.
About Lincolnshire
Lincolnshire, located in the East Midlands of England, is a county brimming with captivating landscapes, rich history, and vibrant culture. Known as the "Land of the Big Sky," Lincolnshire boasts wide open spaces, rolling hills, and charming rural countryside that make it a haven for nature enthusiasts and outdoor adventurers.
One of the county's main attractions is the historic city of Lincoln, home to the magnificent Lincoln Cathedral and the iconic Lincoln Castle. Steeped in medieval charm, the city's cobbled streets and quaint shops offer a glimpse into its past while providing a lively atmosphere with modern amenities. The annual Lincoln Christmas Market, held in the shadow of the cathedral, is a festive highlight that attracts visitors from far and wide.
Beyond the city, Lincolnshire's picturesque coastal towns and villages offer breathtaking scenery and a sense of tranquility. From the sandy beaches of Skegness and Mablethorpe to the traditional fishing ports of Grimsby and Cleethorpes, there's something for everyone to enjoy along the county's stunning coastline.
With its rich agricultural heritage, Lincolnshire is also renowned for its delicious local produce, including Lincolnshire sausages and the famous Lincolnshire Poacher cheese. The county's thriving food and drink scene, featuring traditional pubs, farm shops, and farmers' markets, allows visitors to indulge in authentic culinary delights.
Florists in Lincolnshire
Experience the finest flower delivery in Lincolnshire with Interflora. Our expert Lincolnshire florists create stunning arrangements, handcrafted with care and delivered with precision. Whether it's a special occasion or a heartfelt gesture, trust us to deliver beautiful blooms that will bring joy and smiles to your loved ones in Lincolnshire.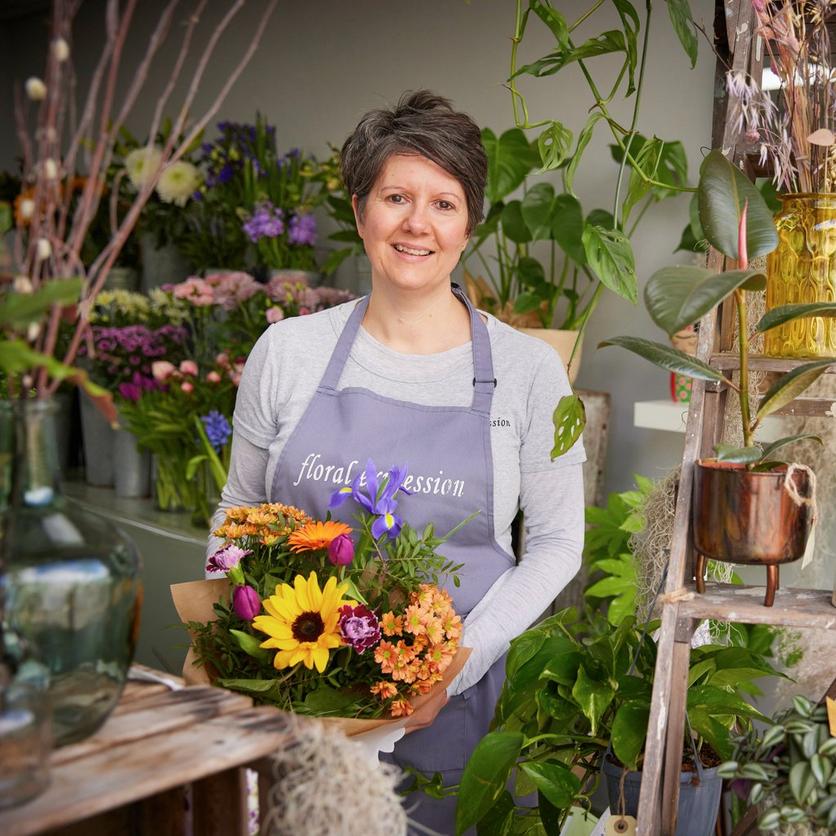 Find a local florist to craft your bouquet
Whatever the occasion, we're here to help. From birthdays to anniversaries or simply just because, we deliver flowers across the UK and even overseas.
Every bouquet is created by an experienced artisan florist.
No lost bouquets here, these are made to wow them on the doorstep.
We guarantee all our flowers will be fresh for 7 days at least.
Our bouquets are created by local florists. Long live the high street!