Search for flowers for my date and postcode
Hand-crafted by a local artisan florist in Norfolk
Flower delivery for all occasions
Norfolk Flower Delivery
Flower Delivery in Norfolk
When it comes to flower delivery in Norfolk, Interflora is your trusted choice. Our dedicated Norfolk florists craft exquisite arrangements using the finest flowers. Whether it's a special occasion or a simple gesture, our personalised bouquets convey your heartfelt message. With our reliable delivery service, your loved ones in Norfolk will receive their flowers promptly, bringing joy and smiles to their day.
About Norfolk
Norfolk, located on the picturesque eastern coast of England, is a region renowned for its natural beauty and charming countryside. With its stunning landscapes, sandy beaches, and tranquil waterways, Norfolk offers a perfect escape for those seeking relaxation and rejuvenation.
Explore the enchanting beauty of Norfolk with its rolling countryside dotted with historic villages and market towns. Discover the breathtaking Norfolk Broads, a unique network of rivers and lakes, where you can enjoy boating, fishing, and spotting diverse wildlife. Wander along the stunning coastline, home to pristine beaches and captivating coastal paths that offer magnificent views.
In Norfolk, you'll also find a rich cultural heritage and a vibrant arts scene. Visit historic landmarks such as Norwich Cathedral and the grand stately homes like Holkham Hall and Sandringham House. Immerse yourself in the vibrant atmosphere of Norwich, the county's capital, known for its medieval streets, eclectic shops, and bustling market.
Whether you're a nature enthusiast, history buff, or simply seeking a peaceful retreat, Norfolk has something for everyone. So, why not surprise your loved ones in Norfolk with a beautiful floral gift? Interflora's reliable flower delivery service ensures that your thoughtful gesture will be cherished and enjoyed, bringing a touch of natural beauty to their doorstep in Norfolk.
Florists in Norfolk
With Interflora's flower delivery in Norfolk, you can trust our skilled local florists to create stunning arrangements using the freshest blooms. Whether you're celebrating a special occasion or simply want to brighten someone's day, our reliable delivery service ensures that your thoughtful gift will be hand-delivered to any doorstep in Norfolk, spreading joy and beauty.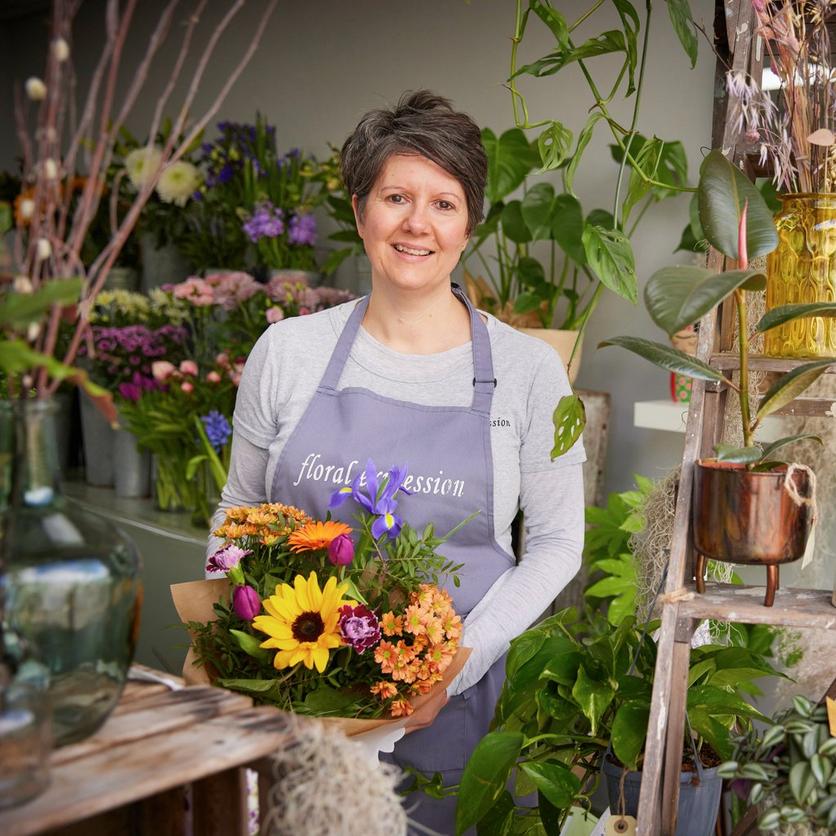 Find a local florist to craft your bouquet
Whatever the occasion, we're here to help. From birthdays to anniversaries or simply just because, we deliver flowers across the UK and even overseas.
Every bouquet is created by an experienced artisan florist.
No lost bouquets here, these are made to wow them on the doorstep.
We guarantee all our flowers will be fresh for 7 days at least.
Our bouquets are created by local florists. Long live the high street!