Search for flowers for my date and postcode
Hand-crafted by a local artisan florist in North Yorkshire
Flower delivery for all occasions
North Yorkshire Flower Delivery
Flower Delivery in North Yorkshire
When it comes to sending a thoughtful and heartfelt gift to a loved one in North Yorkshire, our flower delivery service is your ideal choice. Our dedicated local florists in North Yorkshire carefully craft stunning arrangements using fresh and locally sourced flowers. Whether it's a birthday, anniversary, or a simple gesture of appreciation, our bespoke bouquets are designed to express your sentiments and bring joy to your recipient's day. With Interflora's reliable delivery service, you can trust that the flowers will arrive promptly and in impeccable condition, no matter where your loved ones are in North Yorkshire. Let us help you make their day extra special with our beautiful and long-lasting floral creations.
About North Yorkshire
North Yorkshire is a county in the picturesque region of Yorkshire and the Humber, located in the north of England. Known for its stunning landscapes, historic cities, and charming villages, North Yorkshire offers a delightful blend of natural beauty and cultural heritage. From the rolling hills of the Yorkshire Dales to the breathtaking coastline of Whitby, this diverse county captivates visitors with its scenic vistas and rich history.
In North Yorkshire, you can immerse yourself in the vibrant city life of York, home to the magnificent York Minster and the preserved medieval streets of The Shambles. Explore the charming market towns of Harrogate and Skipton, known for their bustling markets and elegant architecture. Discover the captivating ruins of Fountains Abbey or take a leisurely stroll along the beautiful beaches of Scarborough and Filey.
With its abundant natural beauty, North Yorkshire is the perfect place to enjoy outdoor activities. Hike through the enchanting moors of the North York Moors National Park or cycle along the scenic routes of the Yorkshire Wolds. Immerse yourself in history by visiting historical sites like Bolton Castle and Castle Howard.
Florists in North Yorkshire
Interflora takes pride in partnering with skilled florists in North Yorkshire who possess the expertise to craft exquisite floral arrangements. Our flower delivery service in North Yorkshire covers a range of towns, including the charming locations of York, Harrogate, and Scarborough. With our reliable and efficient service, we ensure that your heartfelt sentiments are beautifully conveyed through our carefully curated blooms, making every occasion in North Yorkshire truly memorable and special. From birthdays to anniversaries, or simply to brighten someone's day, our dedicated florists in North Yorkshire are committed to creating stunning floral creations that leave a lasting impression.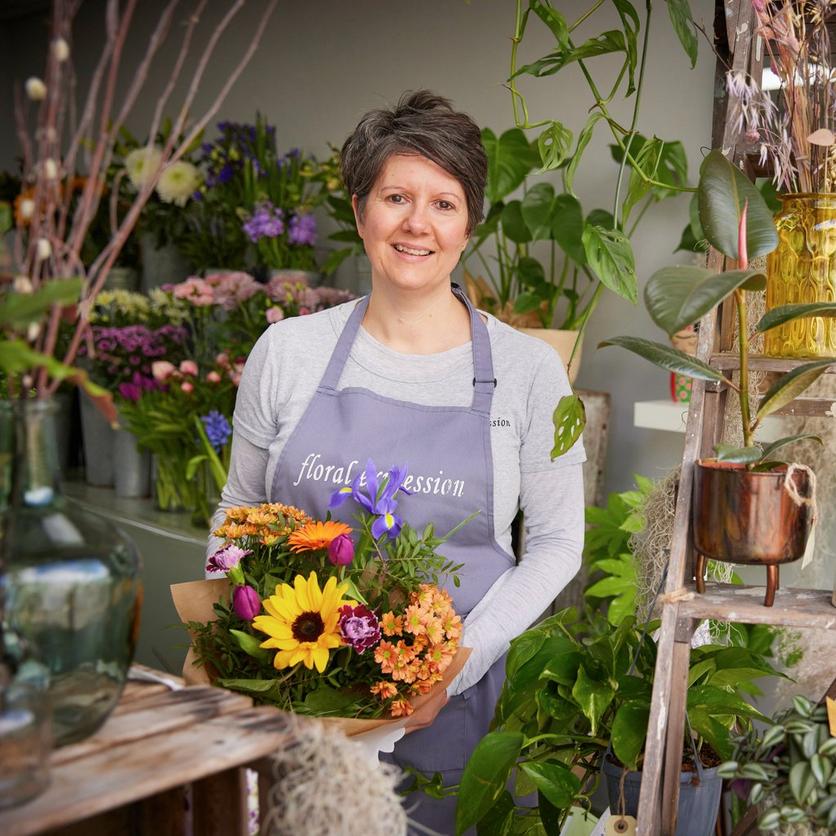 Find a local florist to craft your bouquet
Whatever the occasion, we're here to help. From birthdays to anniversaries or simply just because, we deliver flowers across the UK and even overseas.
Every bouquet is created by an experienced artisan florist.
No lost bouquets here, these are made to wow them on the doorstep.
We guarantee all our flowers will be fresh for 7 days at least.
Our bouquets are created by local florists. Long live the high street!