Search for flowers for my date and postcode
Hand-crafted by a local artisan florist in Nottinghamshire
Flower delivery for all occasions
Nottinghamshire Flower Delivery
Flower Delivery in Nottinghamshire
Our dedicated team of skilled florists in Nottinghamshire are passionate about helping you create unforgettable experiences for anniversaries, birthdays, and other important occasions. With our personalished arrangements and meticulously crafted bouquets, you can convey your deepest affections to your loved ones, whether it's a grand gesture or a simple display of appreciation. From the vibrant city of Nottingham to the charming towns of Mansfield, Newark, and Worksop, our reliable flower delivery service covers every corner of Nottinghamshire, ensuring that every day is filled with beauty, joy, and heartfelt emotions. Trust Interflora to add a touch of elegance and create lasting memories with our exceptional floral arrangements, making every occasion in Nottinghamshire truly extraordinary.
About Nottinghamshire
Nestled in the heart of England, Nottinghamshire is a county that boasts a captivating blend of history, natural beauty, and cultural richness. Home to the legendary Sherwood Forest, this enchanting region is renowned for its association with the iconic outlaw Robin Hood. Visitors can explore the majestic Sherwood Pines, stroll through ancient woodlands, and even visit the famous Major Oak, the legendary hideout of Robin Hood and his band of Merry Men.
Beyond its legendary folklore, Nottinghamshire offers a wealth of cultural attractions. The historic city of Nottingham showcases a fascinating mix of medieval and modern architecture, including the impressive Nottingham Castle. Art enthusiasts can immerse themselves in the city's thriving arts scene, with notable galleries and theaters such as the Nottingham Contemporary and the Theatre Royal.
The county is also known for its industrial heritage, particularly in the city of Newark-on-Trent, which features a picturesque market square and a well-preserved castle. Outdoor enthusiasts can enjoy the picturesque landscapes of the Peak District National Park, which stretches into the northern part of Nottinghamshire, offering breathtaking vistas and opportunities for hiking, cycling, and exploring charming villages.
With its captivating history, stunning natural landscapes, and vibrant cultural scene, Nottinghamshire offers a diverse range of experiences for visitors. Whether you're seeking adventure, cultural immersion, or simply a tranquil retreat, Nottinghamshire is a county that truly has something for everyone.
Florists in Nottinghamshire
Experience exceptional flower delivery in Nottinghamshire with Interflora. Our skilled florists in Nottingham, Mansfield, Newark, and Worksop create stunning floral arrangements with care and attention to detail. Trust us to make every occasion in Nottinghamshire truly special with the beauty and freshness of our flower delivery service.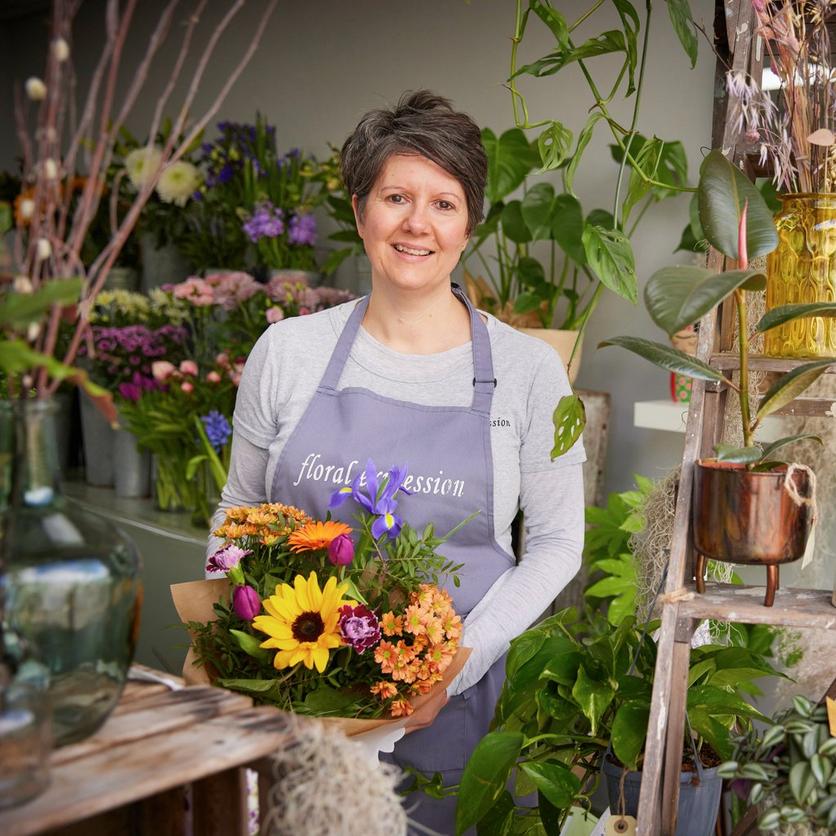 Find a local florist to craft your bouquet
Whatever the occasion, we're here to help. From birthdays to anniversaries or simply just because, we deliver flowers across the UK and even overseas.
Every bouquet is created by an experienced artisan florist.
No lost bouquets here, these are made to wow them on the doorstep.
We guarantee all our flowers will be fresh for 7 days at least.
Our bouquets are created by local florists. Long live the high street!