Search for flowers for my date and postcode
Hand-crafted by a local artisan florist in Oxfordshire
Flower delivery for all occasions
Oxfordshire Flower Delivery
Flower Delivery in Oxfordshire
Celebrate special moments in Oxfordshire with Interflora's exceptional flower delivery service. From Oxford, Banbury, and Witney and more our skilled florists are dedicated to creating breathtaking arrangements that reflect the unique beauty of each town. Whether it's a romantic anniversary in Oxford, a joyful birthday in Banbury, or an expression of gratitude in Witney, our personalized bouquets will convey your heartfelt sentiments. Trust Interflora to bring a touch of elegance and charm to your loved ones in Oxfordshire, making every occasion truly unforgettable.
About Oxfordshire
Nestled near the heart of England, Oxfordshire is known for its historic charm, picturesque landscapes, and world-class education. Home to the prestigious University of Oxford, the county boasts a rich academic heritage filled with a vibrant intellectual atmosphere. Beyond academia, Oxfordshire offers a delightful blend of captivating countryside, enchanting villages, and captivating cultural sites.
The city of Oxford, with its iconic dreaming spires, is a treasure trove of architectural marvels and academic institutions. Stroll through the cobbled streets, explore the historic colleges, and immerse yourself in the captivating atmosphere of this scholarly city. The county is also blessed with stunning natural beauty, from the tranquil waters of the River Thames to the rolling hills of the Cotswolds. Discover charming villages like Woodstock, home to the magnificent Blenheim Palace, or stroll through Broughton Castle's enchanting gardens.
Oxfordshire is not only a haven for history and nature enthusiasts but also a cultural hub. The county hosts a vibrant arts scene, with theaters, galleries, and music venues showcasing a diverse range of performances. Food lovers can indulge in local culinary delights, from traditional pub fare to Michelin-starred dining experiences. There is no doubt that Oxfordshire offers a captivating destination for anyone seeking intellectual stimulation, natural beauty, or cultural immersion.
Florists in Oxfordshire
With Interflora, enjoy Oxfordshire flower delivery at its finest. Beautiful floral arrangements are created by our talented florists in Oxford, Banbury, and other locations that perfectly express any event. With the help of our dependable service, you can send sincere greetings to loved ones all throughout Oxfordshire, ensuring happiness and smiles with each delivery.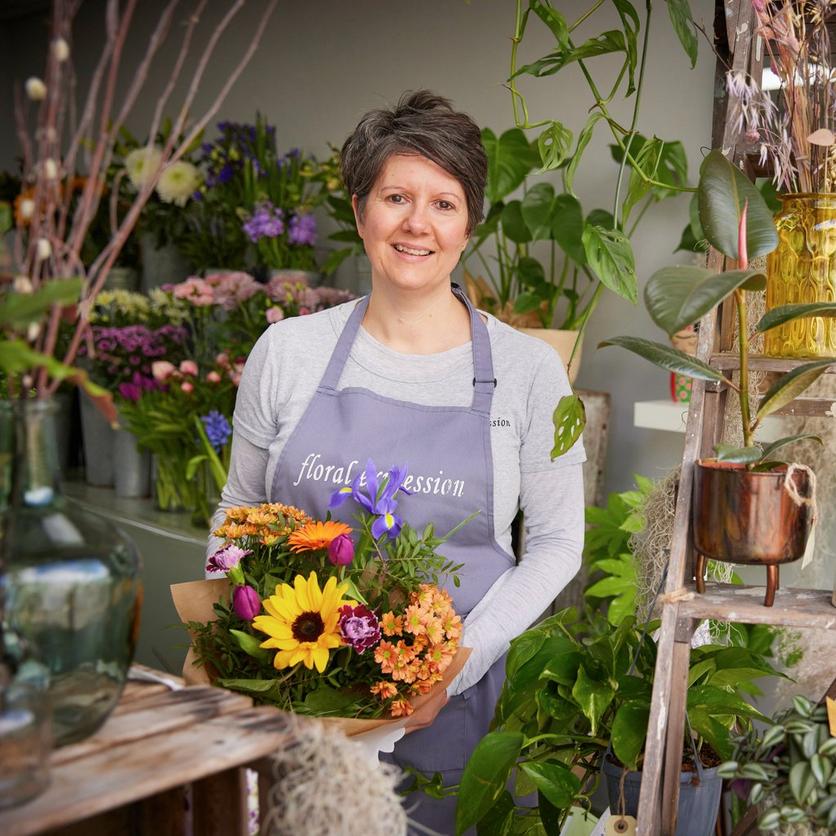 Find a local florist to craft your bouquet
Whatever the occasion, we're here to help. From birthdays to anniversaries or simply just because, we deliver flowers across the UK and even overseas.
Every bouquet is created by an experienced artisan florist.
No lost bouquets here, these are made to wow them on the doorstep.
We guarantee all our flowers will be fresh for 7 days at least.
Our bouquets are created by local florists. Long live the high street!