Search for flowers for my date and postcode
Hand-crafted by a local artisan florist in Perthshire
Flower delivery for all occasions
Perthshire Flower Delivery
Flower Delivery in Perthshire
When it comes to expressing your sentiments with a thoughtful and heartfelt gift in Perthshire, Interflora is your trusted flower delivery service. Our dedicated local Perthshire florists meticulously create stunning arrangements using fresh, locally sourced flowers, ensuring that your gift is not only beautiful but also long-lasting. Whether it's a birthday, anniversary, or a simple gesture of appreciation, our personalised bouquets are designed to convey your heartfelt emotions and brighten your loved one's day.
With Interflora's reliable delivery service, you can rest assured that your flowers will arrive on time and in perfect condition, no matter where your loved ones are in Perthshire.
About Perthshire
Nestled in the heart of Scotland, Perthshire is a region renowned for its stunning landscapes, rich history, and vibrant culture. From the breathtaking peaks of the Grampian Mountains to the tranquil waters of Loch Tay and the majestic River Tay flowing through its midst, Perthshire offers a captivating tapestry of natural beauty.
History comes alive in Perthshire with its historic castles, such as the magnificent Scone Palace, once the crowning place of Scottish kings. Visitors can immerse themselves in the region's past at the Black Watch Castle and Museum, which tells the story of Scotland's oldest Highland regiment.
Outdoor enthusiasts are spoiled for choice in Perthshire, with endless opportunities for adventure. The region is a paradise for hikers, offering a myriad of trails through enchanting forests and along picturesque riverbanks. The vast expanse of the Cairngorms National Park, just a stone's throw away, provides a playground for nature lovers, with opportunities for wildlife spotting, skiing, and mountaineering.
Perthshire also boasts a vibrant cultural scene, with charming towns like Pitlochry and Dunkeld hosting festivals, music events, and art exhibitions. From traditional Highland games to contemporary theater performances, there is something to captivate every visitor.
Florists in Perthshire
Interflora is proud to partner with skilled florists in Perthshire, covering towns like Perth, Blairgowrie, Pitlochry, Dunkeld, and Crieff. With our dependable flower delivery service in Perthshire, we guarantee that your heartfelt sentiments are eloquently expressed through stunning blooms, making every occasion in Perthshire truly exceptional. Trust Interflora to add a touch of beauty and elegance to your special moments in Perthshire.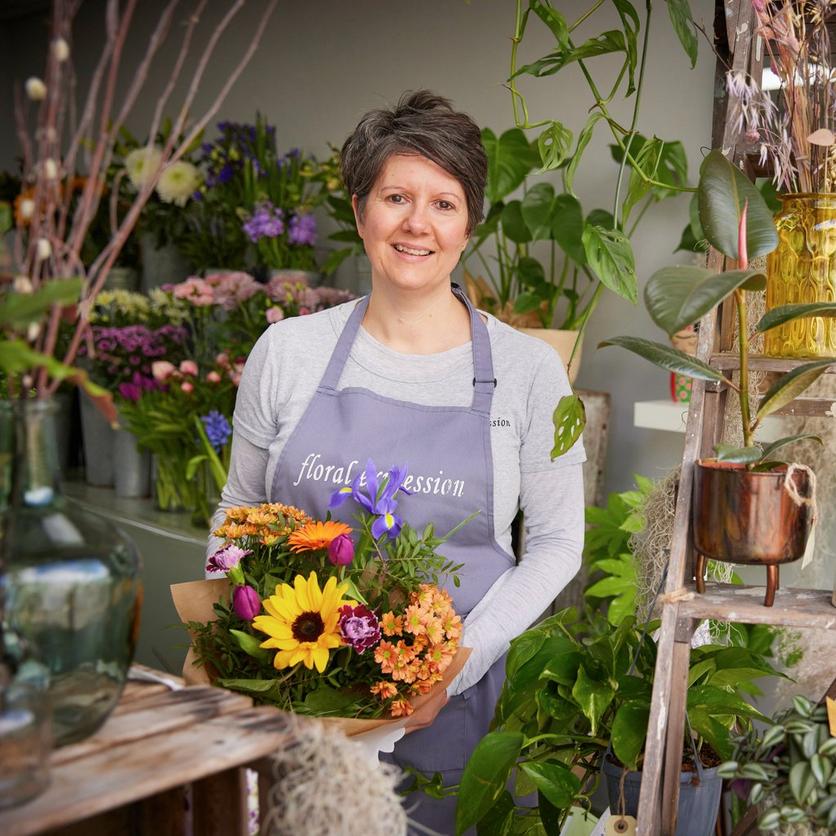 Find a local florist to craft your bouquet
Whatever the occasion, we're here to help. From birthdays to anniversaries or simply just because, we deliver flowers across the UK and even overseas.
Over 900 local florists nationwide
Every bouquet is created by an experienced artisan florist.
No lost bouquets here, these are made to wow them on the doorstep.
We guarantee all our flowers will be fresh for 7 days at least.
Our bouquets are created by local florists. Long live the high street!