Search for flowers for my date and postcode
Hand-crafted by a local artisan florist in Shropshire
Flower delivery for all occasions
Shropshire Flower Delivery
Flower Delivery in Shropshire
When it comes to flower delivery in Shropshire, Interflora is your trusted choice for sending a thoughtful gift. Our skilled Shropshire florists carefully handcraft stunning arrangements using fresh, locally sourced flowers.
Whether it's a birthday, anniversary, or a gesture of appreciation, our personalised bouquets are designed to express your sentiments and bring joy to your loved ones. With Interflora's reliable delivery service, you can trust that your flowers will arrive on time and in perfect condition, making it a delightful surprise that brightens their day. Celebrate special moments in Shropshire with Interflora's exceptional flower delivery service.
About Shropshire
Nestled in the picturesque West Midlands region of England, Shropshire is a county that delights visitors with its enchanting landscapes, rich history, and charming market towns. Known for its rural beauty, Shropshire boasts rolling hills, meandering rivers, and scenic countryside that captivate nature lovers and hikers. The iconic Shropshire Hills, an Area of Outstanding Natural Beauty, offer breathtaking vistas and the opportunity to explore ancient landscapes, including the famous Long Mynd and Wenlock Edge.
Beyond its natural splendor, Shropshire showcases a wealth of historical sites and architectural treasures. The county's county town, Shrewsbury, is a medieval gem with its timber-framed buildings, cobbled streets, and the imposing Shrewsbury Castle. History enthusiasts can also discover the Iron Bridge Gorge, a UNESCO World Heritage Site that played a pivotal role in the Industrial Revolution.
Shropshire's market towns exude character and charm, each offering a unique experience. Ludlow, renowned for its gastronomy, is a haven for food lovers with its Michelin-starred restaurants and lively food festivals. Bridgnorth entices visitors with its historic cliff railway and vibrant street markets, while Much Wenlock captivates with its half-timbered buildings and association with the birth of the modern Olympic Games.
Florists in Shropshire
With Interflora's flower delivery in Shropshire, our talented local florists create exquisite arrangements that reflect the county's beauty. From Shrewsbury to Ludlow and beyond, trust us to deliver stunning floral creations that convey your heartfelt sentiments. Make someone's day in Shropshire with Interflora's exceptional flower delivery service.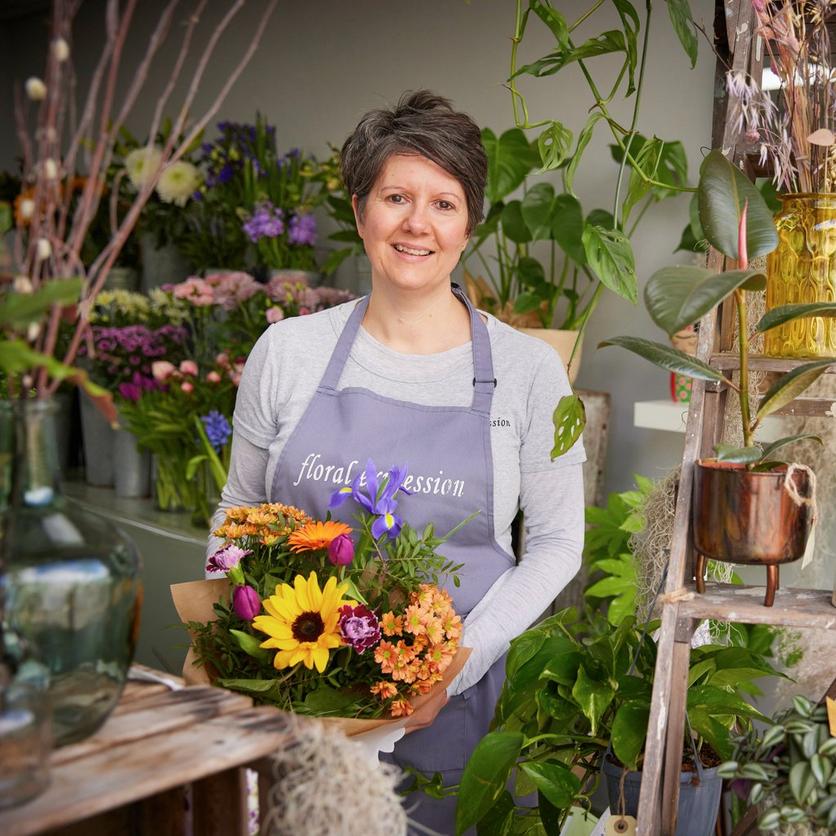 Find a local florist to craft your bouquet
Whatever the occasion, we're here to help. From birthdays to anniversaries or simply just because, we deliver flowers across the UK and even overseas.
Over 900 local florists nationwide
Every bouquet is created by an experienced artisan florist.
No lost bouquets here, these are made to wow them on the doorstep.
We guarantee all our flowers will be fresh for 7 days at least.
Our bouquets are created by local florists. Long live the high street!