Search for flowers for my date and postcode
Hand-crafted by a local artisan florist in Somerset
Flower delivery for all occasions
Somerset Flower Delivery
Flower Delivery in Somerset
For a truly memorable flower delivery in Somerset, trust Interflora. Our dedicated Somerset florists design exquisite arrangements using locally sourced, fresh blooms, ensuring the utmost beauty and longevity. Whether it's a birthday, anniversary, or a heartfelt gesture, our personalised bouquets are the ideal way to express your sentiments and bring joy to your loved ones. With Interflora's reliable delivery service, you can rest assured that your flowers will arrive promptly and in impeccable condition, no matter where your recipients are in Somerset.
About Somerset
Nestled in the southwestern part of England, Somerset is a county that encompasses picturesque landscapes, rich history, and a vibrant cultural heritage. Known for its rolling hills, charming countryside, and stunning coastline, Somerset offers a diverse range of experiences for visitors.
At the heart of Somerset lies the captivating city of Bath, famous for its Roman-built baths and elegant Georgian architecture. Bath's UNESCO World Heritage status makes it a must-visit destination, with attractions like the majestic Bath Abbey and the iconic Royal Crescent. The city's thermal spa, fed by natural hot springs, offers a rejuvenating experience that has been enjoyed for centuries.
Venturing into the countryside, Somerset reveals its natural beauty through its enchanting landscapes. From the wild beauty of Exmoor National Park to the idyllic beauty of the Quantock Hills, there are ample opportunities for outdoor adventures, including hiking, cycling, and wildlife spotting. The county is also home to the mystical Glastonbury Tor, steeped in Arthurian legend, and the stunning Cheddar Gorge, a magnificent limestone gorge with breathtaking views.
Somerset is a gastronomic delight, with its locally produced cider, cheeses, and farm-to-table cuisine. Exploring the county's charming villages and market towns, such as Wells and Frome, allows visitors to experience traditional pubs, farmers' markets, and artisanal food producers.
Florists in Somerset
Experience exceptional flower delivery in Somerset with Interflora. Our skilled Somerset florists create stunning arrangements using the freshest blooms, handcrafted with care. Trust us to deliver your heartfelt sentiments with precision and reliability, bringing joy and smiles to your loved ones in Somerset.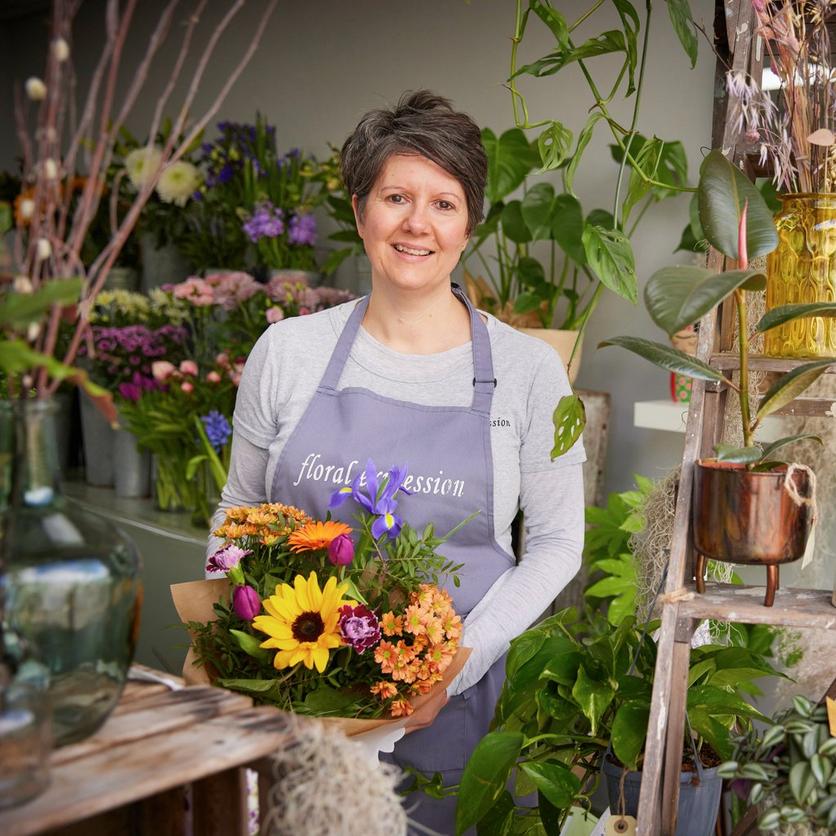 Find a local florist to craft your bouquet
Whatever the occasion, we're here to help. From birthdays to anniversaries or simply just because, we deliver flowers across the UK and even overseas.
Every bouquet is created by an experienced artisan florist.
No lost bouquets here, these are made to wow them on the doorstep.
We guarantee all our flowers will be fresh for 7 days at least.
Our bouquets are created by local florists. Long live the high street!