Search for flowers for my date and postcode
Hand-crafted by a local artisan florist in Staffordshire
Flower delivery for all occasions
Staffordshire Flower Delivery
Flower Delivery in Staffordshire
When it comes to flower delivery in Staffordshire, Interflora is your trusted choice. Our talented local florists in Staffordshire craft exquisite arrangements using the finest, hand-selected flowers.
Whether it's a birthday, anniversary, or a gesture of appreciation, our personalised bouquets are designed to convey your heartfelt sentiments and bring joy to your loved ones. With Interflora's reliable delivery service, your flowers will be promptly delivered, ensuring they arrive in perfect condition to make someone's day truly special.
About Staffordshire
Staffordshire, a picturesque county located in the heart of England, offers a unique blend of history, natural beauty, and vibrant culture. With its diverse landscapes, from rolling hills and tranquil countryside to bustling market towns, Staffordshire has something to offer for everyone.
The county boasts a rich history, evident in its ancient castles, grand stately homes, and historic market squares. From the majestic ruins of Stafford Castle to the charming streets of Lichfield, there are countless opportunities to explore and immerse yourself in Staffordshire's fascinating past.
Nature lovers will be captivated by the county's stunning countryside, including the scenic beauty of Cannock Chase, a designated Area of Outstanding Natural Beauty. Here, you can wander through ancient woodlands, discover hidden valleys, and spot an array of wildlife.
Staffordshire is also renowned for its cultural offerings, from world-class museums and galleries to vibrant festivals and events. Whether it's indulging in the region's rich pottery heritage in Stoke-on-Trent or enjoying live performances at one of the county's theaters or music venues, there is always something to inspire and entertain.
Florists in Staffordshire
With Interflora's flower delivery in Staffordshire, you can trust our skilled local florists to create stunning floral arrangements. Whether it's a birthday, anniversary, or special occasion, our bespoke bouquets are handcrafted with care and delivered promptly to your loved ones in Staffordshire, spreading joy and beauty across the county.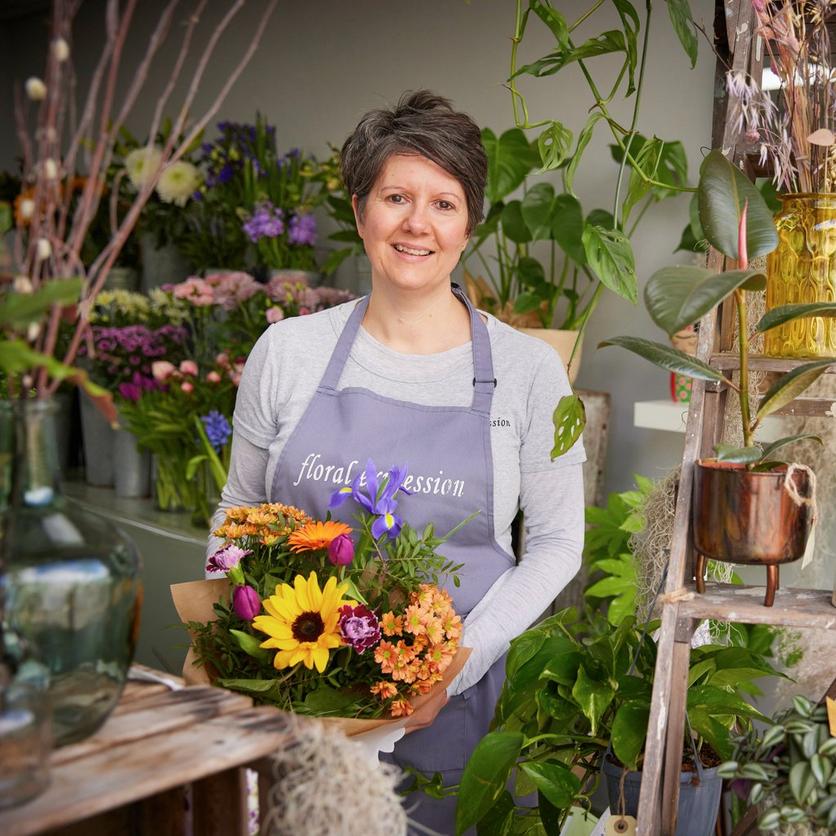 Find a local florist to craft your bouquet
Whatever the occasion, we're here to help. From birthdays to anniversaries or simply just because, we deliver flowers across the UK and even overseas.
Over 900 local florists nationwide
Every bouquet is created by an experienced artisan florist.
No lost bouquets here, these are made to wow them on the doorstep.
We guarantee all our flowers will be fresh for 7 days at least.
Our bouquets are created by local florists. Long live the high street!