Search for flowers for my date and postcode
Hand-crafted by a local artisan florist in Stirlingshire
Flower delivery for all occasions
Stirlingshire Flower Delivery
Stirlingshire Flower Delivery
Flower Delivery in Stirlingshire
When it comes to flower delivery in Stirlingshire, trust Interflora to deliver the perfect gift. Our skilled Stirlingshire florists craft exquisite arrangements with fresh, locally sourced flowers, guaranteeing a stunning and long-lasting present. Whether it's a birthday, anniversary, or a simple gesture of appreciation, our personalised bouquets convey your heartfelt sentiments and bring joy to your loved ones' day.
Count on Interflora's dependable delivery service to ensure that your flowers arrive promptly and in pristine condition, no matter where your recipients are in Stirlingshire.
About Stirlingshire
Stirlingshire, located in central Scotland, is a region rich in history, natural beauty, and cultural significance. Nestled between the breathtaking landscapes of the Scottish Highlands and the bustling city of Glasgow, Stirlingshire offers a captivating blend of urban and rural experiences.
At the heart of Stirlingshire lies the historic city of Stirling, known for its iconic castle perched atop a dramatic hill. This ancient fortress witnessed some of Scotland's most significant moments, including the Battle of Stirling Bridge and the Battle of Bannockburn. The city's historic charm extends beyond the castle, with cobbled streets, quaint shops, and charming architecture that transports visitors back in time.
Beyond the city limits, Stirlingshire boasts stunning natural landscapes that beckon outdoor enthusiasts. The region is home to the picturesque Loch Lomond and The Trossachs National Park, where sparkling lochs, rugged mountains, and lush forests create an idyllic setting for hiking, cycling, and wildlife spotting. The scenic beauty of the region has also attracted filmmakers, with iconic locations such as Doune Castle and the Devil's Pulpit featuring in popular productions like "Outlander" and "Braveheart."
Stirlingshire's vibrant cultural scene further adds to its allure. The region is dotted with charming villages, each offering its own unique character and community spirit. From vibrant festivals celebrating traditional Scottish music and dance to modern art galleries showcasing contemporary creations, Stirlingshire embraces both its heritage and the evolving artistic expressions of its residents.
Florists in Stirlingshire
Interflora takes great pride in partnering with highly skilled florists in Stirlingshire who are dedicated to crafting exquisite floral arrangements. With our dependable flower delivery service covering the entire region, including towns like Stirling, Falkirk, and Bridge of Allan, we guarantee that your heartfelt emotions are conveyed through the sheer beauty of our blooms, elevating every occasion in Stirlingshire to a truly remarkable one. Our network of talented local florists ensures that the floral creations you send or receive in Stirlingshire are of the highest quality, capturing the essence of your sentiments and creating lasting memories.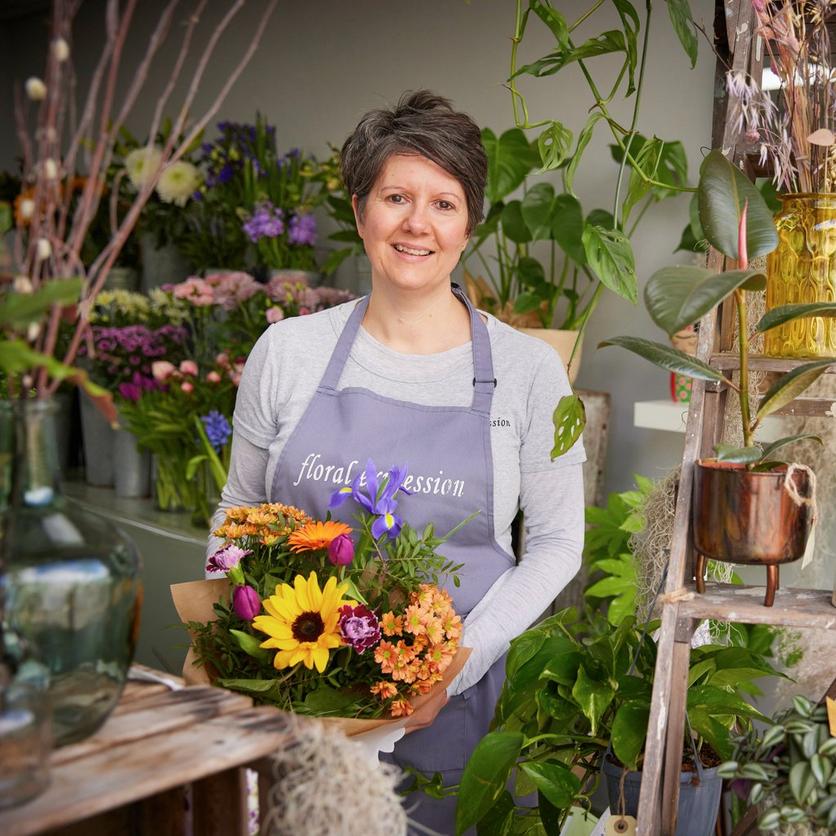 Find a local florist to craft your bouquet
Whatever the occasion, we're here to help. From birthdays to anniversaries or simply just because, we deliver flowers across the UK and even overseas.
Over 900 local florists nationwide
Every bouquet is created by an experienced artisan florist.
No lost bouquets here, these are made to wow them on the doorstep.
We guarantee all our flowers will be fresh for 7 days at least.
Our bouquets are created by local florists. Long live the high street!