Search for flowers for my date and postcode
Hand-crafted by a local artisan florist in Suffolk
Flower delivery for all occasions
Suffolk Flower Delivery
Flower Delivery in Suffolk
When it comes to flower delivery in Suffolk, Interflora is your trusted choice. Our skilled Suffolk florists craft exquisite arrangements using the finest, locally sourced flowers. Whether it's a birthday, anniversary, or a simple gesture of appreciation, our personalised bouquets convey your heartfelt sentiments and bring joy to your loved ones' day. With our reliable delivery service, your flowers will be promptly delivered to any location in Suffolk, ensuring they arrive fresh and in pristine condition. Let Interflora help you make every occasion in Suffolk extra special with our beautiful floral creations.
About Suffolk
Suffolk, located on the picturesque East Anglian coast of England, is a county brimming with natural beauty and rich cultural heritage. From its charming coastal towns to its rolling countryside, Suffolk offers a delightful blend of scenic landscapes and historic attractions.
Explore the idyllic countryside dotted with quaint villages, where thatched cottages and picturesque gardens create a timeless charm. Take a leisurely stroll along the Suffolk Coast, with its stunning beaches, dunes, and vibrant wildlife. Immerse yourself in history as you visit medieval castles, grand stately homes, and ancient ruins that tell stories of the county's past.
In Suffolk, nature flourishes, making it an ideal place for outdoor enthusiasts. Embark on scenic walks, cycle through scenic routes, or enjoy a leisurely boat ride along the peaceful rivers and broads. For those seeking relaxation, Suffolk's tranquil spas and wellness retreats provide a haven of serenity.
Suffolk's culinary scene is also not to be missed. Indulge in the county's renowned local produce, including succulent seafood, artisan cheeses, and delicious farm-fresh vegetables. Explore charming tea rooms, traditional pubs, and award-winning restaurants, where you can savor the flavors of Suffolk's gastronomic delights.
Florists in Suffolk
Interflora takes pride in partnering with skilled florists in Suffolk who craft exquisite floral arrangements. Our dependable flower delivery service covers various towns and cities in Suffolk, including Ipswich, Bury St Edmunds, and Lowestoft. With our expertise, we guarantee that your emotions are beautifully conveyed through breathtaking blooms, adding an extra touch of magic to every occasion in Suffolk.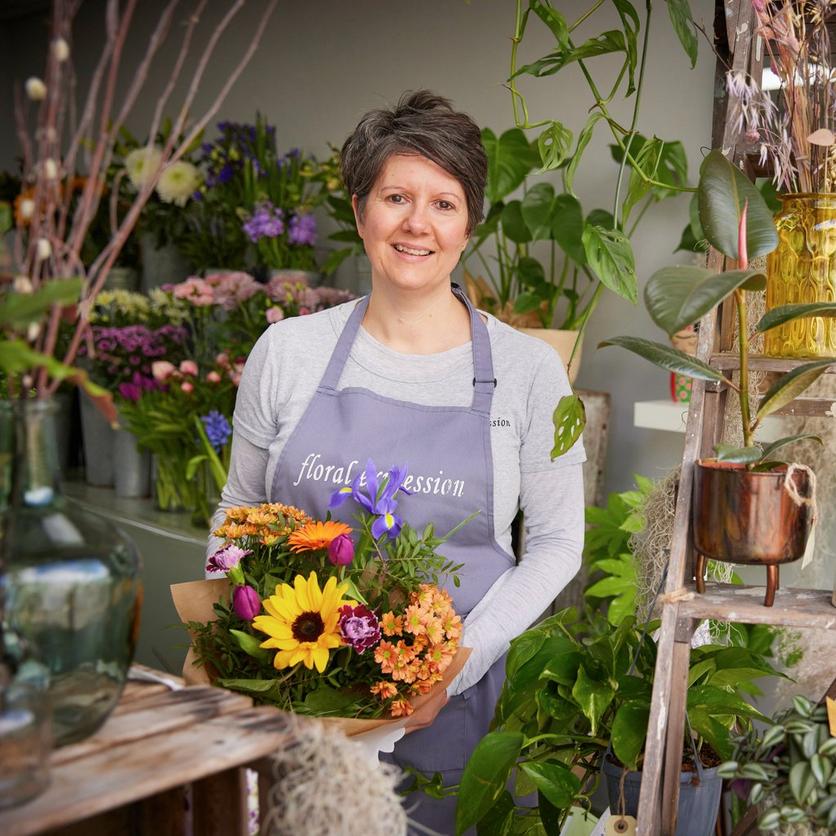 Find a local florist to craft your bouquet
Whatever the occasion, we're here to help. From birthdays to anniversaries or simply just because, we deliver flowers across the UK and even overseas.
Every bouquet is created by an experienced artisan florist.
No lost bouquets here, these are made to wow them on the doorstep.
We guarantee all our flowers will be fresh for 7 days at least.
Our bouquets are created by local florists. Long live the high street!