Search for flowers for my date and postcode
Hand-crafted by a local artisan florist in Surrey
Flower delivery for all occasions
Surrey Flower Delivery
Flower Delivery in Surrey
Interflora takes pride in our team of skilled florists in Surrey who are committed to crafting unforgettable moments for your loved ones. Whether you're in the vibrant city of Guildford, the bustling town of Woking, or the picturesque landscapes of Reigate, our exquisite flower arrangements are thoughtfully designed to express your heartfelt sentiments. With personalised bouquets and artistic designs, every occasion in Surrey becomes extraordinary.
Our reliable flower delivery in Surrey ensures that your carefully chosen floral gifts are delivered promptly and with the utmost care. Whether it's a birthday surprise, anniversary celebration, or simply an expression of love and appreciation, our team is dedicated to making the recipient's day truly special.
About Surrey
Surrey, nestled in the southeast of England, is a county renowned for its idyllic countryside, historic charm, and vibrant towns. With its picturesque landscapes, lush greenery, and rolling hills, Surrey offers a delightful escape from the hustle and bustle of city life. From the enchanting Surrey Hills Area of Outstanding Natural Beauty to the serene Surrey countryside dotted with quaint villages, there is no shortage of breathtaking scenery to explore.
The county boasts a rich history, with numerous stately homes, castles, and gardens that tell tales of its past. Places like Hampton Court Palace, Polesden Lacey, and Loseley Park offer glimpses into Surrey's regal heritage and architectural grandeur. Steeped in tradition, Surrey is also home to the world-famous Epsom Downs Racecourse, hosting the prestigious Epsom Derby, an event steeped in equestrian history.
Surrey's towns offer a blend of old-world charm and modern sophistication. Guildford, the county town, features a picturesque high street, historic castle, and vibrant shopping scene. Cobham, Dorking, and Farnham are just a few of the other towns that showcase a mix of quaint boutiques, charming cafes, and cultural attractions. With excellent transport links to London, Surrey strikes a balance between a peaceful countryside retreat and easy access to urban amenities.
Florists in Surrey
Interflora takes pride in collaborating with skilled florists in Surrey, ensuring exquisite flower arrangements for every occasion. With our reliable flower delivery in Surrey, including towns like Guildford, Woking, and Reigate, we make it effortless to send beautiful blooms and heartfelt messages to your loved ones.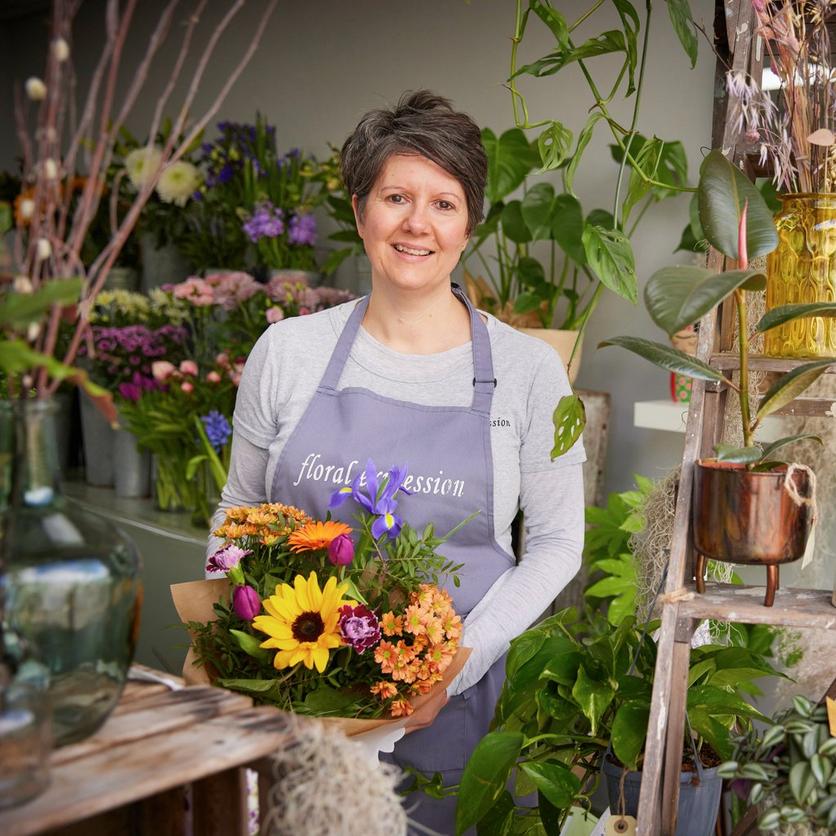 Find a local florist to craft your bouquet
Whatever the occasion, we're here to help. From birthdays to anniversaries or simply just because, we deliver flowers across the UK and even overseas.
Every bouquet is created by an experienced artisan florist.
No lost bouquets here, these are made to wow them on the doorstep.
We guarantee all our flowers will be fresh for 7 days at least.
Our bouquets are created by local florists. Long live the high street!