Search for flowers for my date and postcode
Hand-crafted by a local artisan florist in Warwickshire
Flower delivery for all occasions
Warwickshire Flower Delivery
Flower Delivery in Warwickshire
In Warwickshire, our Interflora florists are dedicated to making your celebrations extraordinary. Whether it's an anniversary, birthday, or any special occasion, our personalised flower arrangements are crafted with care to convey your sentiments to loved ones. From Stratford-upon-Avon to Warwick, Leamington Spa to Rugby, our stunning Warwickshire flower arrangements are the perfect way to express affection. Even if there's no specific occasion, our personalised bouquets are a heartfelt gesture to show appreciation and care to family and friends. Trust Interflora for reliable and exceptional flower delivery in Warwickshire, where every day is an opportunity to make someone feel cherished.
About Warwickshire
Nestled in the heart of England, Warwickshire is a county steeped in history, culture, and natural beauty. Home to the iconic Warwick Castle, this historic region offers a captivating glimpse into medieval times. Visitors can explore the castle's magnificent grounds, witness thrilling reenactments, and delve into centuries of rich history.
Warwickshire is also renowned as the birthplace of the legendary playwright William Shakespeare. In the charming town of Stratford-upon-Avon, visitors can wander the streets that inspired some of the greatest works in the English language. The Royal Shakespeare Theatre stands proudly on the banks of the River Avon, showcasing world-class performances of Shakespeare's plays and other theatrical productions.
Beyond its historical and literary significance, Warwickshire boasts picturesque countryside dotted with quaint villages and rolling hills. The idyllic landscapes of the Cotswolds Area of Outstanding Natural Beauty, which stretches into Warwickshire, offer breathtaking views and scenic walking trails.
Whether you're exploring historic castles, immersing yourself in literary heritage, or enjoying the tranquility of the countryside, Warwickshire offers a diverse range of experiences. With its blend of captivating history, cultural richness, and stunning landscapes, Warwickshire is a county that truly captures the essence of England
Florists in Warwickshire
Experience the finest flower delivery in Warwickshire with Interflora. Our skilled local florists in Warwick, Stratford-upon-Avon, Leamington Spa, and Rugby create stunning floral arrangements with care and precision. Trust us to deliver fresh and beautiful flowers, making every occasion in Warwickshire truly special.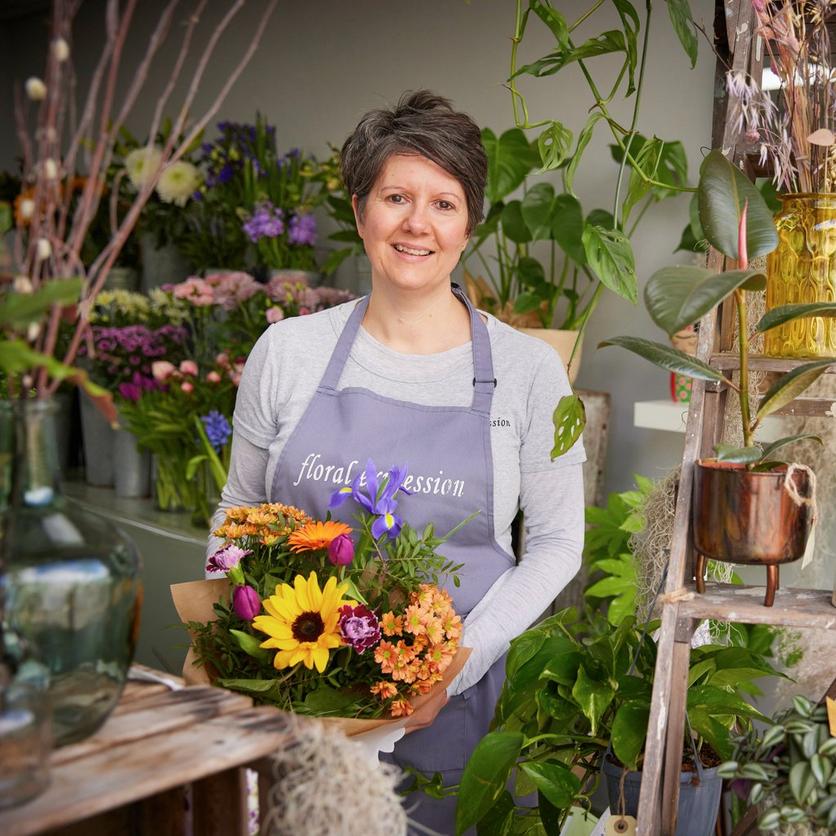 Find a local florist to craft your bouquet
Whatever the occasion, we're here to help. From birthdays to anniversaries or simply just because, we deliver flowers across the UK and even overseas.
Every bouquet is created by an experienced artisan florist.
No lost bouquets here, these are made to wow them on the doorstep.
We guarantee all our flowers will be fresh for 7 days at least.
Our bouquets are created by local florists. Long live the high street!